Dance Break: Bruin Bhangra workshop teaches bubbly, beginner-friendly movements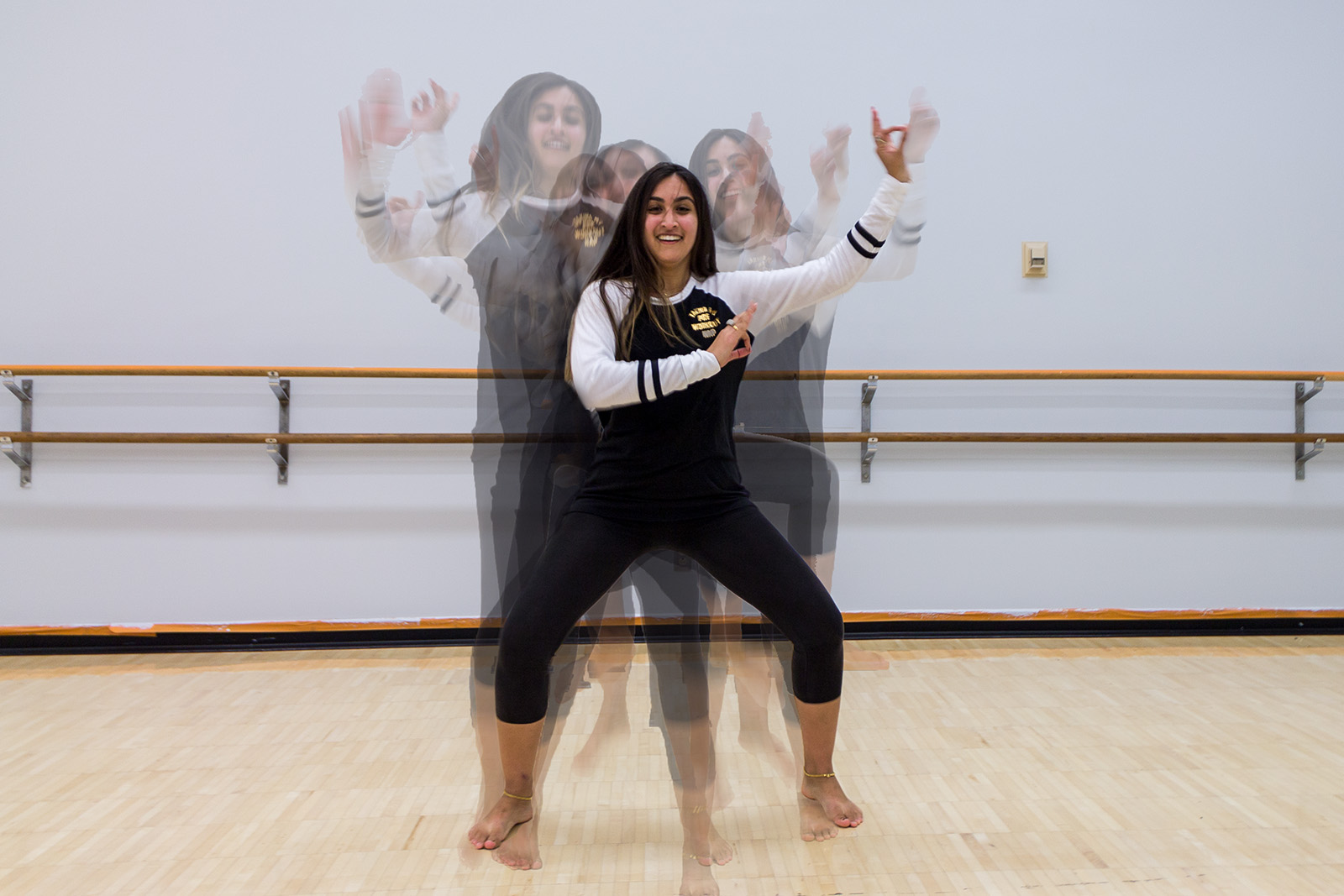 Daily Bruin columnist Christi Carras attended a Bruin Bhangra workshop, in which she learned how to make the bouncy and high-energy movements of the Punjabi dance style. The workshop's instructor, Aneet Sidhu, took a beginner-friendly approach to teaching the workshop, frequently repeating the dance moves for the group. (Emma Skinner/Daily Bruin, Photo illustration by Kristie-Valerie Hoang/Assistant photo editor)
October 16, 2017 10:19 pm
Daily Bruin columnist Christi Carras' limited dance background consists of bingeing episodes of "So You Think You Can Dance," grapevining her way through high school show choir and stumbling through rehearsals at a daycare-like dance studio until the age of 8. As a personal experiment, she attended workshops and lessons for 10 campus dance groups fall quarter and documented her experience as a nondancer for Dance Break.
Snoop Dogg was not an artist I expected to hear at the Bruin Bhangra dance workshop.
Snoop's musical interlude – accompanied by a drop to the floor in the choreography – was just one of several surprises I encountered while attempting to learn the group's audition dance routine on Oct. 3. The bouncy, overstated nature of the movement, paired with an upbeat soundtrack, was an exercise in both stamina and rhythm that left me a little short of breath by the end of the lesson.
I entered the John Wooden Center's Gold Room, beyond excited to learn the day's choreography. As an avid fan of "So You Think You Can Dance," Bollywood has been my favorite style of routine to watch since its introduction in season four, and I've always wanted to try my hands – and arms, feet and legs – at the high-energy genre.
But Bhangra is not Bollywood. Aneet Sidhu, a second-year cognitive science student who taught the workshop, explained the differences between the two styles to me. Bollywood is derived from performances in Indian musical films – think India's Hollywood – while Bhangra is a Punjabi dance style from northern India, usually performed at weddings and other cultural events.
And I did indeed observe marked disparities between the Bhangra routine we learned and the Bollywood numbers on "So You Think You Can Dance." Hand positions in the show's Bollywood numbers are often specific symbols of items or ideas, while the Bhangra hands are much looser and generally don't convey meaning, Sidhu said. Bollywood partner choreography also usually tells a story, such as that of a royal courtship or of a snake charmer and his snake, but the Bhangra dance does not have the same narrative element.
The two styles do, however, share relentless high-energy and larger-than-life movements. The Punjabi dance lesson kicked off appropriately with the "Punjab" step, which required me to fully extend my arms into the air in diagonal positions before collapsing them into my chest, then extend them out again while crossing my right foot over the left and vice versa.
The result is a crossover step-touch on steroids. When executed correctly, the entire body bounces to the rhythm in a way that made the instructors look like they were hopping on each step. The up-and-down cadence pervaded the entire routine, and stepping off beat at any time meant missing several of the following steps before getting back on track.
At the front of the room, Sidhu filled so much space with her amplified movements; I was shocked by her 5'1'' stature when I walked over to introduce myself during a water break. When she auditioned for the group in 2016, she said she was worried her small frame would prevent her from reaching the routine's highest heights. Regardless, I told her she'd fooled me.
In addition to her impressive range of movement, I found Sidhu's teaching style to be extremely beginner-friendly. After demonstrating each step, she led us all in the same step over and over for several counts, which helped cement the hand and foot positions in my muscle memory.
However, putting all the steps together was another story. By the end of the lesson, I had mastered easier steps such as the opening Punjab step-touch and the audience-facing finger point. But pairing those with intricate turns and footwork proved more difficult.
I had to cut my losses on the more complex combinations, but it was hard not to smile while dancing with so much vigor – we might has well have been on a trampoline rather than on the hardwood floors of the Gold Room. The soundtrack, which mixed Drake's "Fancy," Ambarsariya's "Ju Think," Bups Saggu's "Punjabi Hurrr" and Dr. Dre's "The Next Episode" featuring Snoop Dogg, also added some extra levity to the already lively choreography.
I may not be commissioned to perform at a Punjabi wedding anytime soon, but I'm more than content with my newfound ability to jump in time with the bubbly Bhangra beats.
Carras is an A&E senior staff writer. She was previously the assistant editor for the Theater Film and Television beat of A&E.
Carras is an A&E senior staff writer. She was previously the assistant editor for the Theater Film and Television beat of A&E.