Students step into modeling in FAST at UCLA's runway show audition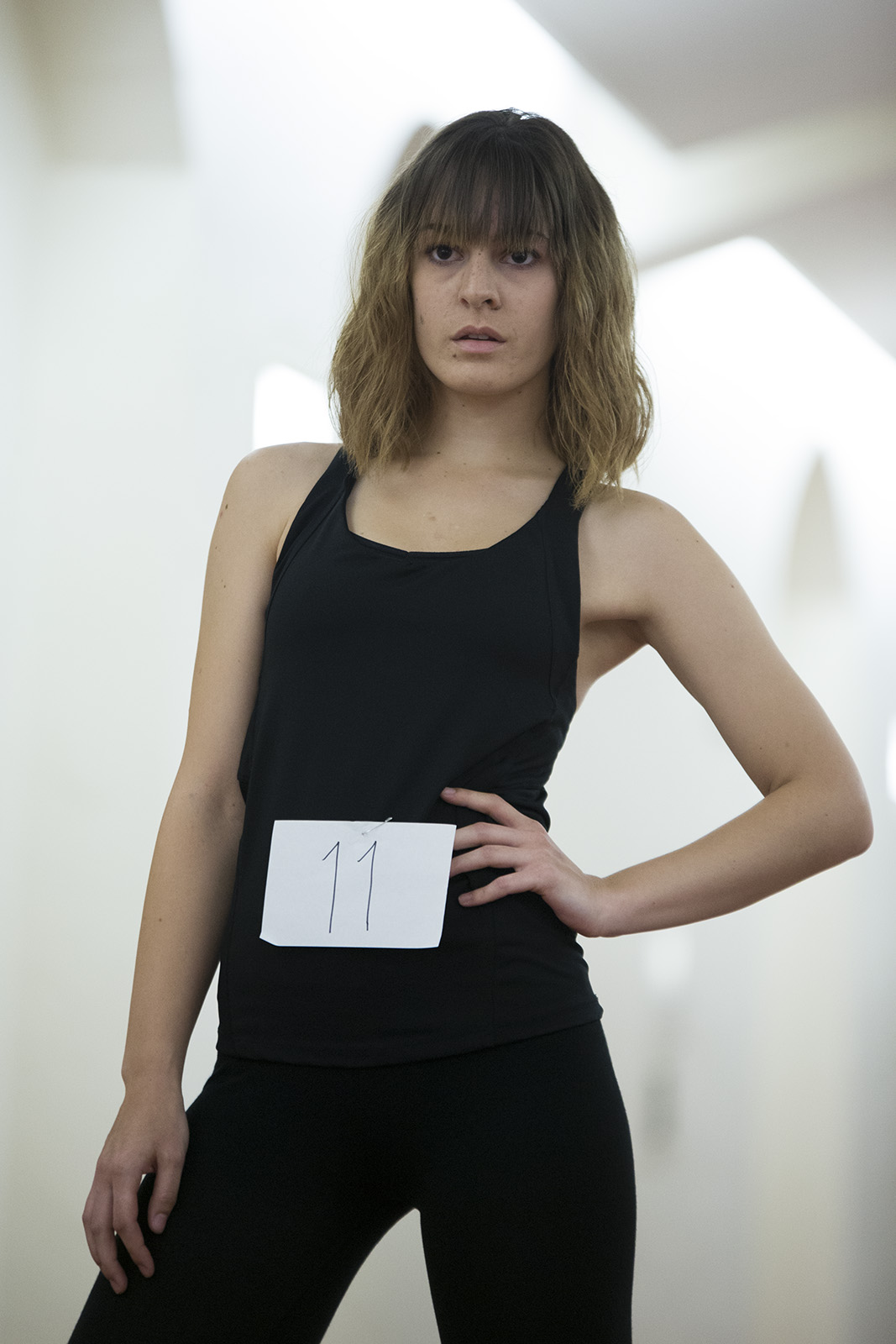 Taylor Corral, a second-year world arts and culture student, attended auditions for the FAST fashion show, which took place Oct. 11. She joined more than 100 other modeling hopefuls in Royce Hall as they walked up and down a hallway in front of the organization's judges. (Aubrey Yeo/Daily Bruin senior staff)
Diana Cheung dreamed of being a model as a child, but being 5 feet 3 inches tall she thought she would never be tall enough.
However, when the Fashion and Student Trends at UCLA hosted modeling auditions in fall 2016, the fourth-year psychology and human biology and society student decided to take a shot at the runway. Once Cheung strapped on her heels and strutted down the walkway toward the FAST judges, she said she acquired a newfound confidence.
Cheung now serves as the modeling director of FAST, which holds an annual spring runway show in which student models display clothing created by student designers. More than 100 students of all backgrounds, sizes and experience levels gathered in Royce Hall Monday to audition for the spring fashion show.
"Anyone, any shape, any size – we just want to make sure that people who want to do it have the chance to," Cheung said.
Upon arriving at the auditions, model applicants received a number from FAST representatives who proceeded to take their headshots. The students then lined up in rows of three and, treating the second floor hallway of Royce Hall as their runway, practiced their model strides to shake out their nerves.
For third-year biochemistry student Danny Kim, the FAST auditions served as an introduction to modeling. He said he never considered modeling until a FAST member handed him a flier on Bruin Walk. Jokingly, Kim told his friends about modeling who then encouraged him to go to the auditions.
Kim said he wanted to audition to wear new clothing designed by UCLA students and to try a club vastly different from his other science-based activities.
"When I imagine models they're tall, beautiful, gorgeous and if I become part of that then I'm tall, beautiful and gorgeous," Kim said.
Taylor Corral, a second-year world arts and culture student and a former Daily Bruin staffer, stood among the applicants with sweaty, cold palms. While the event was Corral's first formal modeling experience, she said she remembers strutting around her bedroom as a 12-year-old girl. Obsessed with "America's Next Top Model," Corral would pretend the she was one of Tyra Banks' contestants.
"I remember watching them go through this process of learning how to model and being in my bedroom and pretending that I could do it too," Corral said.
Corral said that her future plans include a career in standup comedy, but the auditions allowed her to revisit her childhood. Using her tiny dorm room as a runway, Corral said she played Beyoncé's "Crazy In Love" in her mind as a powerful mantra while practicing for the auditions.
When modeling down the runway at her audition, Corral said she attempted to channel her inner Tyra Banks. The ability to portray confidence like a professional runway model is a significant component that the FAST judges looked for, Cheung said.
One way the FAST judges measured confidence was by testing the applicants on their abilities to strike a pose. The club representatives sent students in pairs down the hallway, with three judges waiting at the end for each model's five-second pose.

Most applicants strut to the end of the hallway and place a hand on their hip, but Cheung said a sign of confidence is when an applicant strays from the classic stance and walks with focused eyes and a different finishing position.
Some contestants added a twist to the typical model pose by dramatically flipping their hair, popping their knees or crossing one foot behind the other. Corral said she decided her pose in the moment – one hand on her hip and a whip of her hair.
For Michelle Lee, the auditions served as a boost of confidence. Standing at 5 feet 9 inches, the third-year French and Italian student previously felt uncomfortable wearing heels because of her height.
But at the auditions Lee wore heels from L.K. Bennett – the same brand of heels commonly used by Kate Middleton. As an admirer of Middleton for her poise and class, the auditions allowed Lee to exude the same confidence as the Duchess of Cambridge, she said.
"You just get to channel your inner model," Lee said. "I think it helps people get confident."
The FAST model auditions concluded after about 45 minutes of auditioning. Applicants were told they would receive a callback notification sometime before the start of the weekend, and selected students will be featured in the FAST fashion show in May.
"Our goal is to bring everyone interested in fashion from all over the campus," Cheung said. "Specifically from my position, I want to be able to allow people from any sort of background to be able to model."