Q&A: Electronic duo Galantis discusses signature sound, playing LA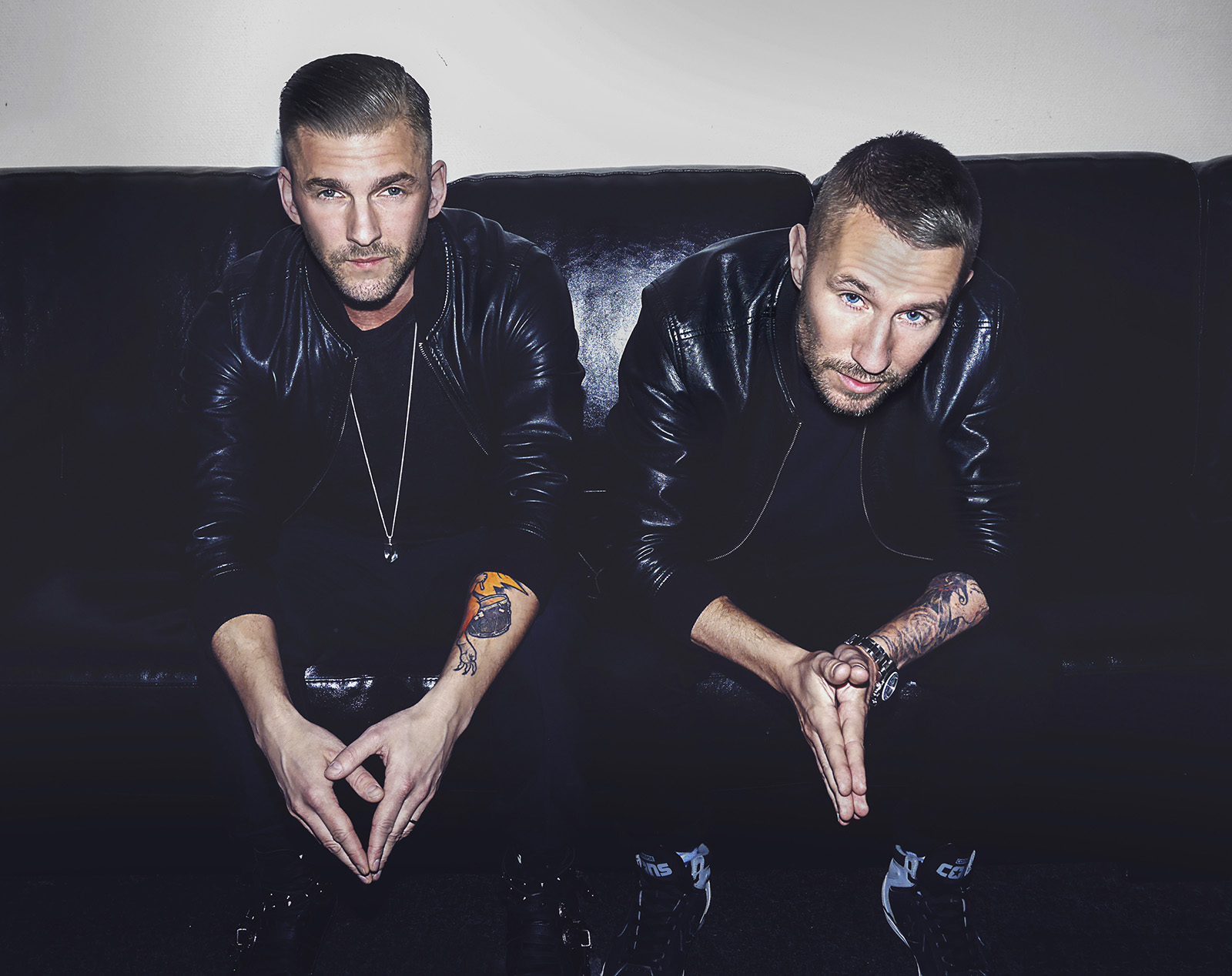 Swedish electronic artists Linus Eklöw (Left) and Christian Karlsson (Right) perform under the stage name Galantis and released their sophomore album "The Aviary" on Sept. 15. Eklöw and Karlsson released their first album titled "Pharmacy" in 2015 and have also cowritten songs for pop artists including Katy Perry and Icona Pop. Galantis will perform some of its songs from the new 12 track album on Saturday at the Greek Theater in Los Angeles. (Courtesy of Galantis-Katharina-Næss)
Galantis hasn't released an album in two years, but it's back with an upbeat, electronic dance music follow-up, "The Aviary."
The Swedish electronic duo, which comprises producers Christian Karlsson and Linus Eklöw, released its 12-track album Sept. 15, a follow-up to its debut album, "Pharmacy." The 2015 album included the single "Runaway (U & I)," which received critical acclaim and was nominated for a Grammy in the Best Dance Recording category.
Galantis began The Aviary Tour in Washington, D.C., on Oct. 6 and will continue touring throughout the U.S. before beginning a string of international shows. Outside of the group, Karlsson and Eklöw have co-written songs for the likes of Katy Perry and Icona Pop respectively. The Daily Bruin's Faizan Malik spoke to the duo about its latest release, music style and upcoming show Saturday at the Greek Theatre.
Daily Bruin: How has your sound evolved in the two years since "Pharmacy" and what were your major influences in making "The Aviary?"
Christian Karlsson: The biggest influence, we've got to say, was making it on the road and being forced to create in a space that we're not comfortable (in). Getting out of that comfort zone pushes you into a corner where you have to do new things and be more creative. It was actually a good thing for us. We come from being in a studio – I've been writing and producing for other artists for many years. The studio is our world, our home and our heart. It was really cool to leave that for this album. We had to use whatever we had in front of us. Not having everything at hand makes you more creative. Also the tour – being onstage every night, you meet fans that weren't there for the first album. People are expecting something from you and waiting for more music. That's the biggest fuel.
DB: What is the meaning behind the album's title, "The Aviary?"
CK: It's kind of a thing that's dying out. It's a big cage, like you're walking in a cage. It's huge. I was in an aviary in Hong Kong and I called Linus from there. I thought it was a beautiful spot, I took my daughter there. You walk in there and they don't have the bird in front of you, you have to find it – basically it's a jungle. You know there's a ton of great species of birds in there but you don't know if you're going to see them, but they're in there. I felt like this was our process right now with the album. We have all this stuff and we're trying to find what we want to do, but we know it's there. That was the birth and we were instantly drawn to the word and from there we started working on the Seafox.
DB: The album has an uplifting sound. How do you manage to make your music sound so bright without going into cliche territory?
CK: That's a good catch actually. I think that is a very thin line and a hard line to walk. Generally, happy and feel-good music has a tendency to flip over and become corny. It's something both me and Linus have been into for a long time. I think it came from sampling from the beginning. Sampling old records, like '60s Motown stuff. Why are these records so cool, but happy? They're energized with something that we don't hear that much today. I think that's one of the big influences and big puzzle pieces in there because, "Peanut Butter Jelly" was one of our early songs and it was totally based on sampling and going Motown. We followed that up on this record and you can hear it in a lot of songs, especially in "Tell Me You Love Me" and "Love on Me."
DB: One of the unique aspects of your live performance, compared to other electronic acts, is that you play percussion live. How did that come about?
Linus Eklöw: I'm a drummer from the start. For me it was very natural. Christian was playing a lot of drums with Miike Snow. It's what was in the studio too and it felt like it was what was meant for us to have onstage. We wanted to keep all doors open onstage and create something new every night. Drums are a good piece to improvise (with) on top of dance songs.
CK: It's very natural – drumming and beatmaking overall – for dance music. It's definitely the No. 1 instrument for us.
DB: You guys are going to be performing at the Greek Theatre. What's the experience like playing a show in Los Angeles?
CK: LA is very special for us. We've both been living in LA. Before that, we've always been here writing. It's always been the No. 1 spot. Most of the songs on this album had their chorus written in LA. A ton of people on it are also based out of LA. California in general has always been somewhere special for us because this is where we started. It's also huge to play an iconic and legendary venue like the Greek. It's something we've always wanted to and now we will on Saturday.