Student transforms peers through bright, unique makeup looks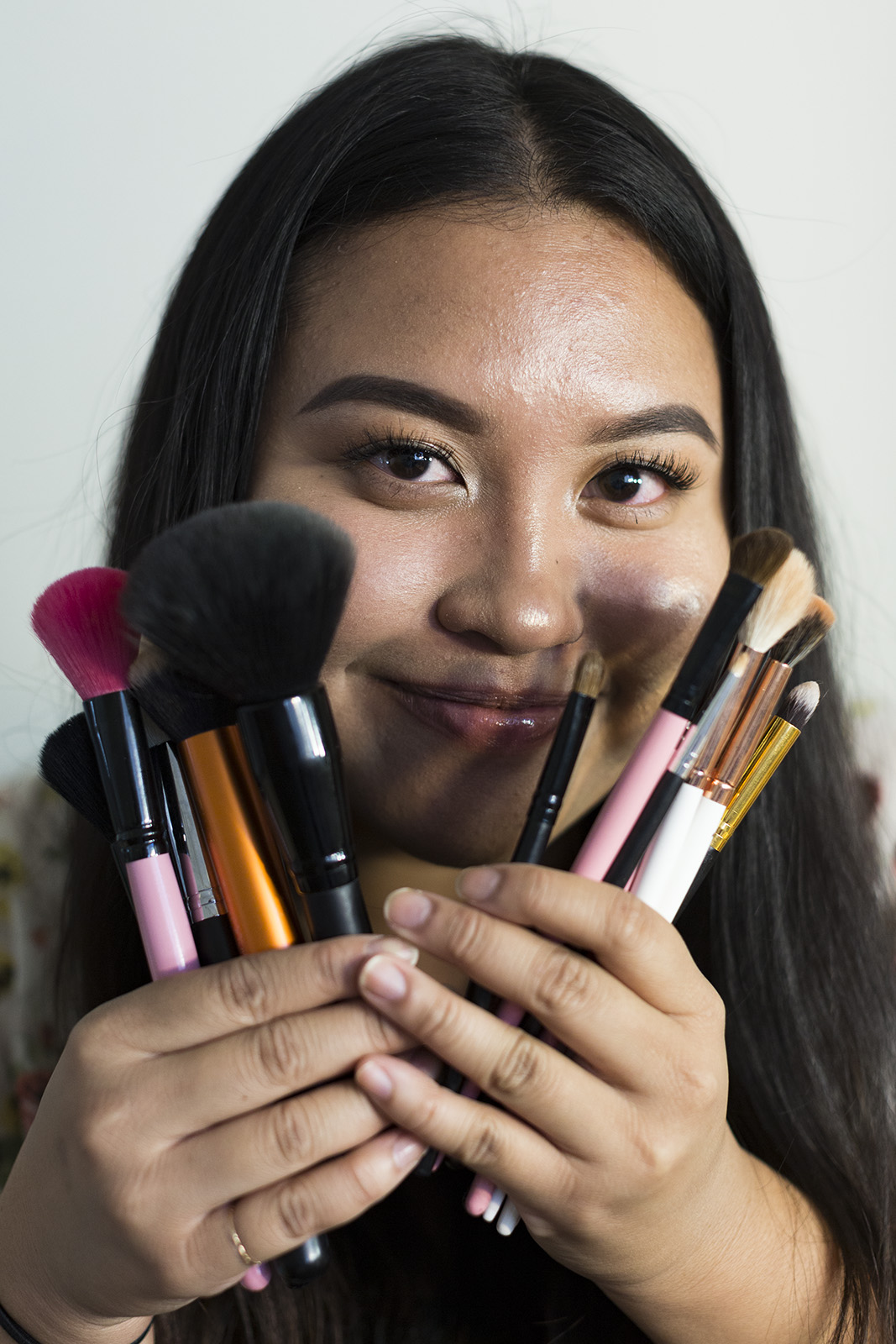 Although Jadyn Duong doesn't wear makeup on a daily basis, she does makeup on clients, ranging from smokey eyes with bright red lips to natural eyeshadow with nude lips. (Marley Maron/Daily Bruin)
Jadyn Duong uses her apartment desk for more than just studying.
More often than not, rows of makeup brushes are spread out over its surface and several desk lights face upward for optimal makeup lighting, creating her own makeshift makeup station.
Duong, a third-year biology student, first began experimenting with makeup during her sophomore year of high school. She said she sneakily applied eyeliner and lipstick in her room and promptly washed it off before her mother could see her. Now, she does makeup for other UCLA students for $20 per session.
As I sat down for my appointment with Duong, she began pulling out some eyeshadow palettes from her drawers, which are filled to the brim with beauty products.
During Duong's first year at UCLA, she said she would go through a similar process with her roommates, who often asked her to do their makeup before going out to parties or big events on campus. After her roommate saw Duong filling in her eyebrows during their first year, she asked Duong to do her makeup for her.
"I sat her down, did her brows, taught her how to do them herself and told her to copy what I did," Duong said. "After that, every time (my roommates) went out, they would ask me to do their makeup."
During my session with Duong, I awaited the same brow transformation that she had completed on her roommate. Duong promptly pulled out her Anastasia Beverly Hills brow pomade to fill in empty areas of my brows and swiped on concealer to cover other parts that had grown out.
Duong applied several orange-ish eyeshadows onto my lid and purple accents into my creases. She also carefully picked out specific brushes for the different parts of my eyelids and used two nude transition colors to make the eyeshadows blend seamlessly.
"The most important thing about makeup is just blending like crazy," Duong said. "And, of course, highlight."
The range of seemingly clashing colors Duong brushed onto my eyelids shocked me. She dipped her tools into at least four shades ranging from earthy taupe to shimmery orange, and I sat waiting for the moment when Duong would finally hold up a mirror for me to look. However, Duong reserves the mirror as the grand finale for her appointments, a custom she staunchly follows as a way of delivering an element of surprise for her clients, she said.
Because Duong experiments with a diverse palette of eye and lip colors, she is able to create looks that cater to a number of styles, said her client Franca Park, a third-year psychobiology student. Although Duong began doing makeup for her roommates, several of her floormates from her first year began getting their makeup done as well because of the positive remarks they heard from Duong's roommates, Park said.
Park said she usually sticks to a very specific, natural-makeup look that she achieves using sponge applicators and earth-toned eyeshadow. However, when Duong did Park's makeup the first time, she used a variety of different brushes to apply pinkish eyeshadow and a cream contour – forcing Park out of her comfort zone, she said.
"I was really apprehensive at first because I am very specific about my makeup," Park said. "But when (Duong) was finished I was so surprised at how flawless she made my skin look and the products she used did not come off at all."
Because of the versatility of looks Duong provides for her clients, she is also able to create makeup looks for any occasion, from Thursday-night outings to formal event makeup, said Julia Spaczai, a third-year psychobiology student.
Spaczai usually enlists Duong's help for occasions such as concerts and formals and has received looks including a bold, smoky eye with red lipstick and a natural, pink-orange shadow with nude lips. The first time Spaczai asked Duong to do her makeup was for a formal event that the Romanian Club at UCLA was hosting during her first year.
"I am not that great at doing my own makeup and so I decided to ask (Duong) for help," Spaczai said. "She did such a great job that from then on, I just ask her for help anytime I need my makeup done."
As I neared the end of my time with Duong, she swiftly swiped a shimmery highlight onto my face, generously dusting on a golden sheen to my cheek. As someone who had never had professional makeup done, I sat eagerly awaiting the revelation.
When I finally peered into the mirror, I was stunned by the orange-to-purple gradient on my eyes and the bronze highlight along my cheek, which glistened in the light. Duong stepped back and admired the culmination of her work, scanning my face with a bright smile.
"I do not usually wear makeup on a daily basis, but (makeup) is such a great way to make you feel more glamorous and confident," Duong said. "Makeup takes a lot of time to perfect, but it is honestly just a lot of fun."