Student advocacy group campaigns for UC to use renewable energy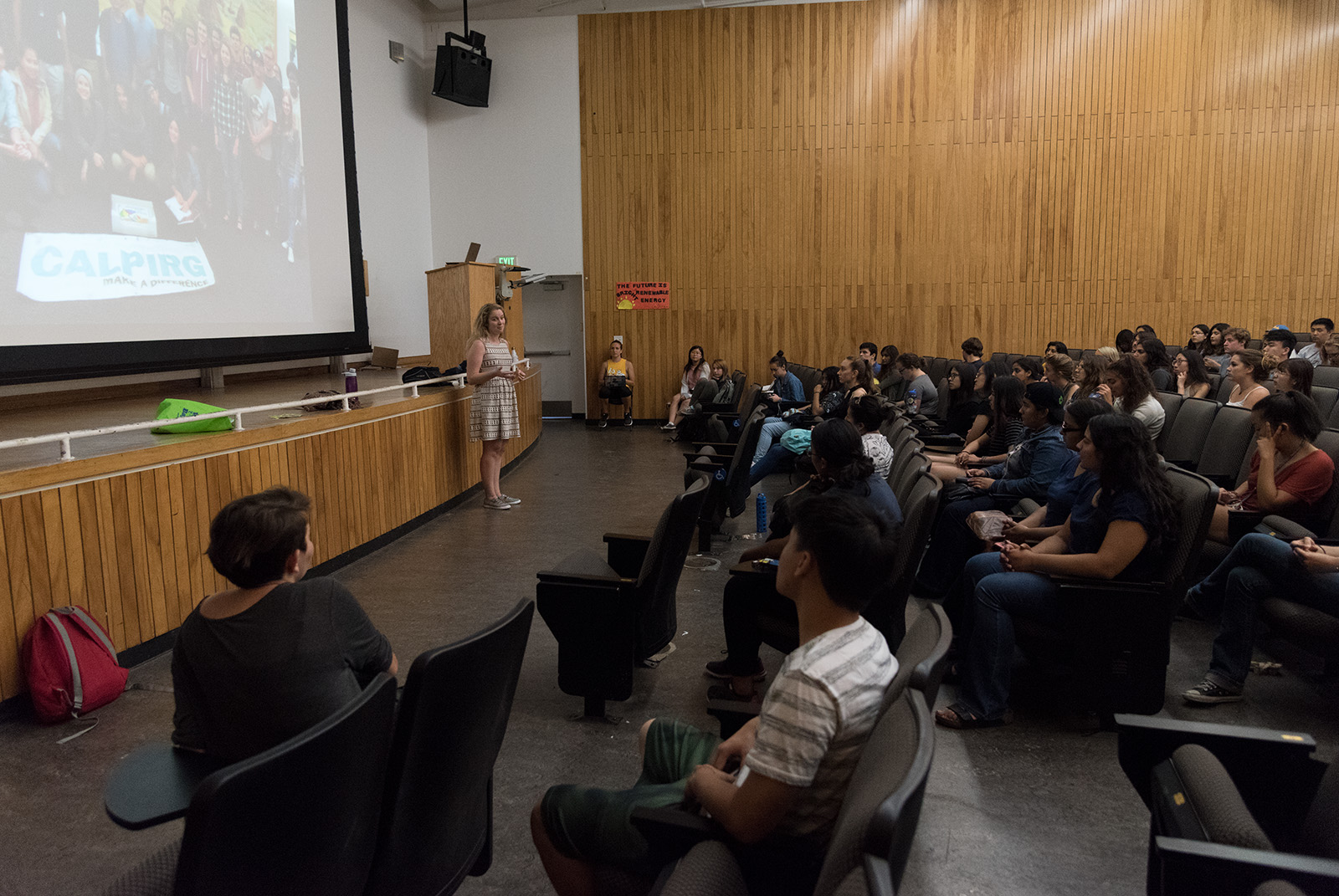 CALPIRG at UCLA held its kickoff event Tuesday night to get students engaged in campaigns, including its renewable energy campaign. (Daniel Leibowitz/Daily Bruin)
October 10, 2017 10:54 pm
A statewide student advocacy group is campaigning to have University of California campuses use 100 percent renewable energy by 2050.
The California Public Interest Research Group released a 10-point plan last week to make campuses more sustainable, said Nico Gist, a UCLA coordinator for CALPIRG. The 10-point plan recommends campuses to use renewable energy sources, such as solar, wind and heat.
The report also highlights colleges that use sustainable practices, such as UC Irvine, which has an all-electric bus system.
CALPIRG also held a kickoff event Tuesday to get students involved in its various campaigns, including its renewable energy campaign. During the event, students broke off into groups to brainstorm possible solutions to environmental and political issues.
Gist said he thinks recent natural disasters show that climate change is an important and relevant issue.
"We've seen the effects of climate change with the recent hurricanes, floods, rising global temperatures. And the thing that's driving climate change forward is our overuse of fossil fuels," he said. "The best way to stop using fossil fuels is to just stop using fossil fuels and going 100 percent renewable."
Gist said he thinks it is feasible for the UC system to shift to using only renewable energy because it has already committed to carbon neutrality.
In 2013, the UC pledged to eliminate its carbon footprint by 2025.
"We think committing to 100-percent renewable energy is an excellent way to see the (carbon neutrality) goal all the way through, in addition to other benefits," Gist added.
Zahra Hajee, the undergraduate student government facilities commissioner, said her office has been collaborating with CALPIRG by petitioning for student signatures to show student support for renewable energy.
"We want to support student-led initiatives that promote the access of resources for students, pressure the administration to hold our campus sustainable and … make our university better all around for students," she said.
Gist added the campaign aims to convince the administration that committing to 100-percent renewable energy is popular among students and faculty on campus.
"UCLA is the top public university and we hold an immense amount of influence," he said. "What we do on this campus has a really big impact and sends a message to the state of California."
Several students said they support the renewable energy campaign and said they think it is feasible for the UC to shift to 100- percent renewable energy.
Ashley Rodriguez, a first-year political science student, said she supports the campaign because it would be beneficial for the environment.
"Since we're in California, we should really take advantage of the solar energy," she said. "The timeline also seems really realistic."
Chaya Loffman, a law student, said she thinks the campaign would not be difficult for UCLA to implement because it has already taken steps to be sustainable, such as having compost bins.
"It's definitely a positive for the environment and would be good for everyone all around," she said.