Concert Review: St. Vincent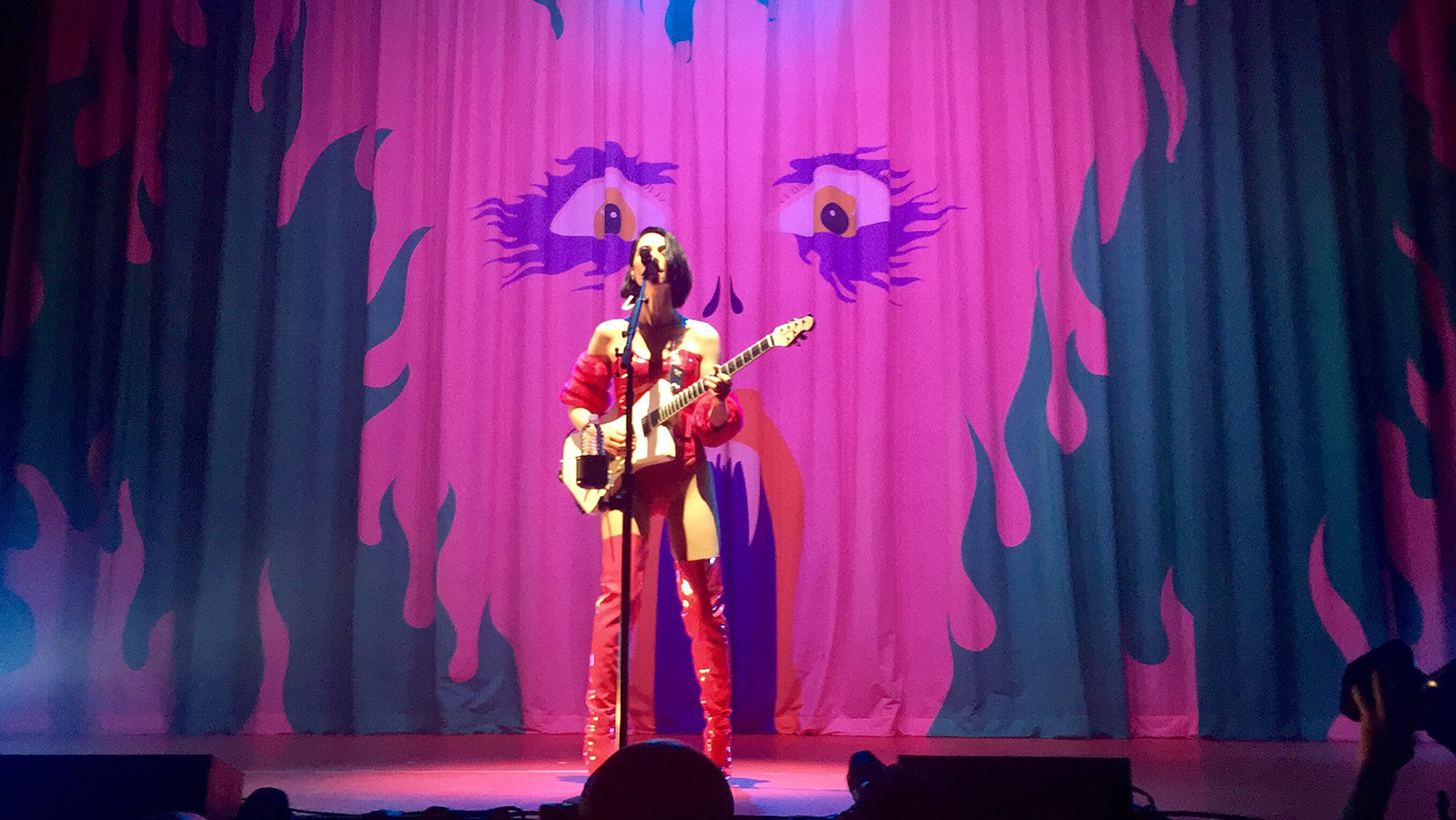 St. Vincent performed a slower song "Strange Mercy" in front of a fanged cartoon backdrop before introducing songs from her new album "MASSEDUCTION." (Alexandra Del Rosario/Daily Bruin)
St. Vincent alternated between her signature brightly colored and angular electric guitars 13 times at Paramount Studios.
Each instrument change added another level of vibrancy to an impressive display of talent that was equally charged musically as it was visually.
Annie Clark, a multiinstrumentalist who plays under the stage name St. Vincent, debuted her "Fear the Future" tour amid the empty brick facades of Paramount Studios New York Street backlot as part of the Red Bull Music Academy Festival Los Angeles.
Hundreds of fans crowded into the narrow street between two sides of fake brick building fronts Saturday night. For around an hour and a half, St. Vincent serenaded her crowd with familiar, older works before introducing new music from her album, "MASSEDUCTION," which she will release Friday.
Donning a hot pink leotard and thigh-high boots of the same shade, St. Vincent took over the Paramount stage with powerful vocals right from her first song.
She opened her set with "Marry Me," a sweet upbeat song that exhibited her rich vocals, complemented by swelling stringed instruments' melodies. While the number itself was a smooth listen, it was completely different from the epic presentation of guitar-heavy songs St. Vincent had in store.
Airy prerecorded vocals singing, "Bodies, can't you see what everybody wants from you," and a steady reverberating drum beat introduced one of St. Vincent's more popular songs, "Cruel." St. Vincent flawlessly executed the song's high notes and accompanied the last chorus repetition with intense guitar strumming that synced with the flashing strobe lights. Her energetic guitar picking and incredible vocals turned the narrow Paramount Studio backlot into a vibrant dance party.
While performing the material from her first couple of albums, St. Vincent moved from stage right to left little by little with each number, and the black velvet curtain followed that same trajectory. As St. Vincent began to introduce songs from more recent albums like "Strange Mercy" and "St. Vincent," she also revealed a colorful backdrop of a fanged cartoon face.
In front of the animated visage, St. Vincent performed a slower song, "Strange Mercy." Though Clark had already showed off her polished singing talents, the live rendition of the number included stringed instruments in addition to guitar notes, which made for a more sophisticated and dramatic feel.
St. Vincent then played "Birth in Reverse," a lively number where she shredded her white electric guitar, evoking excited cheers from the audience. But as she shredded her way to the end of the song, the black velvet curtains closed on the artist concluding the first portion of her set.
After the intermission, St. Vincent returned to the Paramount stage, now with a round, pink platform to stand on, in a shiny off the shoulder silver dress and matching ankle boots. In addition to the costume change, a projection screen displaying the singer's colorful music videos replaced the cartoon backdrop, and after the screen appeared, the singer shared her new album in its entirety, most of which fans have not heard.
"This one's for you guys," this singer says before performing her new song, "Los Ageless." Audience members swayed to the song's funky and hefty beat while St. Vincent slid her left fingers up and down the neck of her bright orange guitar in the number's crescendo of a chorus. At the end of the song, the singer cracked a big smile and looked at the large Angeleno crowd gathered in front of her.
St. Vincent also sang "New York," one of the few numbers she performed without playing guitar. Her airy voice rang out singing, "I have lost a hero / I have lost a friend / but for you, darling I'd do it all again," over somber piano chords. "New York" was an especially moving number for the powerful musician, without any bright instrument covering her petite frame, seemed vulnerable singing about heartbreak.
St. Vincent closed off her set with "Smoking Section," a darker song that featured deeper vocals and a more serious tone. The singer repeated the melody, "It's not the end," over and over until the black curtains met at the center of the stage, covering the artist. "Smoking Section" brought the show to an intimate yet uncertain conclusion, matching the mystifying persona of St. Vincent herself.
Del Rosario is the 2018-2019 prime content editor. She was previously an A&E staff reporter.
Del Rosario is the 2018-2019 prime content editor. She was previously an A&E staff reporter.