Alumnus uses drones to make personal and professional videography soar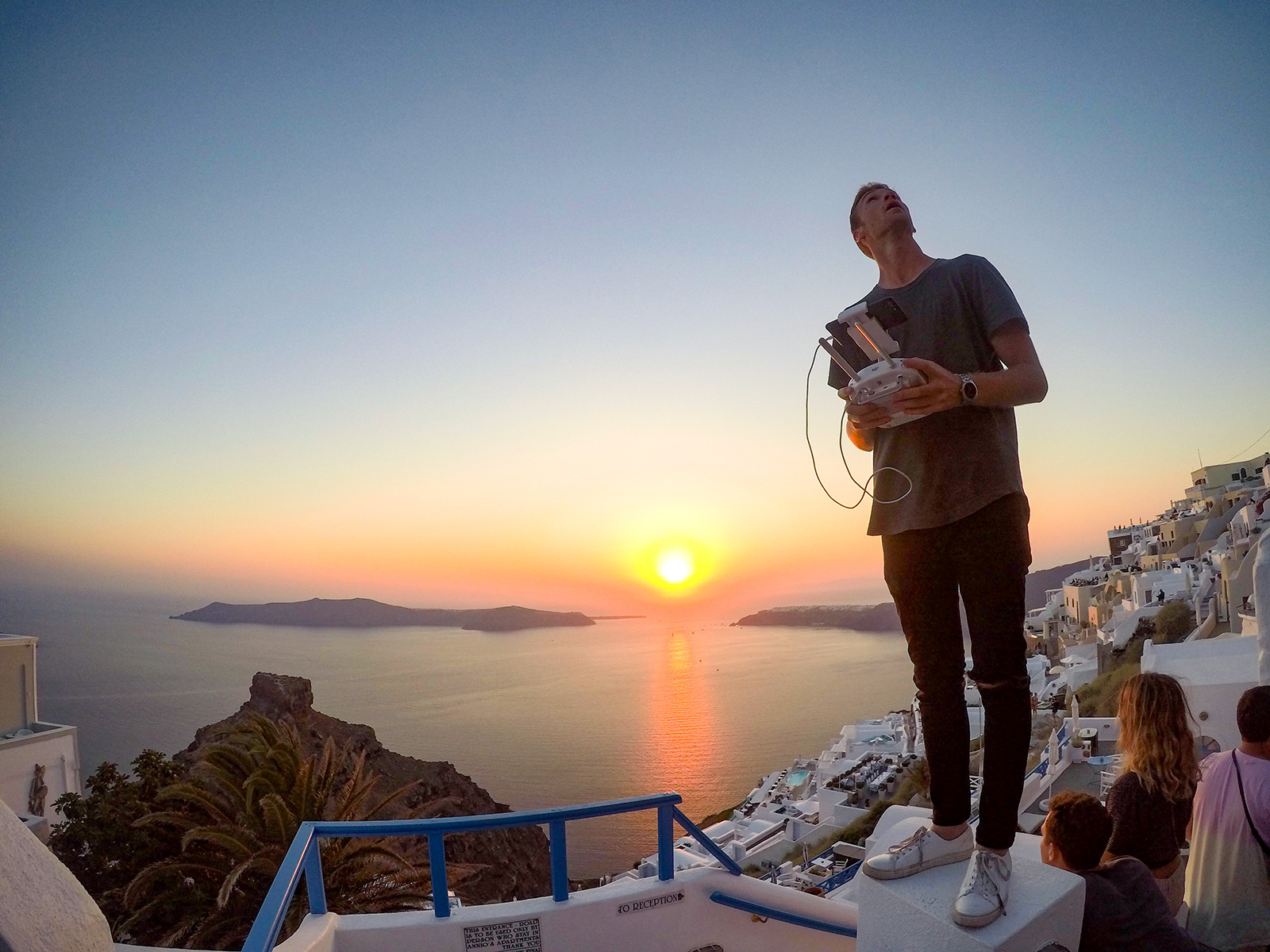 UCLA alumnus Jason Spielman uses drones and other video equipment to record remote landscapes, city skylines and college campuses. He recently traveled to Europe and the Mediterranean to film videos for GoPro, The Yacht Week and his own Instagram account. (Courtesy of Jacob Nober)
Jason Spielman has flown through mountain passes and over rooftops without ever leaving the ground.
The UCLA alumnus uses drones and other video equipment to record remote landscapes, city skylines and college campuses. He then edits and shares the footage with companies and his social media followers.
"I've always loved being creative and capturing moments," Spielman said. "And I love film because you're able to travel and meet people and make new friends and experience new things."
This summer, Spielman traveled throughout Europe and the Mediterranean filming videos for GoPro, The Yacht Week and his own Instagram account, which has garnered a following of more than 20,000 users.
Despite his extensive travels, Spielman began his career filming inside the cramped rooms of college fraternities. After using YouTube to teach himself the basics of videography while working for tech startups, Spielman began working with I'm Shmacked, a social media organization that features college parties from across America.
Spielman traveled to college campuses in more than 10 states including Georgia, Alabama and California, filming college parties while protecting his camera gear from spilled drinks and raucous partiers. Although he left I'm Shmacked in the middle of his junior year to help develop the college news site College Weekly, he continued to work with students via sorority recruitment videos.
"(Colleges) all offer very different experiences," Spielman said. "Seeing schools like Clemson (University) and (colleges in) Alabama in the South were so unique and different than what I had experienced before."
Spielman bought his first drone during his junior year of college, and his drone shots have appeared in several sorority videos including those for Kappa Kappa Gamma at UCLA and Alpha Phi at USC.
Francesca Maria, a member of USC's Alpha Phi chapter, said Spielman's shots helped generate excitement around the sorority during 2016 recruitment. The sorority worked with Spielman to film footage for both a preview video in the summer as well as a recruitment video for rush.
"We really wanted a cool video that would wow people," Maria said. "The importance of videos and having a presence on social media has become more and more important in being competitive for recruitment."
Maria said her favorite moment in the video is an aerial shot of the sorority members inside the Los Angeles Memorial Coliseum that Spielman filmed using his drone. The camera rises slowly from outside the football stadium before zooming in closer and closer to capture the members of the sorority rushing out onto the field.
The overhead footage Spielman filmed for the sorority recruitment video comes from his DJI Phantom 4 drone, which he also uses for his travel videos. Spielman said his use of drones has helped him find innovative perspectives through their aerial views, allowing him to better capture cities and landscapes from the air.
"Drones truly add to the craft that is building a narrative in a film," he said. "For me, especially showing landscapes and locations, it's been super beneficial to have that as a weapon in my travel bag."
During one of his first drone shoots, Spielman was flying his drone over Malibu, California, when a flock of birds flew perfectly into frame, something he said he couldn't believe he caught on film.
"I remember looking into my screen and being like 'This is ridiculous,'" he said. "When has a videographer ever been able to fly with birds without interrupting them and get such a natural shot?"
Matias De Rada, a videographer who worked with Spielman at College Weekly, said the Malibu drone shots on Spielman's Instagram drew him to work with Spielman. The pair has shot together in locations throughout Los Angeles, including Malibu and the Hollywood Hills.
"I think (the drone) just brings a new perspective," De Rada said. "And when you add the quality aspect to it, it just kind of makes videos feel more movie like."
De Rada said he is saving the drone footage from his favorite of their shoots – a sunset scene overlooking the Hollywood Hills – for a future video to be released in December.
While Spielman enjoys filming in Los Angeles, he said his favorite shot was captured during his recent trip to Greece. After obtaining special permission from the Israeli government, he transported his drone across Europe, Israel and Greece. After arriving in Greece, he traveled to Meteora, where he hiked for hours in the hopes of capturing some footage of the surrounding mountains.
From his viewpoint, the entire valley lay flat before him, surrounded on both sides by soaring mountaintops. Using his drone, Spielman captured the mountains right as the sun began to set.
"I ended up getting the shot and I seriously almost cried I was so excited," he said. "Getting the drone up in the air and getting this beautiful shot was so magical."
Nickolai is the A&E editor. He was previously the assistant A&E editor for the Lifestyle beat and an A&E reporter.
Nickolai is the A&E editor. He was previously the assistant A&E editor for the Lifestyle beat and an A&E reporter.