On the Rise: AL3JANDRO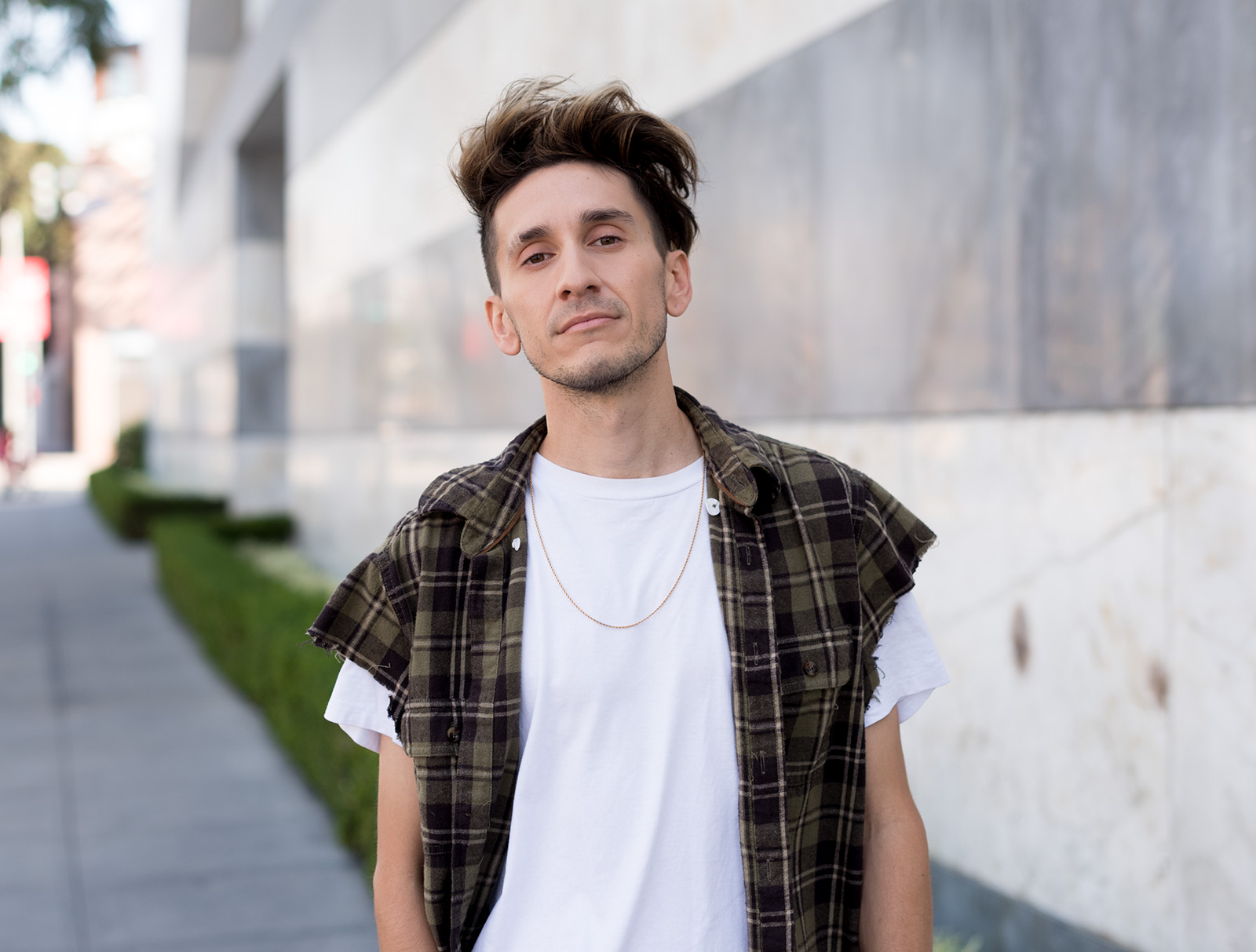 Los Angeles-based R&B performer Alejandro Barajas, who performs under the name AL3JANDRO, was inspired to produce, sing and mix his own music after he realized that many of the artists he grew up listening to, like Gang Starr and Biggie Smalls, did not create music on their own. (Daniel Leibowitz/Daily Bruin)
The credits of an R&B album are often filled with an endless barrage of writers, producers and mixers.
But in Alejandro Barajas' case, his name is the only credit on his songs and albums.
Barajas, who performs under the name AL3JANDRO, is a Los Angeles-based singer, producer and mixer who creates atmospheric R&B that draws influence from genres such as punk rock.
Growing up, AL3JANDRO said he was inspired by East Coast hip-hop acts such as Gang Starr and Biggie Smalls. However, he felt disillusioned with his concept of an artist when he started working in music and found out that the credited artist did not actually create the entire song that they were putting out, he said.
"If I saw a Busta Rhymes record, I thought he did the beat," AL3JANDRO said. "I thought he did absolutely everything."
After his realization, he looked for inspiration from artists like Madlib, a hip-hop musician who makes all of his own beats, and writes and performs all of his own solo music. By studying artists who were directly involved in all aspects of their art, AL3JANDRO said he established a clear goal for how he wanted to pursue music.
"A (person) that gets so lost in the voices, thoughts and movements that his higher self is going in, and he just lets himself fall for it," said AL3JANDRO. "That's who I wanted to be."
AL3JANDRO said his artistic pursuits took off while studying at Ventura College in California, when he became an audio-engineering intern at Westlake Recording Studios. After working there for almost two and a half years, he became a senior engineer for the company and mixed records for pop artists such as Rihanna.
His experiences as an engineer exposed him to the creative thought processes of major industry artists, he said. During the sessions with the artists, he studied the way they would create their music through deliberate comtemplation and experimentation, and realized that their processes were quite similar to his own.
"I always thought I wasn't good enough," said AL3JANDRO. "And once I got to the major level and saw it all work, I was just like, 'I'm the exact same as all these people.'"
After three years of working as a senior engineer, AL3JANDRO began working on his own music, translating many of the skills he learned as an audio engineer such as how different sounds interact with each other, said AL3JANDRO's current mixing engineer Mike Ault. Ault said that the different elements of AL3JANDRO's music come together more seamlessly than other styles of the moody R&B, as AL3JANDRO has a stronger understanding of the engineering process than other artists.
"Most of the artists I work with will hand off [their music] with very little direction," said Ault. "A lot of his feedback is based upon the feeling he is going for … and giving me a lot of freedom to create something."
AL3JANDRO blends elements from different genres into his style of ethereal R&B. The number of components that he combines appeal to a wide range of fans of different styles of music, said Megan Sanches, a director of music at Lyric House.
"He's got his own style of rock and R&B and pop and hip-hop mixed in," said Sanches.
Due to the popularity of the dark R&B subgenre, AL3JANDRO said he tries to step out of his comfort zone and differentiate himself from other artists who make similar music, he said.
"I have to go in the complete opposite direction of what is natural for me," AL3JANDRO said. "You have to be constantly taking risks and jumping out of your own skin."
For example, some of his songs, such as "A Street Car Named Desire," reach higher tempos than his usually slower brand of music, and tackle subject matter such as material wealth. The song contrasts with some of the prominent cliches within R&B music, such as slow tempos and sexual themes.
In addition to experimenting with varying lyrical topics, his heavy involvement in every aspect of his music helps him understand how to make each contrasting element fit together, he said.
"Even though my sound can sound similar to other R&B artists, I can guarantee you I am the only one who is the artist, producer and the overall creator over all of them," AL3JANDRO said. "I am three people in one."