Sister musicians teach master class at Guatemalan music conservatory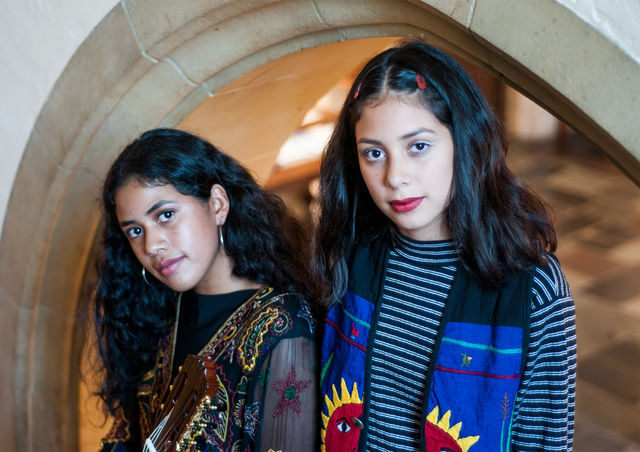 Sisters Sarah Yocuté and Hanna Yocuté performed at and taught a music master class at Guatemala's National Music Conservatory together. They shared their personal journeys and stylistic evolutions in music with the class despite the language barrier and time crunch that they faced. (Kristie-Valerie Hoang/Assistant Photo editor)
Hanna and Sarah Yocuté taught a master class in Guatemala and caught their flight back to the United States all within a span of three hours.
Guatemala's national music conservatory, Conservatorio Nacional de Música Germán Alcántara, invited the sister musicians to conduct a master class in August for a group of around 15 students of varying skill levels. Although the pair faced language barriers and a time crunch, the Yocuté sisters shared their stories of how they gained their music skills and passion for the art with the conservatory students.
"Hearing musicians' personal journeys with music inspires us," said Hanna Yocuté, a fourth-year music performance student. "We thought since musicians' stories motivate us, maybe our stories could inspire another young student who's studying music."
The sisters planned to vacation in Guatemala for two weeks and wanted to incorporate music and performance into their trip, so in the winter of 2016 they contacted the conservatory about teaching a class. However, the conservatory's staff was not able to set aside a class time for the sisters until the day before the Yocutés flew back to the United States in August.
The sisters conducted their master class in a room they said reminded them of a public high school classroom. The classroom had light and dark brown tiles, gray walls – one with the country's flag taped to it – and old-fashioned wooden desks. Sarah Yocuté said the room made her realize how privileged she is to have studied in a conservatory with newer and better facilities.

Sarah Yocuté, a first-year ethnomusicology student, began the class by playing excerpts of classical piano pieces by Mozart and Chopin, followed by jazz works such as Paul Desmond's "Take Five." Yocuté said she selected those pieces because they sparked her interest in music and solidified her passion in jazz, and she wanted to show the conservatory students the importance of finding their musical passions.
"I turned to jazz when I was feeling down and needed comfort – that's when I realized I wanted to study jazz," Sarah Yocuté said. "That connection to jazz music is why I'm studying at UCLA."
Hanna Yocuté performed after her sister and shared the story of her transition from classical piano to classical guitar to demonstrate the significance of finding one's preferred instrument. She said she began her presentation by playing an excerpt of Chopin's "Heroic" Polonaise in A-flat major to represent her roots in classical piano.
Although she started out on the piano, Hanna Yocuté said she began playing guitar at age 12 and enjoyed the way she could manipulate the strings to play music. Following her piano performance, she played "Sunburst" by Andrew York because it fuses classical and jazz guitar style and requires difficult finger movements.
"I wanted to share my evolving relationship with my music because while it's important to me, it's also relatable for the students," Hanna Yocuté said. "I've taken master classes where the speaker just talks about their accomplishments, but I wanted to leave the students, who are also studying music just like us, words of wisdom."
The Yocuté sisters began planning their personal stories the night before the class, but said they were unaware that translation would be necessary. Upon learning that only two of the 15 students spoke and understood English, the musicians' father, Jim Yocuté, a native Spanish speaker from Guatemala, translated for them.
"My girls were worried they would not be able to convey their stories in their emotional and sentimental entireties because of the language barrier," Jim Yocuté said. "I'm a Guatemala native and I knew their stories just as well."
As the Yocuté sisters' allotted time neared its end, students approached them asking questions on how to apply to UCLA and requesting to take pictures as the two began to rush to make their flight.
"It was great seeing the kids take such an interest, but we had a flight to catch," Jim Yocuté said. "Seeing my daughters forget the rush and do their work with calm and thoughtfulness was very rewarding."
Hanna Yocuté said teaching in the conservatory opened her eyes to how fortunate she is to study music in the United States. After the sisters played, a boy asked to look at Hanna Yocuté's guitar ­– a cedar-top, nylon-stringed Cordoba with a floral-print sound hole – and told her how much nicer it was than his own, which he said was ugly and beat down.
"My perspective has changed, and coming back from the trip I'm a thousand times more grateful for what I have here," she said.
Del Rosario is the 2018-2019 prime content editor. She was previously an A&E staff reporter.
Del Rosario is the 2018-2019 prime content editor. She was previously an A&E staff reporter.