Retired lecturer talks new edition of book, TV screenwriting panel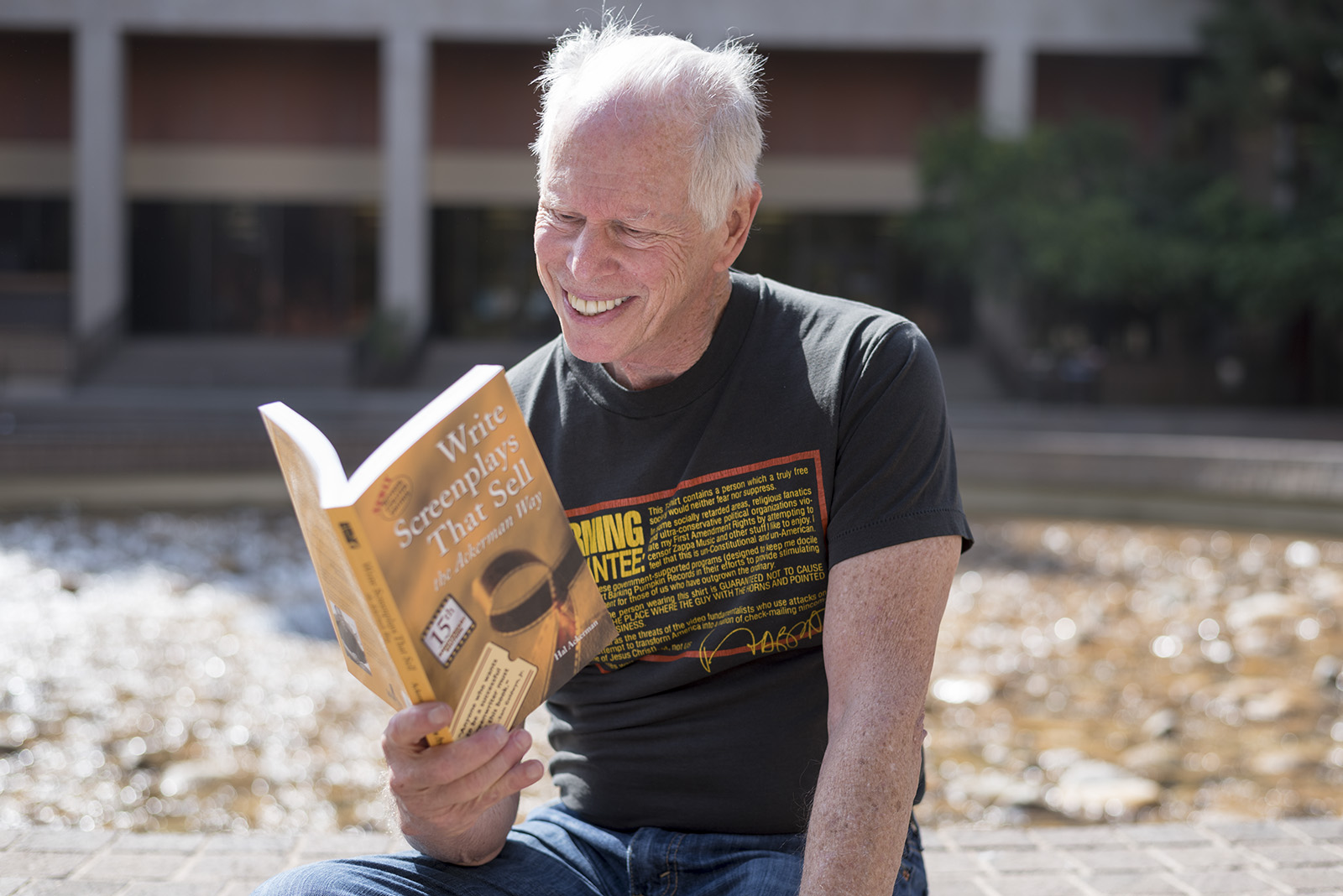 Hal Ackerman retired from UCLA in 2015 but has returned every winter quarter since to teach. In honor of the 15th anniversary of his book on screenwriting, Ackerman released an updated edition of the book and will be discussing it Monday with a panel at the Barnes & Noble in Burbank, California. (Axel Lopez/Daily Bruin)
Hal Ackerman retired from UCLA in 2015 – but he's been back every winter quarter since.
After retiring from his 30-year career as a screenwriting lecturer and returning to his hometown of New York, Ackerman has evaded East Coast winters to teach at UCLA on emeritus status, he said. As the co-chair of UCLA's screenwriting program for the last 10 years of his teaching career, Ackerman spread his knowledge beyond the classroom by writing the instructional book "Write Screenplays That Sell: The Ackerman Way."
In honor of the book's 15th anniversary, Ackerman released an updated edition Sept. 10 and will be discussing it Monday at the Barnes & Noble in Burbank, California, with a panel of four of his former students who now work as film and television writers and producers. The panelists include Scott Kosar from the crew of "Bates Motel," Susan Hurwitz Arneson from "The Tick," Nicholas Griffin from "Matchstick Men" and Heather Marion from "Better Call Saul," Ackerman said.
The Daily Bruin's Shayda Dehnow spoke with Ackerman about his annual returns to UCLA, the new edition of his book and the upcoming 15th anniversary event.
Daily Bruin: You retired in 2015 and went back to New York: What keeps you coming back to teach at UCLA?
Hal Ackerman: I just love teaching the (screenwriting) program. … I wanted to come back to New York but I didn't want to give up teaching completely because I still love doing it and love working with the students. This year might possibly be the last time I do it, but at a place of 30 years you don't just go cold turkey. There's just so much about the program that is so completely enjoyable: The camaraderie of the students and the faculty and just working with creative people – there's nothing like it.
DB: What have you been working on since you retired?
HA: Well, I've been writing, really. … I write short stories; a collection of my short stories was just published this past winter. These last two or three months I've had seven pieces come out: two short stories, a couple of flash fiction pieces, a couple of nonfiction pieces and I'm working on a novel right now. I work every day at something I love doing.
DB: What's your favorite part of the creative process?
HA: Coming up with a great idea that fills me with excitement, the feeling that this is going to be something wonderful that people will respond to and just being a part of that creative process every day. You know, athletes love playing ball because it brings them joy of fulfillment and creativity, and for me, that's what writing is. I do it every day – I've been doing it every day since I wrote my very first play when I was in college when I was about 20 years old – so it's just become part of my life, and I will be doing it until the last breath I take.
DB: This year is the 15th anniversary of the publication of your book, "Write Screenplays That Sell: The Ackerman Way," and you've released a new edition of it. What has been changed or added to the book?
HA: It focuses a little bit more than the previous versions of it on television. (Television) has become so prevalent now. When I first came to Los Angeles to be a writer, there was a real hierarchy between television writers and feature film writers. Feature film was way on top, and if you were a television writer, it was like you were a second-class citizen and it was very hard to break into the movie world. But subsequent to TV shows like "The Sopranos," and "The Wire" and "Breaking Bad," that paradigm has really, really changed and the best work consistently right now is being done on television. Now people who had been writing features are dying to get into television and are in television. … It seemed appropriate that the book, which really came out of a lot of the lectures I gave at UCLA which were mostly about film, should reflect that, so there's a lot more in it about TV now as well.
DB: What do you think lends to the longevity of the book?
HA: The idea of dramatic structure has not changed drastically, but I think the way I talk about it, the way I give exercises or techniques of finding that for students are original. … I think that the way I talk about scene writing is different than any other explanation I've seen in other books. … I think truly one of the things that is helpful is that I continue to be a writer, I continue to face things that writers face – all the uncertainties – and have made just about as many mistakes as anybody could possibly make, and I talk to writers from that point of view rather than a theoretical point of view of looking at a finished work and saying, "This is what the writer meant, here is the theme of it." (I look at it) really from a creative process, from looking at it as something yet undone and really sort of joining them in that process which is so filled with uncertainty and with unanswered questions. I think that's part of it, a point of view that is written from a working writer is helpful.
DB: What exactly will the event on Monday entail?
HA: Four of my former extremely (successful) students will be there with me. Three of them are currently writing for television shows, and one of them has a very cool feature film and has also written for television. So I think I'll allow them to talk about their own experiences and talk about what I think makes their work be so successful and original and interesting. … And of course, I'll give my two cents and I might read a little bit from the book, and then people who come are invited to bring in a short scene and we'll possibly have actors or it'll just be in the panel. We'll take parts and read these short scenes and judge them and the best of them might get a free book or something. It'll be fun, we hoped to make it an exciting and creative and interesting evening for all who attend.