Former cancer patient uses music as support for hospitalized kids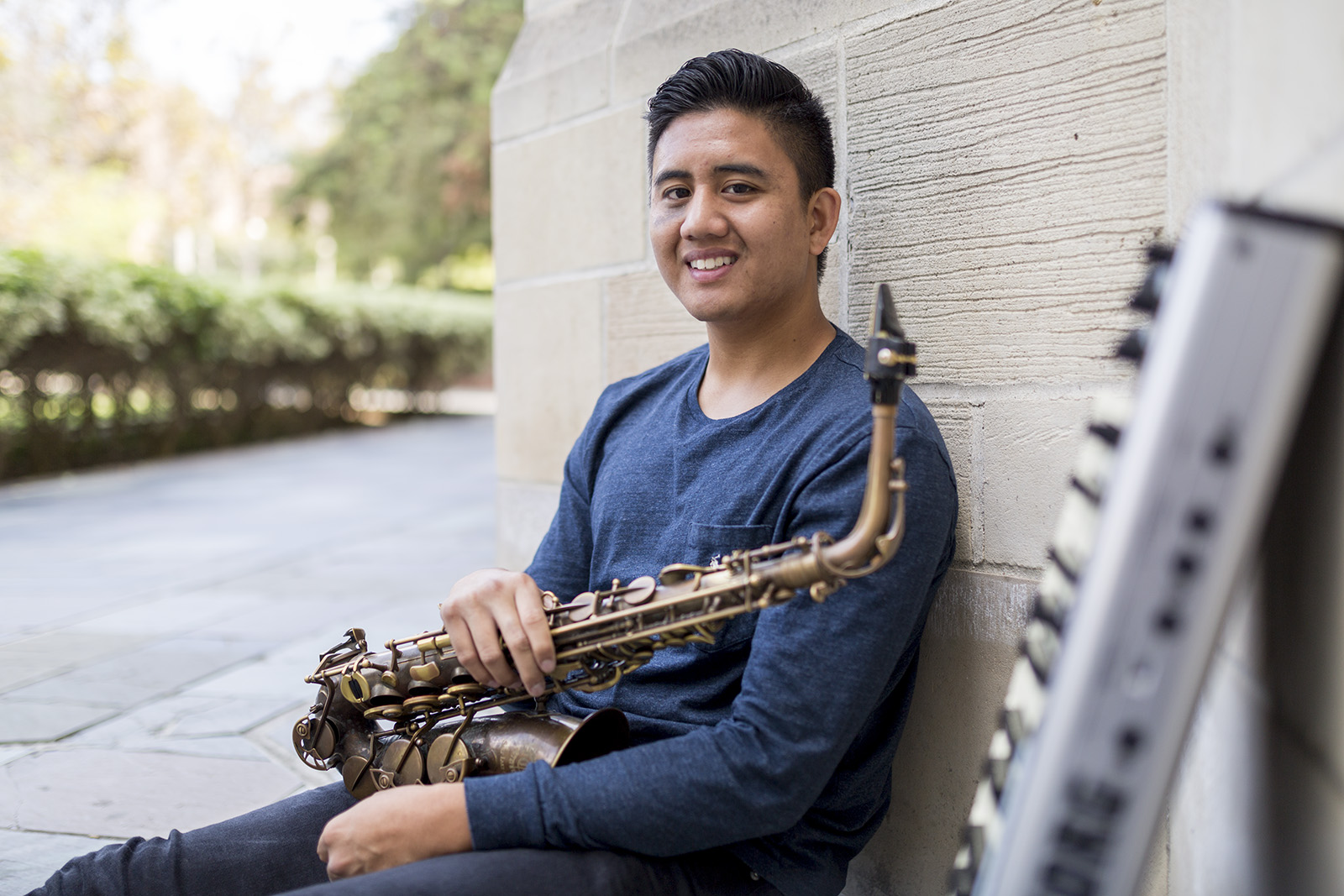 Third-year ethnomusicology student Austin Gatus was diagnosed with leukemia when he was 9 years old. After becoming cancer-free eight years ago, Gatus began performing music at children's hospitals in order to give back to children going through similar struggles. (Frank To/Daily Bruin)
Austin Gatus would sit on his hospital bed and play the saxophone while he received treatment for leukemia as a form of therapy.
Gatus, a third-year ethnomusicology student with a concentration in jazz studies, fought leukemia from ages 9 to 12. He now plays his saxophone for children undergoing cancer treatment and raises money for children affected by cancer through his EP sales. Gatus released his latest song, "Motions," on Sept. 30.
"I've been blessed with the opportunity to keep on living," Gatus said. "It's important to give back, so I use music as a way to give back."
During the summer, Gatus performed in the hospital rooms of child cancer patients in Seattle. While his mother talked to the patients' parents, Gatus sang and played pop songs with his saxophone and guitar.
He added that musicians and storytellers kept him entertained when he was a child staying in a hospital, so he wanted to return the favor.
"The hospital can get pretty boring when you're there for many months," Gatus said. "I could tell children enjoyed my playing … and I enjoyed it too, putting a smile on their face."
Gatus is also involved with multiple cancer foundations, including the American Cancer Association and the Starlight Children's Foundation, which he was a part of as a child. Starlight is a nonprofit organization that provides financial and emotional support for children affected by cancer and the families of affected children. Gatus met his mentor, Dave Koz, at a 2011 Starlight gala.
Koz, a UCLA alumnus and Starlight global ambassador, said he became close friends with Gatus after they played a saxophone duet together.
"He (was) this shy kid but inside was this warrior spirit," Koz said. "It impressed me so much."
The pair continued to play together, and when Gatus was a sophomore in high school, Koz invited him to perform together on a cruise. The cruise held a silent auction that raised $100,000 for Starlight.
"He's not afraid of anything. He's so comfortable showing his vulnerability on stage," Koz said. "He wouldn't be the artist that he is now if he didn't go through what he went through the early part of his life."
Alumnus Martin Lejano has played with Gatus numerous times while the pair studied together in the UCLA ethnomusicology jazz studies program. Lejano said he believes Gatus' experiences fighting and surviving cancer have shaped his love for life, which he expresses through his music.
"(Gatus) is shy as a person and not a wordy guy," Lejano said. "But where his words are lacking for him, his music speaks for him."
Since learning how to play the saxaphone, Gatus has branched out into singing, songwriting, guitar and piano. For his latest song, Gatus said he spent five months learning how to use Pro Tools, a digital software program for music production.
"I'm always experimenting with different styles, with different sounds," Gatus said. "I'm still looking for my own voice."
Gatus said his songs reference his original jazz influences and focus on love and heartbreak. His newest song "Motions" also features aspects of lo-fi, a music genre characterized by relaxing beats and melodies.
Gatus added he plans to pursue a career in the music industry while continuing to help others and improve his own music skills.
"I can't see myself not doing anything related to music," Gatus said. "I always want to improve in my music and to better myself."