UCLA's numerous dance groups allow students to find their rhythm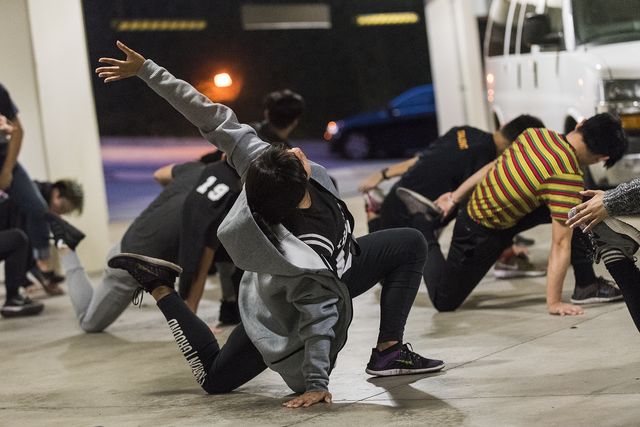 UCLA dance groups often practice routines in parking lots, especially before upcoming competitions. Parking lot practices can sometimes last until 2 or 3 a.m. (Habeba Mostafa/Daily Bruin)
With more than 20 dance groups on campus, it can be difficult to find a niche. But whether a dancer's passions lie in choreographing, competing for a top prize or even learning the basics to wow friends and family, the UCLA dance community offers students numerous opportunities to get involved.
Ballroom
Founded two years ago, Dancesport Club at UCLA offers ballroom lessons in styles such as tango, foxtrot, cha-cha and samba. The team is open to dancers of all skill levels, genders, ages and majors and does not require an audition.
Dancesport holds weekly practices on Fridays, Saturdays and Sundays, but not all practices are mandatory. In addition to practices, Dancesport participates in competitions throughout California including USC's Glamour Smackdown and UC Santa Barbara's Beach Ball Ballroom Dance Competition.
"Coming into law school, I knew my academic schedule would drive me crazy, but having Dancesport lets me continue and expand my passion for ballroom and meet people who share that same interest," said Bailey Loverin, a graduate law student.
Contemporary
ICARUS Contemporary Dance Company and Synthesis Dance Theater allow members to gain experience in both performing and choreographing. The teams create sets based off movements found in jazz, lyrical and ballet techniques that are then performed on and off campus.
Both teams have performed at events including basketball games in Pauley Pavilion and the Beat 'SC Bonfire and Rally at Wilson Plaza.
Prospective dancers are required to audition and must demonstrate their technical skills and ability to pick up choreography, said ICARUS administrative director Michelle Barnes and Synthesis director Emma Rosenberg. Both teams also produce showcases in which dancers present their routines to friends and families.
"I grew up in a strictly ballet studio without any artistic freedom, but Synthesis offers me the ability to choreograph, something I didn't know I had a passion for until I joined," Rosenberg said."It's really rewarding to see your creations come to fruition."
Indian
The Indian dance scene at UCLA provides opportunities for students to express and to explore Indian culture. UCLA Taara, an award-winning classical Indian dance team, combines the techniques of Bharatanatyam, Odissi and Kuchipudi to create sets that present stories of Hindu mythology such as the five elements of creation and the milky ocean, a story about the powers of good using magical objects to defeat the powers of evil.
Another Indian dance team, UCLA Nashaa, draws choreographic inspiration from Bollywood movies, blending genres by adding movements from hip-hop, salsa and ballet. The team won first place at Bollywood America, a national Bollywood dance competition, in April.
Taara meets three times a week in the John Wooden Center to work on technique and practice choreography, while Nashaa meets four times a week in the Wooden Center and in Lot 7 for approximately three hours.
Performing opportunities for the teams include showcases at local temples and performances in UCLA's annual singing competition, Spring Sing.
"My favorite parts of Nashaa would be meeting other dancers from all around the nation through workshops and competitions," said Kyle Patel, a second-year political science student and one of Nashaa's captains. "It makes the college experience so worthwhile."
K-pop
Students who enjoy listening to K-pop might also enjoy joining a K-pop dance group such as KBM Dance and Koreos. Both groups cover music videos from popular K-pop groups like Exo, Red Velvet, Black Pink and Girls' Generation at on-campus locations including Royce Hall and the Fowler Museum as well as at off-campus ones in Koreatown and Beverly Hills.
Both KBM and Koreos have one mandatory practice every weekend. The team members also participate in K-pop song and dance battles at the Los Angeles Korean Festival and dance in public spaces, such as the Santa Monica Pier, as part of their public dance videos.
"Where I came from, there wasn't a huge appreciation for K-pop, but at UCLA, I'm surrounded by people who are as equally excited about new music videos as I am," said Evelyn Molina Mora, a director for KBM and a third-year undeclared student.
Urban Choreography
Urban choreography teams include both exhibition teams and competitive teams. Exhibition teams, like Atlas Exhibition Team, focus more on demonstrating dance skills and progress in showcases. Atlas began in 2015 and focuses on a mix of techniques, ranging from the fundamentals of breakdancing to hip-hop and contemporary dance. The team is open to anyone 18 or older and to any skill set or background.
Older teams such as Samahang Modern and NSU Modern are more competition-oriented. The teams have around 40 to 60 members and participate in at least three competitions annually, including Battle Royale, a competition among all UCLA dance teams.
NSU incorporates dance styles such as waacking, hip-hop and jazz funk into its high-energy competition sets, said Stephanie Hernandez, an NSU captain and a fourth-year biology student.
"We're known for our themed competitions," Hernandez said. "We did a Disney-themed set where we had Snow White and Elsa from 'Frozen' twerking on stage."
Samahang and NSU regularly rehearse around eight hours a week in practice spaces such as the John Wooden Center or various parking lots. When preparing for competitions, some practices can last until at least 2 a.m. However, while the early morning practice times may seem daunting, Samahang Modern advisor and fourth-year sociology student Leo Albea said those are the times where friendships and bonds are formed.
"People who join our team experience family," Albea said. "Like a family, we rise and fall together, suffer together and reap the same benefits."
Del Rosario is the 2018-2019 prime content editor. She was previously an A&E staff reporter.
Del Rosario is the 2018-2019 prime content editor. She was previously an A&E staff reporter.