Second-year theater student makes off-Broadway debut in 'Blamed'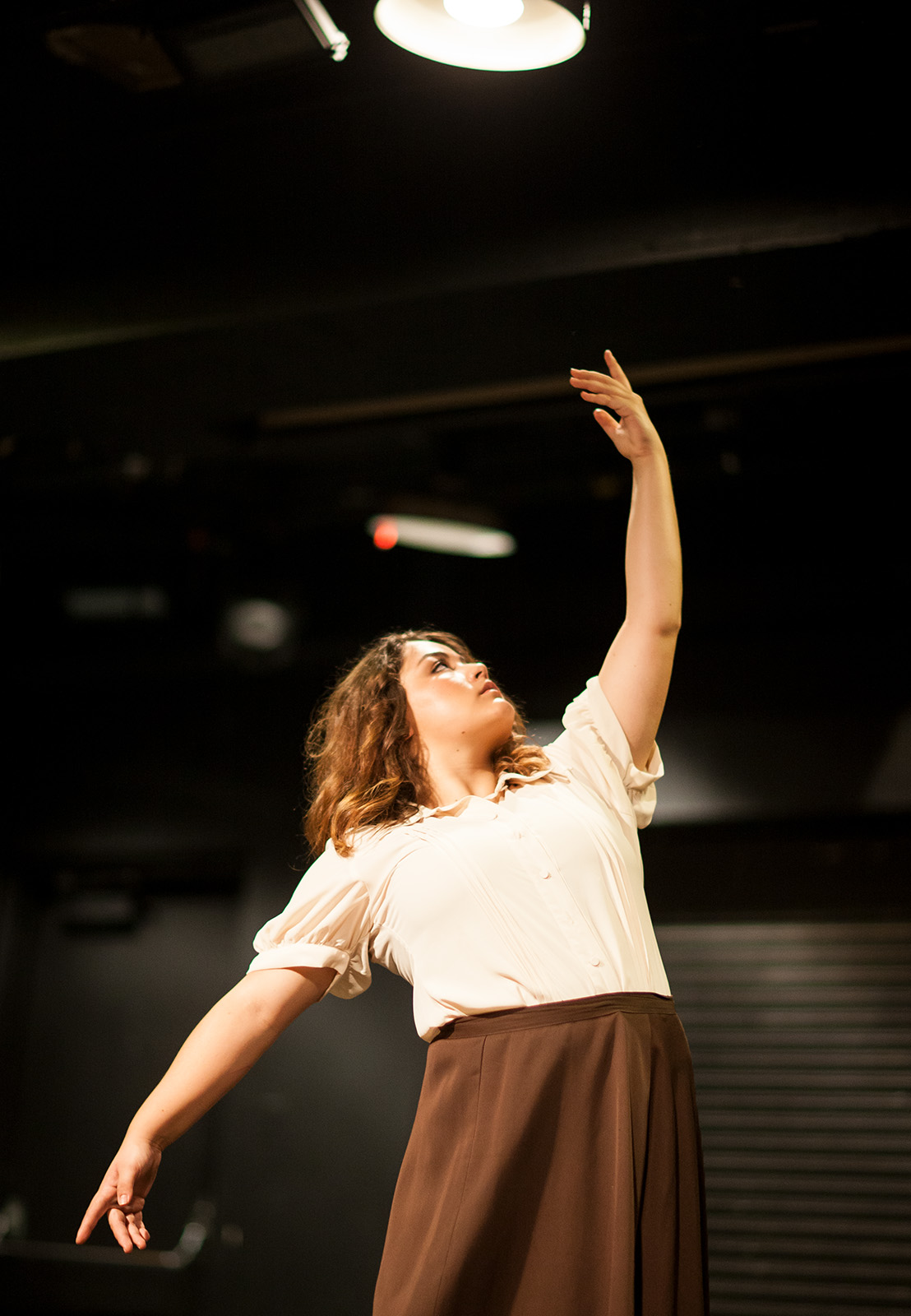 Second-year theater student Lillie Muir performs as Poseidon, a principal dancer and a narrator in the off-Broadway production of "Blamed: An Established Fiction." (Aubrey Yeo/Daily Bruin Senior Staff)
Lillie Muir was a sophomore in high school when she was cast in "Blamed: An Established Fiction," the show that would eventually lead to her off-Broadway debut at the SoHo Playhouse earlier this month.
The second-year theater student was a part of "Blamed" from its conception in 2014. As a core part of the play's journey, from its high school beginnings to its off-Broadway debut in New York, Muir said she has seen the production evolve and grow as it changed from venue to venue.
In "Blamed," a framing narrative features a group of 1930s and '40s-era women who discover a Pandora's box of women-centric stories that they begin to narrate, Muir said. While no one plays the actual roles of the stories' characters, there are dancers who embody the characters' spirit and emotions onstage as the stories unfold.
"The show is only an hour, so you kind of get lost in it for that hour, and it's just really amazing to be surrounded by all these really intelligent, beautiful, smart, crazy-talented women," Muir said. "It is definitely all about unity of women and supporting other women."
"Blamed" was written by Muir's high school theater director's wife, Callie Prendiville, to create more acting opportunities for female students. Prendiville's husband wanted to put on "The Elaborate Entrance of Chad Deity," but since it was an all-male show, he and Prendiville decided to supplement it with an all-female show to provide students with equal opportunities to participate in a production, Prendiville said.
"Unfortunately, there are (many) more plays written for men than there are for women, which is why we were in the situation in the first place where I would need to write something at all," Prendiville said. "When the majority of the playwrights being produced are male … there's not as many stories focused on women being produced."
From its place of origin at La Habra High School, "Blamed" went on to premiere at the San Diego International Fringe Festival. Although Muir did not perform in the San Diego production, she did act in a rendition of "Blamed" that ran at the Hollywood Fringe Festival, where it was scouted by the Fringe Encore Series to be put on at the SoHo Playhouse.
Before the first run of the production, Prendiville and the show's choreographer put each cast member in charge of the technical aspects of one of the show's scenes, Muir said. For example, in the Bible, Adam's folkloric first wife, Lilith, is said to have been created from dust, so Muir and her castmate had baby powder unfurl from books and pockets during the scene. While Muir is no longer the principal dancer for Lilith in the show, her staging of the baby powder remained.
Now in New York, Muir portrays Poseidon in Medusa's story, serves as principal dancer for "The Disobedient Daughter," and narrates throughout various other stories. However, she said the most significant part of the show for her is when she translates the story of "La Llorona," or "The Weeping Woman," into English as her castmate Norma Mendoza performs it in Spanish.
In the production's iteration, the Mexican folkloric story of "La Llorona" is combined with the historical account of "La Malinche" to tell the tale of a woman who was sold into slavery by her family, Mendoza said. After becoming a translator between the Spanish conquistador Hernán Cortés and the indigenous people of Mexico during his conquest, she has a son with him. He then abandons her, causing her to attempt to kill both herself and her son. La Llorona survives but lives with the heartbreaking loss of her child.
"It's one of those stories that's so sad and gut-wrenching," Muir said. "I'd say that's one of the most challenging moments of the show for me, just feeling all that emotion from (Mendoza) and the dancer portraying these emotions. … (The dancer's) facial expressions break my heart."
Affective scenes like "La Llorona" created a sense of intimacy between the small, all-female ensemble cast and strengthened the bond of sisterhood throughout the challenging scenes, allowing the cast to overcome any curveballs that were thrown its way, Muir said.
"For an hour or two when I'm involved in production, it's like everything disappears and it's this wonderful world of women and of just telling these stories and having voices heard," Muir said. "It leaves me kind of speechless sometimes."