First-year student fuses hip-hop and electronic music on EP 'Binary'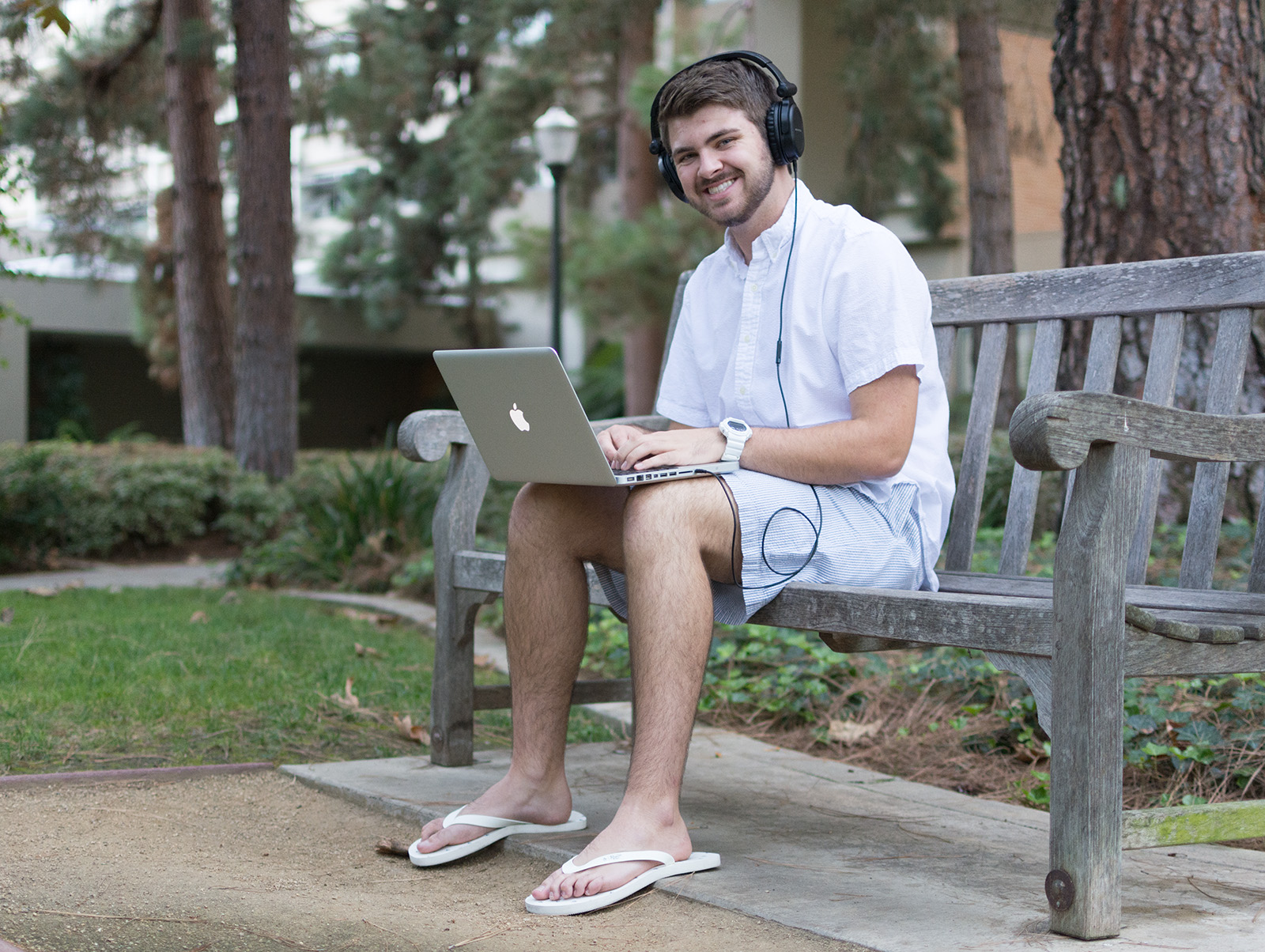 First-year pre-business economics student Noah Crousore released his EP "Binary" under the alias BLDRNNR, an ode to one of his favorite movies. "Binary" features complex electronic beats fused with hip-hop vocals from co-writer Navin Bose. (Hannah Burnett/Assistant Photo editor)
Noah Crousore has produced music under about 35 different aliases with approximately 3 million combined SoundCloud plays on his tracks.
But for the first-year pre-business economics student's newest EP, he turned to just one: BLDRNNR.
"I'm always used to creating a bunch of different aliases because I like making a bunch of different music," Crousore said. "It's a delicate balancing act, and it's one that I'm still trying to get right."
A nod to his favorite movie, "Blade Runner," the vowelless alias marks a turning point in Crousore's career as he works to brand his new stage name on a five-track EP titled "Binary." Crousore co-wrote and produced the EP fused with EDM and hip-hop with childhood friend and rapper Navin Bose before releasing it on SoundCloud, Spotify and Apple Music this summer.
Following years of both classical and jazz piano training, Crousore first began producing music after receiving the digital software Ableton at age 11. Crousore said he found the software to be complex but within two years began making his first forays into original music.
"It was a pretty natural process moving from a single track of the piano to an infinitely large array of tracks that I can use in recording," he said. "I taught myself … how to really incorporate my musical ideas within the constraints and confines of a digital output software."
After mastering Ableton, Crousore then began working with collaboratives, under which he created music with other artists in the industry to develop professional relationships and technical ability, resulting in his numerous aliases.
However, upon entering high school, Crousore did not have enough time to work on original music, so he turned to ghost production. While ghost producing, Crousore would create beats or help with tracks for an upfront monetary contribution without any credits on the finished project – an effort that resulted in less of a time commitment and little recognition. But Crousore said he knew he could do more.
"I recently have come to a turning point in my professional career where I want to start making a name for myself," he said. "And I think that I do have some sort of potential to make a name for myself."
Before leaving for UCLA, Crousore brought up the idea of creating "Binary" with Bose, for whom he had crafted hip-hop beats in the past. The project would layer Bose's hip-hop lyrics over Crousore's complex electronic sounds. Bose agreed, and the pair began collaborating on the project in early July.
The name of the EP references the double-digit computer base code, a symbol for the two artists coming together from different musical backgrounds – Bose from hip-hop and Crousore from electronic – and alludes to the synthesized sound of most of the tracks.
The track's songs are a complete fusion of hip-hop and electronic music, Bose said. For example, in the EP's outro song, "Binary," Bose sang vocals instead of rapping, which Crousore then altered using a tone synthesizer to turn the voice into a playable electronic beat.
"I think we did a great job of mixing the two," Bose said. "I don't think there's a single song on the EP that you'll listen to and be like 'wow, they really over-compromised; I'm listening to straight hip-hop.'"
As production on the EP continued throughout the summer, the pair decided to perform its first completed song, "Losing Control (Intro)," on July 19 at The Irenic, a music venue in San Diego. The performance was part of the Electro Fiesta put on by Fresh Over The Border, a concert company owned by Rommel Serrano.
Serrano connected with Crousore through a mutual friend and said Crousore's vast experience with music genres such as EDM and hip-hop at such a young age made him stand out when they met.
"He has so much credibility; it's just that he hasn't released music with his own face," Rommel said. "I told him, 'if you just start throwing (music) out with your face and your brand, you can make it.'"
But the tight college deadline proved to be a challenge, as Bose and Crousore were both leaving to attend different universities. So one night, the pair sat down in Crousore's home studio to finish the last tracks, promising not to leave until they had completed the EP.
During their all-nighter, Bose and Crousore finished "Arrogant," "Binary (Outro)" and "Legend," which the pair started creating around 3 a.m. All three songs feature a mixture of both hip-hop and more complicated electronic sounds – a breakaway from the simpler beats Crousore had done in the past to accompany hip-hop tracks, which had fewer electronic elements such as synthesized sounds.
By 6 a.m., the EP was completed.
"It was a really grand ending to he and I's (stint) of working together – just finishing everything in one long night," Crousore said. "This summer was nothing short of amazing."
Nickolai is the A&E editor. He was previously the assistant A&E editor for the Lifestyle beat and an A&E reporter.
Nickolai is the A&E editor. He was previously the assistant A&E editor for the Lifestyle beat and an A&E reporter.