Alumni to produce, write film with New York Times bestselling author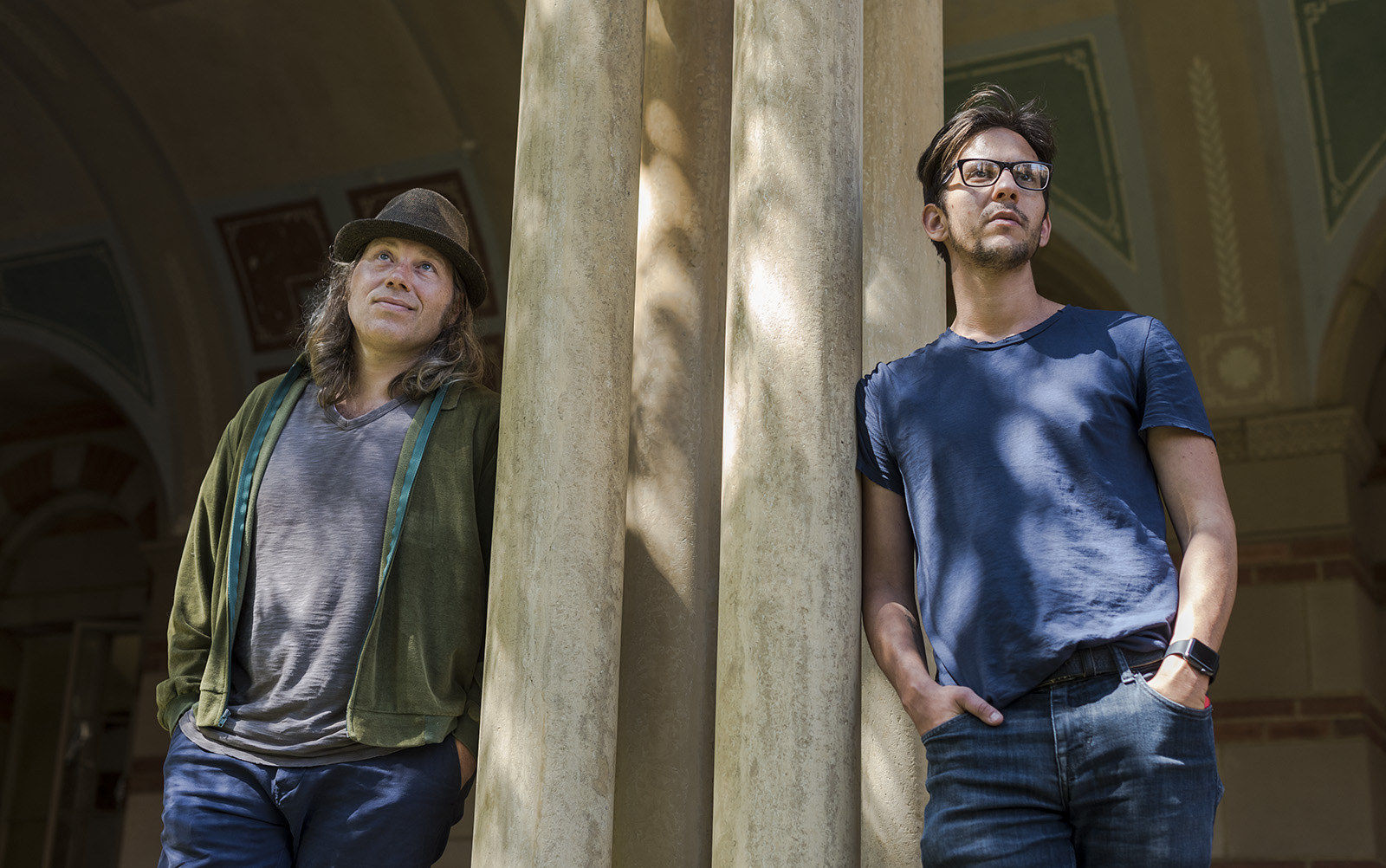 UCLA screenwriting alumni Tamlin Hall (left) and David Goldblum (right) are co-writing a film adaptation of Dave Pelzer's New York Times best-selling novel "A Child Called 'It.'" The film is set to shoot in 2018. (Daniel Leibowitz/Daily Bruin)
This post was updated Sept. 23 at 12:18 p.m.
Dave Pelzer's first book happened to make The New York Times Best Sellers list on the day of his first-ever meeting with a Hollywood producer in 1997. Around the same time, 10-year-old David Goldblum plucked Pelzer's book from an elementary school library shelf as required reading.
Neither knew at the time that Goldblum would grow up to produce a movie adaptation of Pelzer's book 20 years later.
Goldblum, a UCLA screenwriting alumnus, will produce and co-write a film version of "A Child Called 'It,'" a memoir detailing Pelzer's struggle to survive violent child abuse inflicted by his mother. Goldblum is adapting the screenplay along with Pelzer and Tamlin Hall, a UCLA screenwriting alumnus who will also direct the picture. Goldblum said he and Hall intend to blend reality with fantasy in the film, which is set to shoot in Spring 2018, in an effort to honor Pelzer's story and to assure those currently living with abuse that they are not alone.
"We're not doing this to glorify abuse," Hall said. "But in telling the true story and being authentic, you have to show the good with the bad, and we're going to have to toe that line."
Pelzer began to develop an affinity for film at age 12, shortly after police separated him from from his mother. His foster parents would give him $1.25 in spending money, $1.15 of which would go to a movie, popcorn and a coke.
"I just really used to escape a lot through movies and really start to study them," Pelzer said.
But while Pelzer found his solace in film, a young Goldblum found relief in Pelzer's memoir over 20 years later. Goldblum grew up in Long Island as the son of a doctor and a therapist. His mother was addicted to alcohol, and his father would lash out at him, he said, much like Pelzer's mother did in "A Child Called 'It.'" Goldblum said what began as required reading became much more important to him as he found he connected with the material.
"I still had shame that I grew up like that, and when I read the book, it kind of started to lift the shame that I wasn't alone," Goldblum said.
When the first producer reached out with the idea to adapt "A Child Called 'It'" into a film in 1997, Pelzer's inner movie-lover became enamored with the prospect, and after about 20 years of meeting with industry professionals, both shady and legitimate, and watching multiple deals fall through the cracks, he received a call from Goldblum, who told him his personal story.
Pelzer was impressed with Goldblum's old-fashioned manners and his vision to create an impactful film rather than just a Hollywood blockbuster. A couple days later, Goldblum had acquired the film rights to "A Child Called 'It.'"
Goldblum soon invited his former classmate Hall to direct the project, and the pair began piecing together the reality of Pelzer's story by visiting his old elementary school and childhood home in Daly City, California.
As Pelzer and the filmmakers walked the same halls Pelzer once did with bruises poking through the holes in his shirt, they took note of items that would eventually authenticate their story world. The nurse's office bed, as well as the clipboard log into which she recorded Pelzer's injuries and brainwashed explanations, still remained, offering a time portal to the 1970s.
"It brought chills down my spine to walk into that room and for (Pelzer) to tell us that," Hall said.
Goldblum noted the eerie disharmony between the vibrant visual surroundings of the town and Pelzer's dark personal history. The anti-bullying posters in Pelzer's school and the pastel pink paint on the exterior of his childhood home provided an interesting contradiction to what went on inside, Goldblum said.
"What really stuck out to me was how almost ironic the world that he grew up in was," Goldblum said. "It was all happening right under this."
The pair also accessed a primary document written by Joyce Woodworth, a former fifth grade teacher at the elementary school, who recorded the steps she and Pelzer's other teachers took to collect evidence of Pelzer's abuse to present to the police, including consistently logging his appearance and attendance, Hall said.
But nothing offered more insight into the the world the filmmakers will eventually recreate than the nine hours they spent with the man who lived it, both Goldblum and Hall said.
"Everybody has their story, and if you can really get a chance to talk to them and find out information, it really grows the story and evolves the story in a way that it wouldn't otherwise if you just took verbatim what was written in a book," Hall said.
Though the alumni have read Pelzer's book and researched his childhood world, the movie script will not follow the book exactly, Goldblum said. In addition to taking some liberties as far as diversifying Daly City's then-majority-white demographics and shrinking the story's timeline of events, the writers said they have interspersed fantasy with the severity of the book's reality to propel a compelling story.
In his autobiographical account, young Pelzer suffers near-constant abuse, including being starved, hit, stabbed, burnt on a gas stove and forced to swallow ammonia and his own vomit. The filmmakers plan to escape the violence of the abuse scenes periodically throughout the film as Pelzer once did himself: through the boy's imagination.
As the little boy dreams of being surrounded by a family that loves him, so will the audience, visually, as his fantasies play out on the screen.
Additionally, the script will explore the character arcs not only of Dave, but also of his family members and teachers in a way the 184-page book does not.
"We have to show the good with the bad," Hall said. "We have to create characters in a way that the audience believes in these people, and they root for these people."
Ultimately, Goldblum, Pelzer and Hall agreed they are willing to put in as much time and work as necessary to create a story that both satisfies fans of the book and brings awareness to a topic that Pelzer said is too often avoided or negatively stigmatized.
"Twenty years from now, I want to be able to tell my kids and my grandkids and my wife … that we did this the right way," Hall said. "We didn't cut any corners."
Carras is an A&E senior staff writer. She was previously the assistant editor for the Theater Film and Television beat of A&E.
Carras is an A&E senior staff writer. She was previously the assistant editor for the Theater Film and Television beat of A&E.