Students reflect on featured films chosen for Downtown LA Film Festival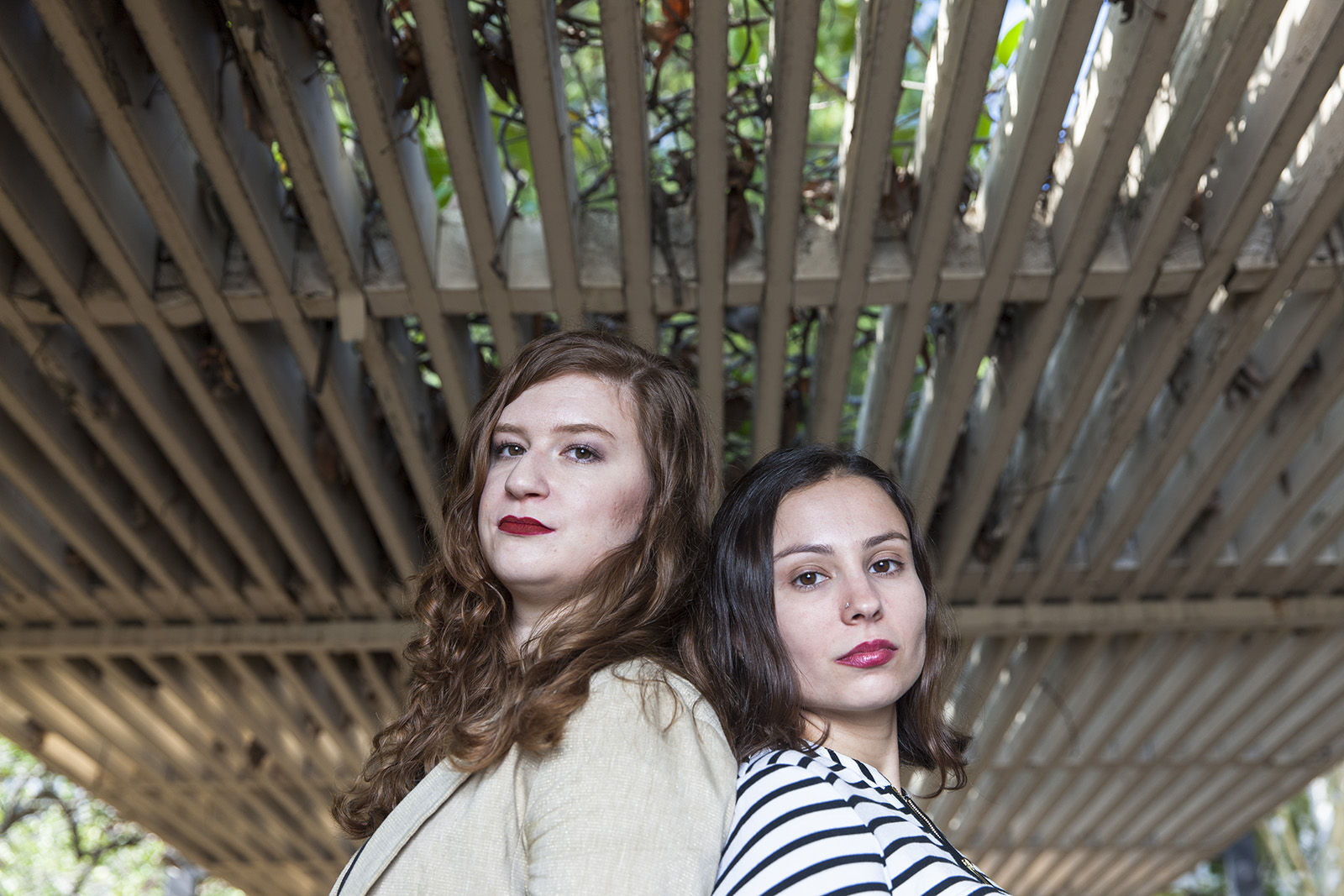 Eva Merz and Luisa Novo are two of five UCLA Extension students who directed films that will be screened at the Downtown Los Angeles Film Festival on Sep. 24. (Aubrey Yeo/Daily Bruin senior staff)
The UCLA-USC rivalry will step off the football field and into the Regal LA LIVE Studio 14.
Ten films directed by students at UCLA Extension and USC will screen at the Downtown Los Angeles Film Festival on Sept. 24. Following the theme "Frame Yourself," the students looked back on their pasts to craft films that reveal their experiences as family members, directors and individuals.
Strings of Hope
When Eva Merz moved to Los Angeles from Germany in 2013, she said everything seemed larger. In Germany, a day's errands could be completed in an hour, but after moving to Los Angeles, a city of skyscrapers and jammed-packed freeways, simple tasks like running to the grocery store or pumping gas felt longer and more tiring.
Merz, a UCLA extension student, transports audiences away from the bustling streets of Los Angeles and into the familiarity of her childhood in Augsburg, Germany, with her short film "Strings of Hope." The film features an ex-soldier who becomes a puppeteer to provide food for his family after World War II. Merz said she used her German background and family experiences to tell the struggling puppeteer's story of how he teaches his young daughter to carve wooden puppets.
Merz said she also connects with the daughter in the story because of her own experiences learning how to craft glass art with her father in Germany. Days spent working with her father helped the two bond and developed Merz's creative inner voice, which led her to eventually pursue film in Los Angeles, she said.
"I'm really grateful for that now, because I can use it to create movies or create other things that I can express myself by," Merz said.
Changes
Roberto Escamilla Garduño said he likes to produce films with some Latin-American flavor.
Garduño, a UCLA extension student, grew up watching American cinema, but he said his Mexico City upbringing makes his point of view different from American directors.
His film "Changes" centers around a 16-year-old boy whose friends pressure him to lose his virginity to a prostitute. While the incident is not drawn directly from Garduño's personal life, the phenomenon of older men taking their younger friends to a brothel or strip club are common in Latin America, he said.
When showing the film to audience members, Garduño said American viewers have difficulty believing the truth behind the film.
"For some people, they question the reality of the film because that wasn't the reality they want to see that way," Garduño said.
However, Garduño said audiences should be able to identify with his film's characters – himself included. He added he has also felt susceptible to peer pressure, just like the protagonist feels in the initial stages of the film.
"I really relate to him in that he learns how to make decisions on his own," Garduño said. "At some point he stops listening to his friends and he starts listening to himself and what he wants."
Searching Skies
Vivian Hua said audiences either hate or empathize with the main character in her short film "Searching Skies."
The film focuses on the varying opinions that arise when a Catholic family invites a family of Syrian refugees into their home for Christmas dinner. In the midst of rising tensions, an unforeseen event occurs that shifts the mood.
As the child of two immigrants, the UCLA extension student said she feels a deep sympathy for the refugee flight.
When Hua's parents moved to the United States from Taiwan in their mid-20s, they struggled both financially and culturally, working at a convenience store until they could access higher-paying jobs. But their decision to move to the United States allowed her to pursue her creativity through film, Hua said.
However, unlike her parents, many of the refugee families did not have a choice in leaving their home country, she said. The film delves into the sadness that comes with parting ways with the culture and memories of a refugee's home country.
"I really feel grateful to have opportunities to be creative or even to be able to be a filmmaker, which is not something people in a lot of countries can say," Hua said.
Dead Flowers
Pablo Riquelme's first forray into the cinematic world was as a child actor in the Spanish horror film, "The Night of the Monk."
Before moving to the United States to pursue a career behind the camera, UCLA extension student Riquelme acted in Spain, which he said exposed him to different directional styles. Now a director, Riquelme said he calls on his past experiences as an actor to assist him in directing movies like his short film "Dead Flowers."
The thriller, which plays on the tension between two feuding twin brothers, has circulated film festivals since its release in June 2016. The twins are played by the same actor, which Riquelme said can present challenges.
As a child actor, Riquelme said he felt a great responsibility to bring a director's vision to life, which heightened his nerves while filming because he feared letting down the film's producers and screenwriters.
So when actor Anthony Nikolchev had to physically fight himself during one of the fight scenes between the twin brothers, Riquelme did not speak to him about his expectations. Instead, Riquelme created a strong action script, adapting the camera to Nikolchev's actions so nerves would not inhibit his performance.
Riquelme said his directing style gave Nikolchev the space to perform without the pressure of meeting Riquelme's expectations.
"For me, the most fun part of making a movie is to see how an actor can pull off something that was just in your mind," Riquelme said.
Becoming Lucy
While Luisa Novo has never changed her outward appearance, she said she has felt the need to change her personality in a new social circle.
When meeting new people, Novo, a UCLA extension student, said she shields her outspoken and opinionated nature because she fears offending someone.
"I do tend to refrain myself from being the way I usually am, because I am afraid people are not going to like me," Novo said.
Novo's thoughts on self-image also manifest in the main character of her short film "Becoming Lucy." Lucy, a 15-year-old girl, dyes her hair blond after her father leaves her mother for a much younger blond woman.
Although Novo wrote the script from the perspective of the daughter, she said the short film received positive feedback from mothers who have seen their teenage daughters struggle with their own self-image since its release in May. Novo said their response is indicative of the lack of positive films for young women.
"I really wish there were more positive films, especially for young women out there about learning to be okay with who you are instead of trying to follow the next person," Novo said.