Child actor evokes alumna's nostalgia, inspiration for film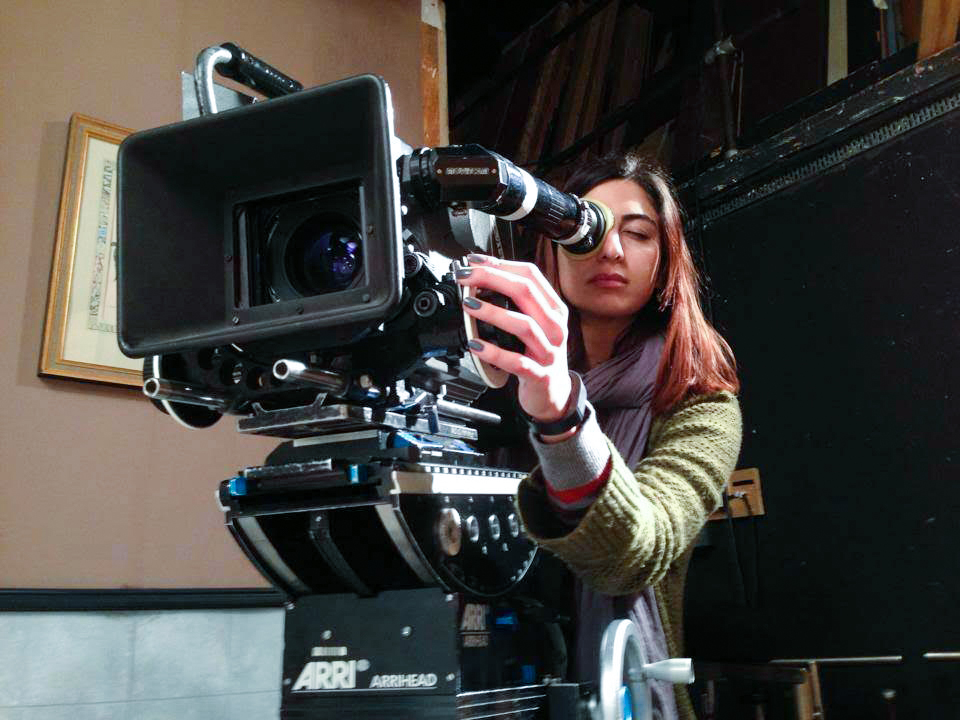 For alumna Golnaz Jamsheed's short film "Miracle Town," working with a child actor gave the character of a silent, young boy a sense of childlike innocence and authenticity that reflected her own childhood, Jamsheed said.
(Courtesy of Haolu Wang)
As a young girl growing up in Iran, Golnaz Jamsheed used to watch somber Iranian movies, like "Taste of Cherry," with her mother.
"The movies of the time, which are now national treasures, capture a feeling of melancholy and the state of the times which was very dark for my young age," Jamsheed said. "But (the movies) helped (me) gradually build an interest for films and making films."
Theater, film and television alumna Jamsheed said her early exposure to Iranian films was one of the reasons she chose to pursue a life in the cinematic arts industry. As a way of reliving her impactful childhood, Jamsheed said she decided to base the plot of her new short film "Miracle Town" around a 5-year-old child. The short film finished filming on July 25 and will premiere in winter 2018. Jamsheed said "Miracle Town" and its young protagonist helped her revisit the nostalgia of exploring an unfamiliar world as a child.
After graduating from UCLA in 2006, Jamsheed went back to Iran to explore the country by herself – a search for creative inspiration before returning to filmmaking.
"At school, I watched three films a day to study the creative process but was so young when I graduated at 21 years old," Jamsheed said. "So I set out to see the world and return to my motherland to learn more about the world and grow creatively."
In 2015, Jamsheed traveled back to the United States after being accepted into the David Lynch Graduate School of Cinematic Arts in Iowa. Once Jamsheed finished studying at the film school, she said she decided to make a short movie that she could write herself before leaving Iowa. The result was "Miracle Town," a cinematic homage to the small Iowan countryside town where her miracles came true.
"Miracle Town" tells the story of an author on a book tour who finds a mute boy on the side of the road and picks him up in an attempt to help the boy find his family. Over the course of the movie, the author deals with an arrest by the town sheriff and other supernatural struggles as he slowly comes to learn the dark secrets of the silent, lost boy he has picked up.
Jamsheed was attracted to the idea of writing a story with a child protagonist because it allowed her to remember her own childhood when she first began to fall in love with film, she said.
"I love working with kids because it brings out the inner child in me," Jamsheed said. "It is very therapeutic for me to be able to revisit my past."
Working with a child, Jamsheed said, is like working with a blank slate – a child is able to be more authentic with his or her actions, unlike adults whose performances are affected by the preconceptions they have developed over many years of life.
"I love that kids are so present when they are working because they do not fixate on the past or the future," Jamsheed said.
However, working with children can also pose its own set of challenges, said Charles Miller, the actor who plays the sheriff in "Miracle Town." Having a child actor, Beau Jarmosco, play the part of the little boy Beau in "Miracle Town" allows the character to come off as innocent, said Miller, but also requires patience and a good attitude.
"The thing with kids is that they are wrapped up in their own world and although Beau is a well behaved kid, he still is 5 1/2 years old," Miller said.
During one of the film's supernatural scenes, Jarmosco insisted on not wearing fake blood on his face because of the sticky consistency. But Jamsheed said she was happy to work around Jarmosco's demands because she felt that they must be respected despite his age.
"When I was younger, I hated having things sprung on me and when adults did not take my opinions into consideration," Jamsheed said. "The movie is about a child and I wanted to honor his work and decided to sacrifice (the fake blood) shot."
Jarmosco's youthfulness also provided an opportunity for improvisation from the cast, which added a more natural feel to the film, said Graham Cooper, the assistant director for "Miracle Town."
Jarmosco's character was limited to actions because he plays the part of a boy who does not speak, so the cast sometimes had to work around the movements of the child, Cooper said.
In some scenes, Jarmosco did not understand why he had to walk to one specific side of the protagonist's car for the camera to get a proper shot. To work with both Jarmosco's actions and the crew's demands, the actors had to lift the boy up and move Jarmosco to the right side of the car in a manner that seemed natural.
"Because (Jarmosco) is young he did things differently which often gave us some space to create and react to his actions in a natural way," Cooper said. "There is much less rehearsal involved because it is hard to rehearse with a kid so the actors need to know how to react."
Jamsheed said that the child actor's natural tendency to stray from the directions also worked well with the childlike innocence that she wanted the character to have. She added that it reminded her of her own childhood in which she was left alone to figure out for herself what she liked and did not like.
"(Jarmosco) and his character are trying to survive (in) a world where adults are interfering and trying to rule," Jamsheed said. "In my childhood, I had the privilege of exploring and growing alone, and I wanted the character to do the same."