Alumna's jewelry designs rooted in Korean folklore and tradition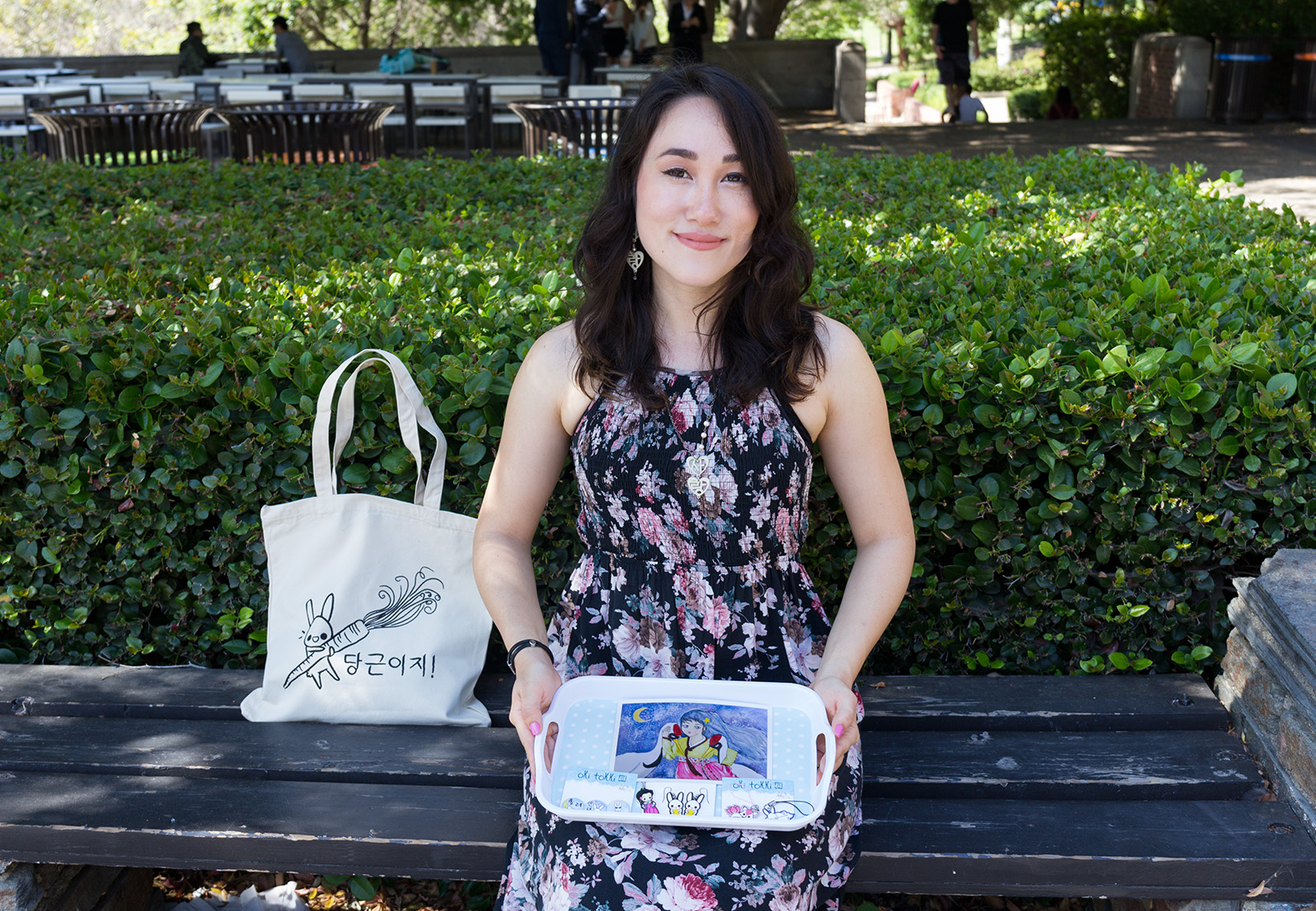 Alumna Aein Hope designs jewelry and accessories inspired by Korean folklore and Hangeul characters. (Chelsea Zhang/Daily Bruin)
Correction: The original version of this article incorrectly spelled the name of the Korean alphabet as "Hangul". In fact, the government of the Republic of Korea uses a standardized spelling of "Hangeul".
Artist Aein Hope strolled through a South Korean street market in search of the perfect souvenir to commemorate her time studying abroad.
The UCLA Korean studies and Asian humanities alumna hoped to find a shirt or bag featuring Hangeul, Korea's written language. Instead, she came across designs sporting nonsensical sayings in English, or at most, the country's name in English characters.
"I thought, 'Well, if I can't buy it, maybe I should just design it,'" Hope said.
Hope, a former Daily Bruin staffer, crafts jewelry and accessories inspired by Hangeul and Korean culture. Her online store, oki tokki, which she opened in 2010 after returning from her studies in South Korea, aims to make Korean language and folklore accessible to customers around the world.
[Throwback: Alumna finds gem of a job in establishing Misa Jewelry line]
While Hope said she understands why Korean artists may be drawn to the English alphabet because of its contrast to Hangul characters, she prefers to derive her designs from Hangeul because her mother is Korean and because the geometric style of the lettering lends itself well to her artwork.
"I did words in Korean like 'dream,' 'love,' but I wanted them to all make sense," Hope said. "Not like the English T-shirts that I saw."
Hope's sketchbook serves as a drawing board for her jewelry designs, which she tweaks several times in pencil before transferring the sketches to Adobe Illustrator. She then finalizes the colors and measurements for the prototypes on her computer before sending them in a file to a laser cutter who creates acrylic versions of her drawings, which Hope embellishes with jewelry paraphernalia like hooks, chains or Swarovski crystals.
One of her bestsellers is a $15 tote bag that depicts the line's signature rabbit, or "tokki" in Korean, and reads, "Of course, it's the carrot," in Hangeul. The line is a pun that plays on the similar sound of the two clauses, which are near identical phonetically in Korean.
Lisa Morris, one of Hope's customers, purchased around 20 $2 pins from the site to share with her church's Korean class. The inch-long accessories featured the same rabbit and the Korean word "annyeong" – which means both "hello" and "goodbye" – printed in Hangeul. Morris said her classmates appreciated the pins and added she thinks they accompanied the beginner-level class perfectly.
Another one of Hope's customers, Kelly MacDonald, said she became enamored with Hope's Hangeul designs when she came across her and oki tokki featured in KOKO Living Magazine, a lifestyle publication for Korean-American women. MacDonald reads KOKO to keep up with Korean culture for the benefit of her daughter, whom she adopted from Korea.
"It was neat to find an artist," MacDonald said. "It's not very easy to find something that is printed in Hangeul, as you can imagine."
MacDonald purchased $24 star-shaped earrings that read "somang," meaning "wish," in Hangeul for the 10-year anniversary of her daughter's homecoming. She said the jewelry symbolized her wish coming true when she brought her daughter home in 2004.
"I think it would be very meaningful to a lot of adoptive families to hear about being able to get this kind of stuff here," she said.
But not all of Hope's merchandise include Hangeul motifs. Many of her creations feature characters based on Korean folklore. She consulted websites and books such as "An Illustrated Guide to Korean Mythology" when researching her latest character inspirations.
One of Hope's favorite designs depicts a "kumiho," which, according to Korean mythology, is a fox with nine tails – one for every hundred years it's lived. Hope researched the stories and looks of different iterations of the kumiho online, in books and by watching a Korean drama called "My Girlfriend is a Nine-Tailed Fox."
Hope said she wanted her design to take a lighter spin on the typical kumiho tale, in which the fox drinks men's blood and eats their livers. She softened the fox's appearance by drawing its tails to look like the Rose of Sharon and the sakura, the national flowers of Korea and Japan respectively.
"My favorite part was designing them and coming up with an original character that's completely mine," Hope said.
Hope began sketching the kumiho in the early evening at her desk by the bedroom window of her second-story apartment. More than 40 iterations and several hours later, she decided on two designs to transfer to Illustrator – around 5 a.m. the next morning. The final products had just five tails each, making them about 400 years younger than a full-grown kumiho.
Hope said she wants to continue infusing more Korean folklore and motifs into her work as her store grows, researching as she goes along to keep her merchandise rooted in tradition.
"Once I get inspired, the research part, I kind of just really dive into it," Hope said. "I kind of get a little obsessive over it."
Carras is an A&E senior staff writer. She was previously the assistant editor for the Theater Film and Television beat of A&E.
Carras is an A&E senior staff writer. She was previously the assistant editor for the Theater Film and Television beat of A&E.