UCLA alumna creates fashionable, efficient convertible bag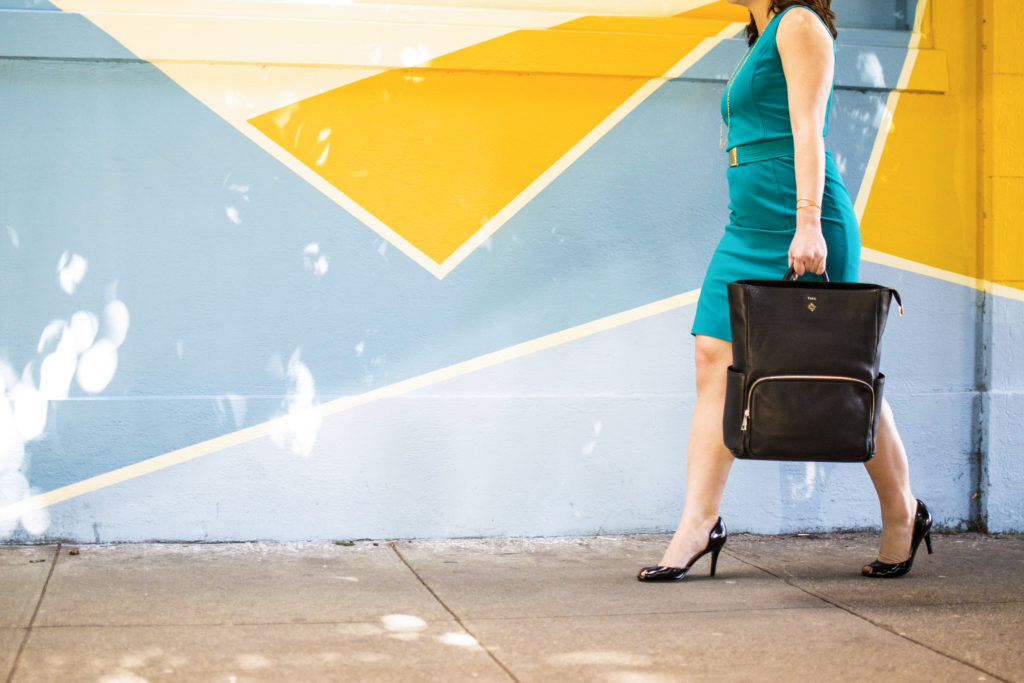 Alumna Julia Lam carries her new product,
"The Tracy," a convertible bag that transforms from a backpack to a handbag. (Courtesy of Kimberly Brizzolara)
Correction: The original version of this article incorrectly stated that Julia Lam came up with the idea of "The Tracy" while working at Facebook. In fact, Lam came up with the idea while working at Bucket, a company she co-founded.
UCLA alumna Julia Lam and her friend Marisa Juárez Burdick advertised one of Lam's latest bag designs simply by walking into a Michael Kors store at a shopping mall.
Upon entering, they were approached by a sales associate who complimented Juárez Burdick's handbag – an early prototype Lam had created called "The Tracy," a two-in-one bag.
Juárez Burdick said after a few minutes, the entire Michael Kors sales staff stood around them as she demonstrated how the convertible bag switched from backpack to crossbody to shoulder bag.
"That's how it works – you walk by people and they notice it," Juárez Burdick said.
[Related: UCLA alum founds Sharpe Suiting to sell gender nonconforming suits]
Lam founded the accessory line Tara&Co in November 2016. In June, one month after it began its online funding campaign, the company reached 115 percent of its goal for its debut product, "The Tracy," which is expected to hit the market in November. Lam said the $395 convertible handbag will be the first in a line of fashionable and functional products for professional women.
Lam came up with the idea of "The Tracy" while working at Bucket, a company she co-founded. When attending networking events or parties, she often brought her boyfriend as her guest. Lam said she noticed the other guests tended to greet and entertain her boyfriend more than her, as though they assumed he was the one invited and not her.
"As a woman in technology, it is often difficult to be taken quite as seriously as you want to be," Lam said.
Lam said she understands the struggle to dress both professionally and fashionably in order to be taken seriously in the male-dominated technology industry.
She said she found that most handbags on the market were fashionable but lacked space for her daily needs such as a laptop, paperwork and makeup. Conversely, women's backpacks optimized space but featured a clunky, unprofessional exterior she did not want to display at social events, she said.
Lam wanted to create accessories for professional women that were both fashionable and functional, she said.
She began developing "The Tracy" by surveying hundreds of professional women both online and in person. Lam asked simple questions such as "What's in your bag?," "What do you like about your bag?" and "What do you wish your bag had?"
Lam included any suggestion that received 50 percent or above of audience agreement into the bag's design. Among the suggestions were the bag's ability to fit a 13-inch laptop and easily switch from backpack to handbag.
Accustomed to the quick pace of the technology industry, Lam wanted to build the first prototype of "The Tracy" as soon as possible, she said. It took three weeks to design the bag and an additional three weeks to have the bag made.
Lam then loaned "The Tracy" to businesswomen, whose feedback she used to construct further iterations of the bag.
Gillian Morris, CEO of Hitlist and one of the women who tested the bag, said a French designer created her current handbag which, while fashionable, has thin straps that dig into her shoulders.
Morris said she thinks "The Tracy," with straps made from leather and nylon, offers a more comfortable alternative.
"I can walk in and feel confident and professional and cool-looking, but it's also something that's eminently practical," Morris said.
Juárez Burdick, Lam's former co-worker at Facebook, also tested an early prototype of "The Tracy" by taking it along with her for a full day of work as an event planner and nanny. She said a key ring and two pockets on either side of the bag helped organize all of her items.
Lam said Tara&Co has raised over $60,000 with the presale of "The Tracy" and its accompanying colored clutch. She added she is already in the early phases of prototyping a second bag that will also be convertible and stylish for professional women.
"I think we have really strived to build a bag that really encompasses the everyday working woman that you see today and her busy lifestyle," Lam said.