Alumnus draws from experience in music therapy to teach summer course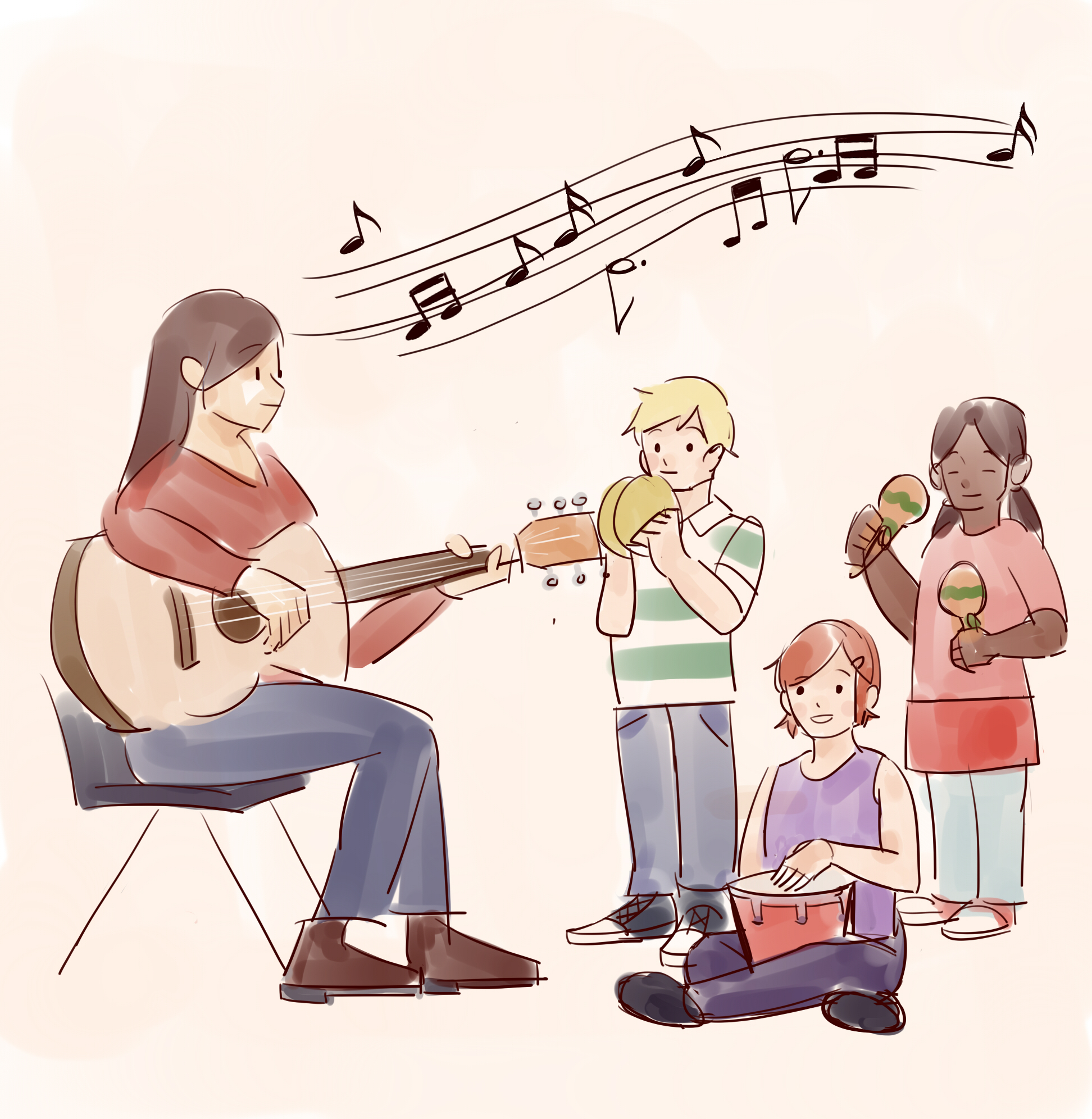 Joe Kim uses music instead of medication to treat his patients.
Kim is a board-certified music therapist and a choral conducting alumnus of the UCLA Herb Alpert School of Music. This summer, he is teaching Music 188: "Introduction to Music Therapy." Music therapy is the practice of using music to address a patient's symptoms.
"Music is not the most calculated or methodical tool of therapy," Kim said. "But at the same time, it is a transcendent and transformative experience for many of the patients."
Music plays a central part in Kim's therapy sessions. For example, an older patient with congestive heart failure might turn to Kim's clinic for music therapy. Kim would construct a 40-minute session based on the symptoms of CHF, such as rapid heart rate, and then count the patient's beats per minute while playing the guitar at the same tempo as the heartbeat, using the heartbeat as a kind of metronome. As the session continues, Kim would gradually play the music more slowly to slow down the patient's heartbeat and to calm his or her breathing.
"I look for the worst symptoms of the patient, and how I can use music to alleviate these symptoms and bring comfort, " Kim said.
[Related: Professor Mark Tramo melds music and medicine]
Kim said he documents how he helped the patients during the first session and tries to reuse effective tactics – such as certain melodies and rhythms – during following sessions. The repetitive nature of music therapy can often help patients with injuries related to mental trauma relearn pattern-based behaviors, such as walking or talking, Kim added.
In addition to his expertise in the therapeutic part of music therapy, Kim spent years working on the marketing side of the field as a business developer. Trenton Barrick, his music therapy colleague, said he thinks Kim's experience in all areas of the field makes him a fit candidate to teach an introductory course about it.
In the course, students will participate in discussions about what music therapy is, how it is used, for whom it is used and how students can enter the profession, Kim said.
Kim said he will teach students how to identify symptoms and develop therapy session plans based on the symptoms of hypothetical patients. Additionally, students will research local music therapy clinics, conference information and schools that offer continuing studies in music therapy.
The class will also have a musical element, as music therapists generally use live instruments during their sessions, Kim said. Kim's primary instrument is his voice – he is a choral singer and conductor by education – but he also learned how to play the guitar so he could incorporate live instrumentation into his therapy. In the classroom, Kim will teach students the basics of how to use their voices and drum patterns in a therapeutic setting.
The vocals, drum patterns and other musical instruments used in music therapy are harmless, said Natalie Spencer, a music therapist and Kim's colleague. Thus, she said she thinks music therapy is something anybody can enjoy and benefit from.
Some students have already seen the potential benefits of music therapy. Fourth-year psychobiology student Adam Takatsuka oversaw a project last year in which SLAM!, a music mentorship group on campus, performed music therapy at many sites around UCLA, including the Mattel Children's Hospital and the courtyard at the Ronald Reagan UCLA Medical Center. During the sessions, Takatsuka said he saw participants enter a more relaxed state and have an uptick in mood.
"(Music therapy) is something everyone can experience," Takatsuka said. "Everyone can get something enjoyable out of it."