Theater review: 'Constellations'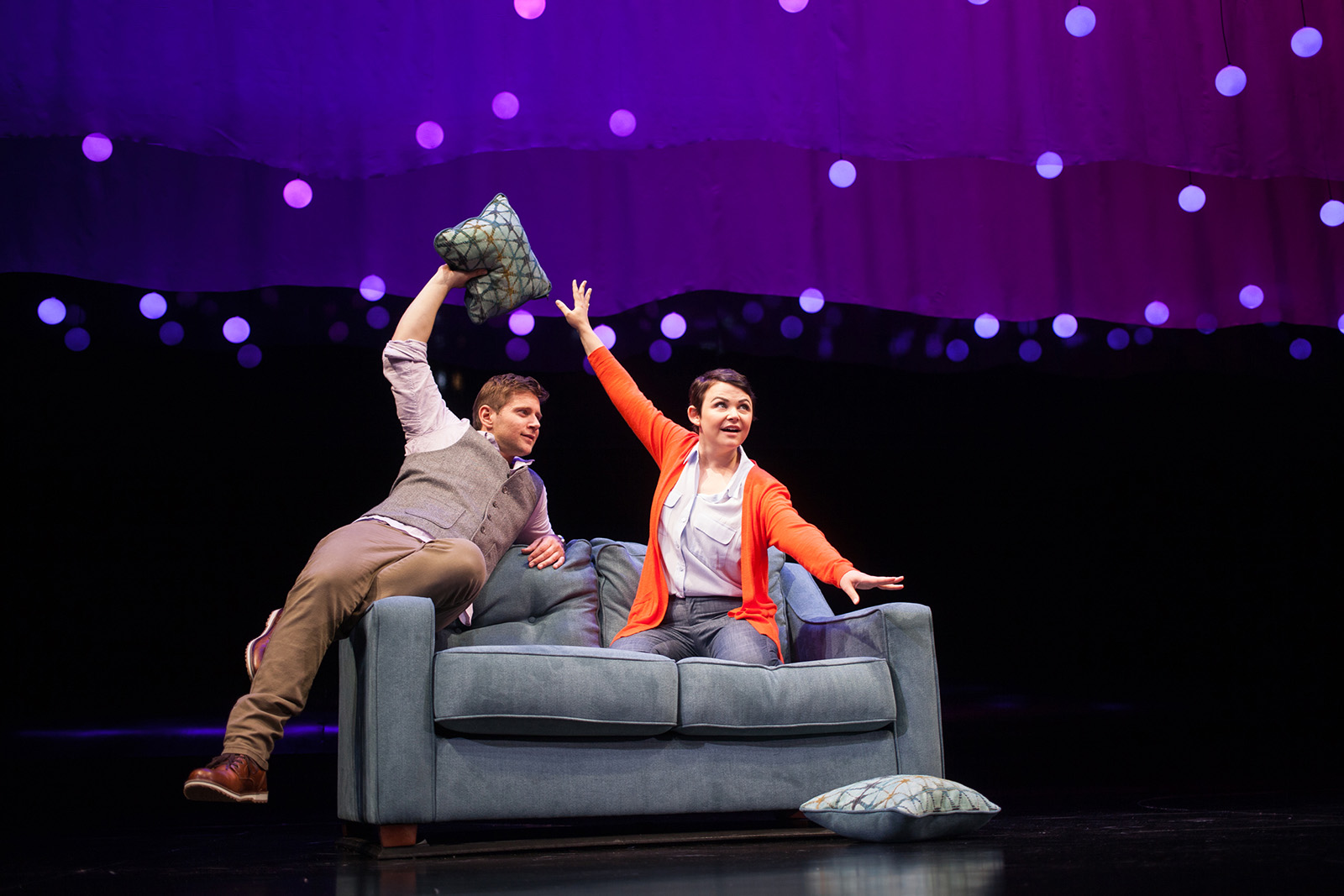 (Courtesy of Chris Whitaker/Geffen Playhouse)
"Constellations"
Directed by Giovanna Sardelli
The Geffen Playhouse
June 6-July 23
Tickets: $43-$84
Quantum physics collides with beekeeping in the Geffen Playhouse's latest show.
The stellar 2017 rendition of Nick Payne's "Constellations" runs from June 6 to July 23. The production takes its audience across the universe, through multiple timelines that each represent a different outcome for the relationship between a playful cosmologist, Marianne (Ginnifer Goodwin), and a compassionate beekeeper, Roland (Allen Leech).
Goodwin and Leech deliver a rich script that is simple and colloquial on the surface, but uncovers the deeper meanings of life, love and loss with anecdotes about beekeeping and quantum physics.
Three sheets of fabric hang across the stage's ceiling in tiers resembling waves, and about a hundred illuminated orbs hang among them. The orbs give off a glowing, electric blue light when the play opens, but change to other colors as Marianne and Roland transition from one alternate timeline to the next in a matter of seconds.
[Read more: Theater Review: 'Big Sky']
Marianne appears on stage in a vibrant orange sweater that matches her quirky personality. She excitedly tells Roland when they first meet that licking one's elbows is supposedly the secret to immortality, but the beekeeper shuts down her attempts to make conversation by saying he has a girlfriend. The lights go off and on, and seconds later, Marianne tells Roland the same thing. He now dismisses the conversation and says he is married. The third time around, Marianne has convinced him to lick his elbows, and this time, he's single.
The infinite possible outcomes of a singular event is the basis of "Constellations." The constant repetition of the same scene with minor differences initially gave off the impression of a fractured plot with no coherent storyline for the audience to hold on to. However, Goodwin and Leech successfully steer away from the dangers of a repetitive showcase. Marianne provides closure to the many vignettes of "Constellations" with dialogue that suggests that for every adverse reality, the circumstances faced by the duo in another reality are much happier.
At times, the repetition of scenes is comical, such as when Marianne drunkenly explains relativity using a couch cushion. At other times, it is utterly frustrating as climactic flashes of tension are shattered without resolution to portray a new timeline. Erratic changes in emotion leave one grappling with the choice of which version of the characters' actions they should identify as "reality," only to realize there is in fact no correct answer.
As their situations change across each reality, Marianne and Roland also alter their behavior. One situation often gives rise to different reactions such as sympathy, detachment and sometimes even violence as it is repeated. When Marianne confesses to doing something she shouldn't have, Roland is heartbroken. Just seconds later in a different reality, he is livid at the very same confession.
The two personalities, however, remain intact at their cores – Marianne is almost always a high-spirited, dedicated young woman who seems to speak without a filter, while Roland maintains a kind, understanding and sometimes awkward demeanor. But Goodwin and Leech delicately balance consistent characters with occasional out-of-character traits that arise with situational changes.
Another striking quality of "Constellations" is its accessibility. Though Payne's script features complex and abstract theories of physics, Marianne breaks them down through a simple, comical explanation of the multiverse to Roland. Marianne's words, combined with the general arrangement of short episodes representing parallel realities, allow the play to occupy a happy middle between love and science, rather than just being a silly romantic comedy or a mind-numbing discourse on string theory.
While minimalistic, production elements accentuate the play's elegant charm. Frequent changes in lighting are effective not only in signaling the entry into a new timeline but also in conveying the relevant mood. As the play takes devastating turns, the warm lights on the Geffen's stage dim, leaving Marianne and Roland in a darkness that is mitigated only by the luminous, colored spheres hanging above them.
In some realities, the couple's stars align and give them a fighting chance. In others, they aren't so lucky. While whiplashing oscillations between good and bad outcomes of the same event initially seem confusing, they actually deliver a riveting desire to remain invested in the couple's love – or sometimes, not-love – story, simply because of its sheer unpredictability.
The couple's flash encounters emphasize the power of a single choice, forcing the audience to decide which sequence of actions it would like to call reality as an infinite number of Mariannes and Rolands embark upon their journeys in the multiverse.
Devjani is the top editor of the Arts and Entertainment section. She was previously the assistant editor for the Theater Film and Television beat.
Devjani is the top editor of the Arts and Entertainment section. She was previously the assistant editor for the Theater Film and Television beat.