Graduated students reminisce about favorite Westwood food spots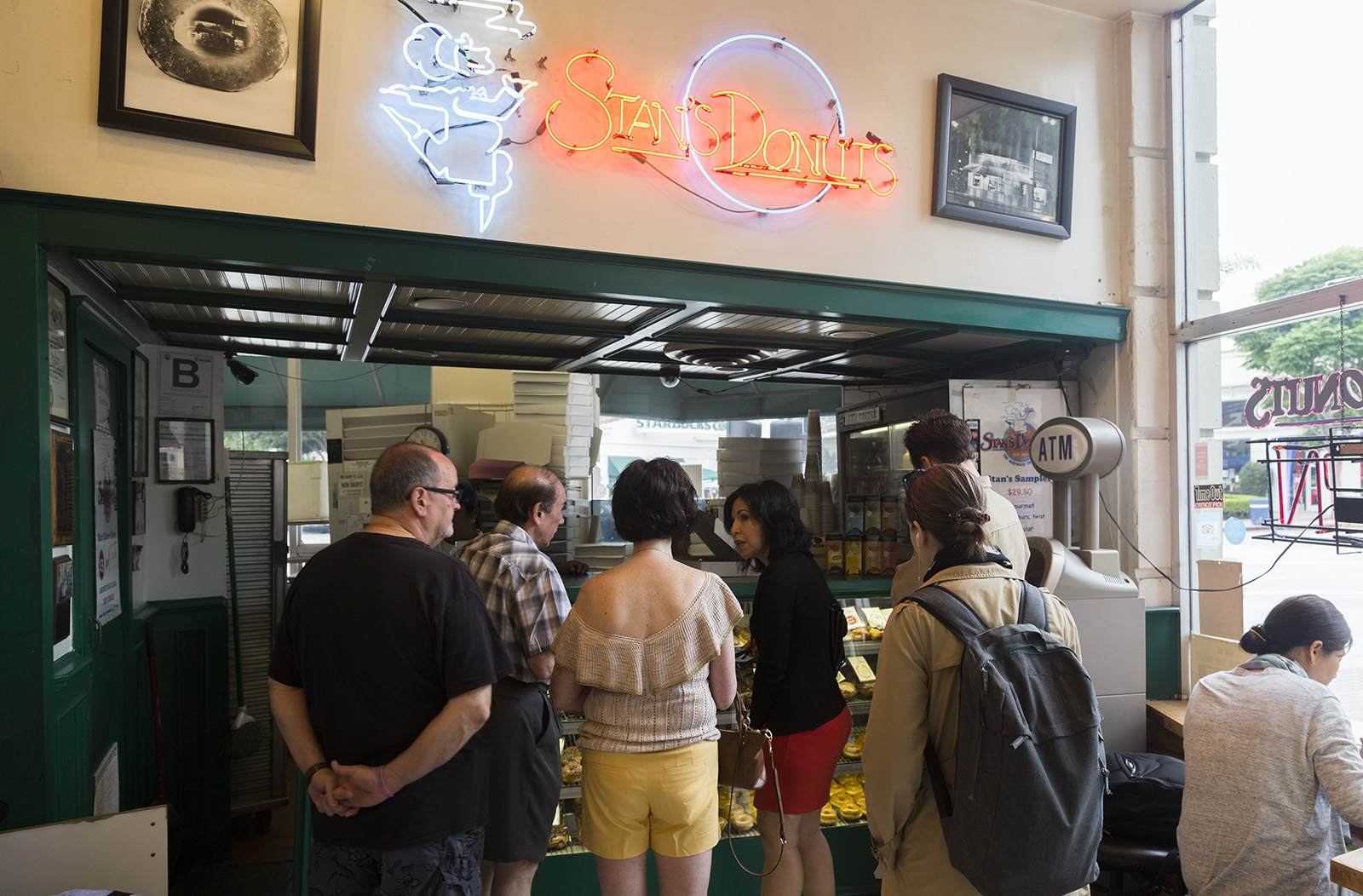 Stan's Corner Doughnut Shop has been a Westwood staple for over 50 years. Fourth-year communication studies student Lexi Mossler continued her family's tradition of going to Stan's for late-night doughnuts. (Alyssa Dorn/Daily Bruin staff)
Seniors are moving on to the next stage of their lives, which in many cases, means moving away from Westwood and its variety of dining choices. Here are some of the top Westwood restaurants graduated students will miss once they leave the area.
Stan's Donuts
Location: 10948 Weyburn Avenue
Stan's Donuts has been in Westwood for over 50 years and in 2001, Forbes featured it on their list of America's Best as America's best doughnuts. For some UCLA students, however, eating Stan's is more than a delicious snack; it is a tradition with a rich history. For Lexi Mossler, that tradition spans generations.
The 2017 alumna's father and uncle grew up near Westwood and often rode their bikes to Stan's for doughnuts, especially late at night when Stan's sold large bags of doughnuts at a discounted price. In college, Mossler was able to walk to Stan's and continue the family tradition.
"The history of it's so cool and so rich, and is really the epitome of Westwood," she said. "I think it's just really amazing to hear those stories and be able to connect that to my time here. Also the chocolate peanut butter doughnut is amazing – you can't go wrong!"
Enzo's Pizzeria
Location: 10940 Weyburn Avenue
Enzo's Pizzeria is a popular late-night dinner spot for students, and it is also the restaurant Danny Chamaa will miss the most once he graduates. While many students order pizza from Enzo's for delivery, the 2017 alumnus said he enjoyed dining in the pizzeria because of its atmosphere.
"It's nice sitting down there," he said. "It's kind of enclosed from Westwood so it's a little break from reality."
Chamaa will miss the cheesy balls the most, especially at their discounted 3 a.m. prices. He added that while Enzo's is a little pricier than other Westwood pizza spots, the cheesy balls still place it above 800 Degrees Pizza as his favorite pizza spot.
Koala T Café
Location: 10965 Weyburn Avenue
Koala T Café was Candy Iniguez's introduction to boba. The 2017 alumna grew up in Orange County, where she said there aren't many boba places. When she came to UCLA, she went to Koala T to try something new, and now it's one of her favorite Westwood restaurants despite almost injuring herself the first time she tried the drink.
"The first time I had it, I'd never tried the boba ever in my life, so I almost choked on one of the little bobas," she said.
Barney's Beanery
Location: 1037 Broxton Avenue
Barney's Beanery is a traditional Westwood eatery, said 2017 alumnus student Franc Escobedo. He said he goes to the restaurant with his friends to hang out in the relaxed atmosphere. Last week, he and his friends went to Barney's after their club's formal and listened to karaoke for hours.
"We were just there hanging out, listening to everyone doing karaoke and it was a really good time," he said. "It's very iconic to Westwood. It's always there for you, you know?"
Escobedo said he enjoys the karaoke nights and, while he's never been to a trivia night, would like to experience it before graduating.