The Quad: UCLA Secrets' graduating admins to hand reins over to interns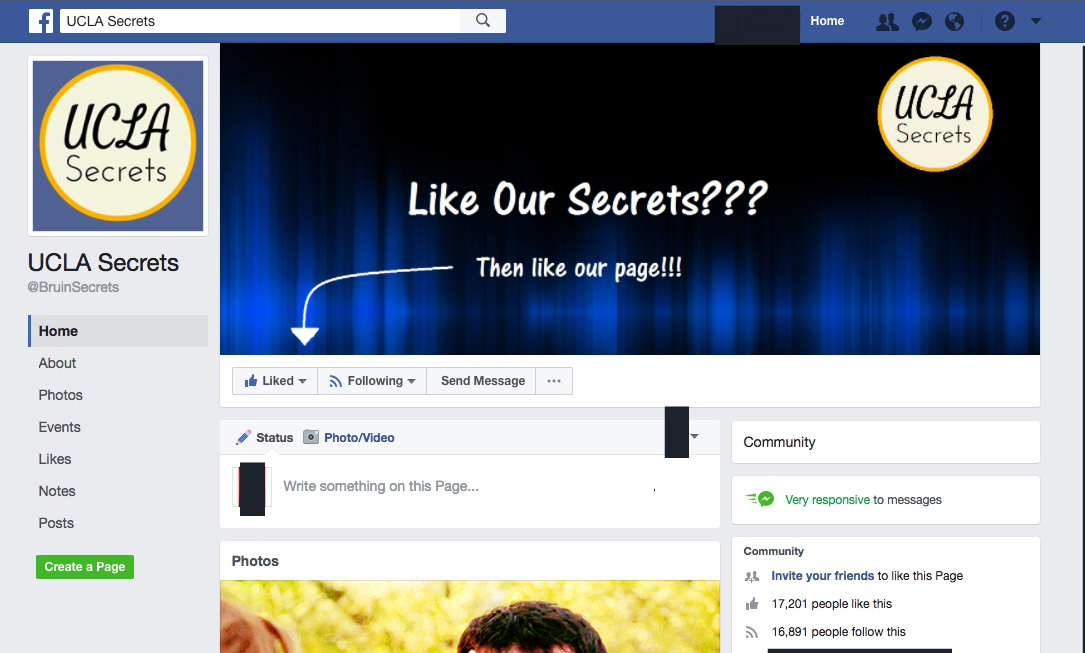 As the year comes to a close, many graduating seniors have memories they'll hold onto for years to come. The joy of realizing it's chipotle chicken bowl day at Bruin Plate; the misery of sleepless nights in Powell Library during 10th week; and maybe even going on Facebook and reading through UCLA Secrets posts every day.
UCLA Secrets serves as an open platform for students to anonymously seek out help and rant on topics ranging from their GPAs to absurd roommate horror stories.
This year, two of four administrators for the UCLA Secrets Facebook page are graduating. I was able to get in contact with one of them, who did not provide me with his actual name, preferring I refer to him by his administrator name, John Stuart Mill. Fourth-year political science student Mill hails from Los Angeles. Mill became involved with UCLA Secrets during his freshman year, when he saw that the page was looking for help. He expressed interest and was then accepted, starting the beginning of his four-year involvement with the page.
This year, UCLA Secrets decided to hire interns for the page. Mill said the interns post most of the secrets that appear on the page. After the two graduating administrators leave, the interns will replace them. Mill said most of the interns are looking to continue working for UCLA Secrets. Although Mill's experience with the page has been enjoyable for the most part, he expressed concern regarding the way students sometime handle negative secrets that are posted.
"It's been an outlet for students – but unfortunately, people assume these ideas and secrets are from us, the admins," Mill said. "Sometimes we post things that we are against but we still have to post them."
Many times, students are offended by certain secrets or comments that are posted on the page. They then resort to reporting that particular comment or post, which is inconvenient for the administrators of the page. This not only temporarily shuts down the UCLA Secrets page, but also shuts down the administrators' personal Facebook accounts as well. Mill hopes to tackle this problem in the future.
"We want to create our own website and automate postings," Mill said. "We want to be able to post certain ideas or posts people are against without (others) scrutinizing the entire page."
Mill also explained that this year was the first year UCLA Secrets used a hashtag system for the secrets it posted. This aims to make it easier for students to find a specific post or posts that are similar to each other.
UCLA Secrets has grown immensely over the past few years, and its graduating administrators hope it keeps expanding for years to come.