Student guitarist, Spring Sing winner aims to continue music outside UCLA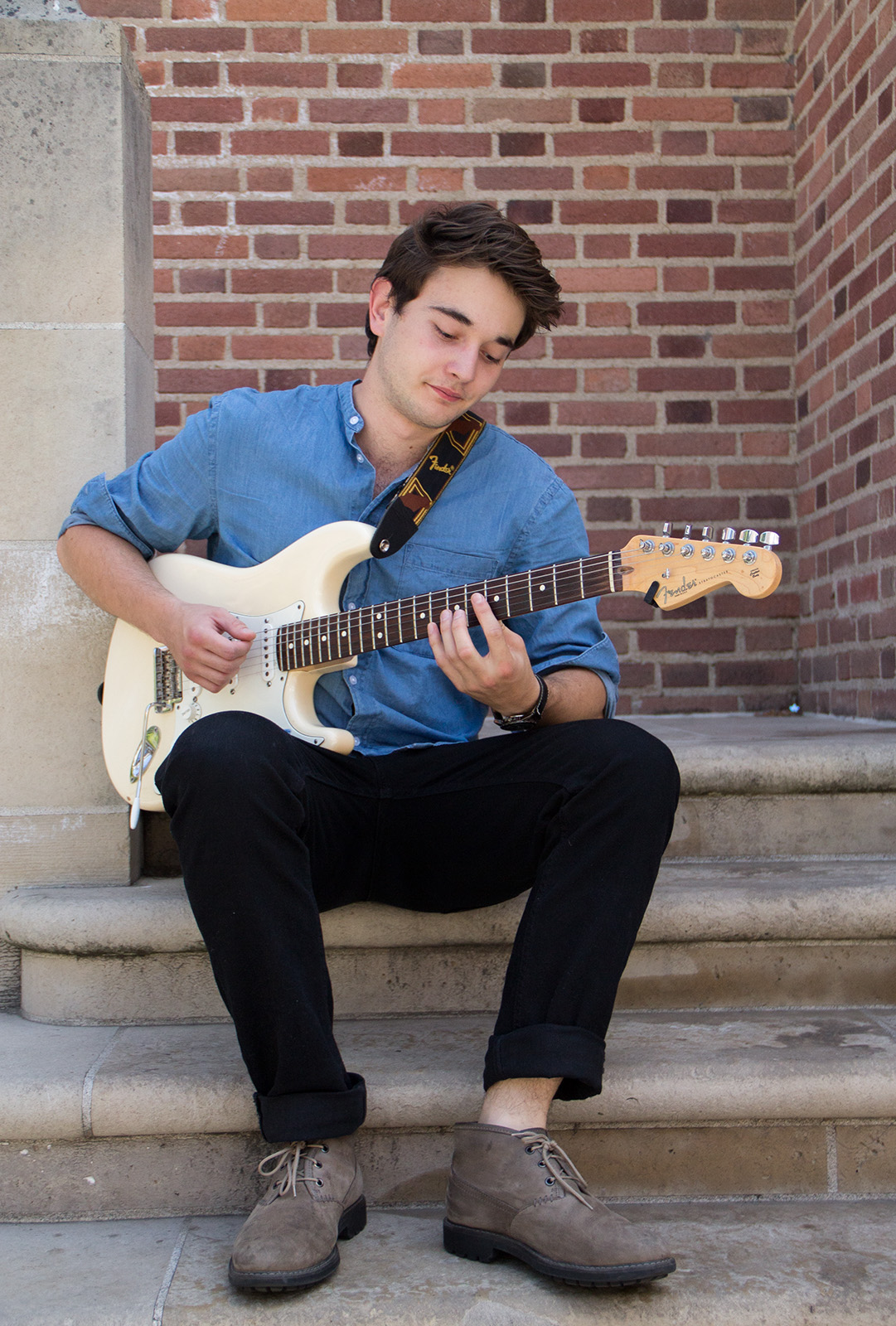 Fourth-year microbiology, immunology and molecular genetics student David Miller has been playing the guitar with vocalist Eva B. Ross ever since the two met at their first jam session together in De Neve Plaza. (Emma Skinner/Daily Bruin)
David Miller launched his musical career at UCLA in De Neve Plaza with a white electric guitar.
Miller was holding a jam session in De Neve Plaza during week zero of his first year when Eva Barrosse randomly stopped and started to sing along. The two continued to stay in touch and began playing together at various venues around school and off-campus such as Pauley Pavilion and the House of Blues.
Now, Miller has three Spring Sing shows under his belt, winning the sweepstakes award this year for his performance in the Eva B. Ross and David Miller duet.
"I feel like Eva and I have played every venue possible at UCLA from the first jam session at De Neve Plaza to Kerckhoff to Pauley," Miller said.
[Related: Student bands discuss how to stay in tune while in college]
Miller, a fourth-year microbiology, immunology and molecular genetics student, is the guitarist for both the Eva B. Ross and David Miller duet and the band Eva B. Ross Foundation. Although he has been an active member of the UCLA musical community, Miller is going on to pursue his doctorate in neurogenetics at California Institute of Technology.
Miller said he chose to pursue biology because of his passion for science and his interest in laboratory research. Miller has worked in the Carmichael Laboratory as a research assistant on stem cell therapy for stroke patients and would like to continue to conduct biological research for a career, he said. But he won't be giving up music entirely.
Miller plans on continuing to accompany Barrosse, a fourth-year history student who goes by the stage name Eva B. Ross, as she embarks on her professional musical career following graduation.
"The amount of days when I have biked home from lab as quickly as possible, picked up my gear and went to rehearsal or a gig is more than I can count," Miller said. "But it has always been gratifying and worth it."
Eva B. Ross said Miller's guitar accompaniments complement the duo's jazz-blues-funk hybrid style and give the pieces an extra instrumental dimension without overpowering the vocals.
"His accompaniments are always so tasteful," Eva B. Ross said. "He does not have an ego when playing and does not try to do too much on the guitar. It is so hard to find a guitarist who adds to the song so well."
Miller said that the style of music the duet plays is conversational because of the back-and-forth nature of the guitar and the vocals. Eva B. Ross composes the pieces and arranges a melody that complements the lyrics of the song before showing the piece to Miller, who arranges the guitar accompaniment after experimenting with a series of improvisations.
"With my guitar, I just respond to the vocals with some funky-rock interludes, some strumming or chord overtones depending on the song," Miller said.
David Miller began playing music in middle school after taking classical Spanish guitar classes alongside his brother Daniel Miller, a first-year sociology student. But as the pair grew up, Daniel Miller said he witnessed his brother depart from the classical Spanish guitar in favor of the Fender Stratocaster, a specific electric guitar model, that David Miller plays now.
"Growing up, I always heard him playing electric guitar from his room, jamming out to Led Zeppelin or B. B. King for hours," Daniel Miller said.
The style of David Miller's current music is a blend of blues and jazz, which evolved from the genres of music that influenced him early on. After quitting Spanish classical guitar, he became heavily interested in the hard rock style of Led Zeppelin. But as he transitioned into his current style, Miller began to take more inspiration from the improvisational style of jazz and blues musicians.
"Although I do not call myself a jazz musician versed in jazz theory, I listen to a lot of it and it has shaped my style of music I play now, especially in the Spring Sing pieces," Miller said.
Now, as Miller graduates, he said he is ready to move on from the UCLA musical community. He plans to continue playing music semiprofessionally.
"I feel like I've played all the venues at UCLA and have wrapped up our musical career here with the Spring Sing win," Miller said. "Now, I feel ready to start playing somewhere else."