Student creates YouTube videos on life at UCLA, inspires others to vlog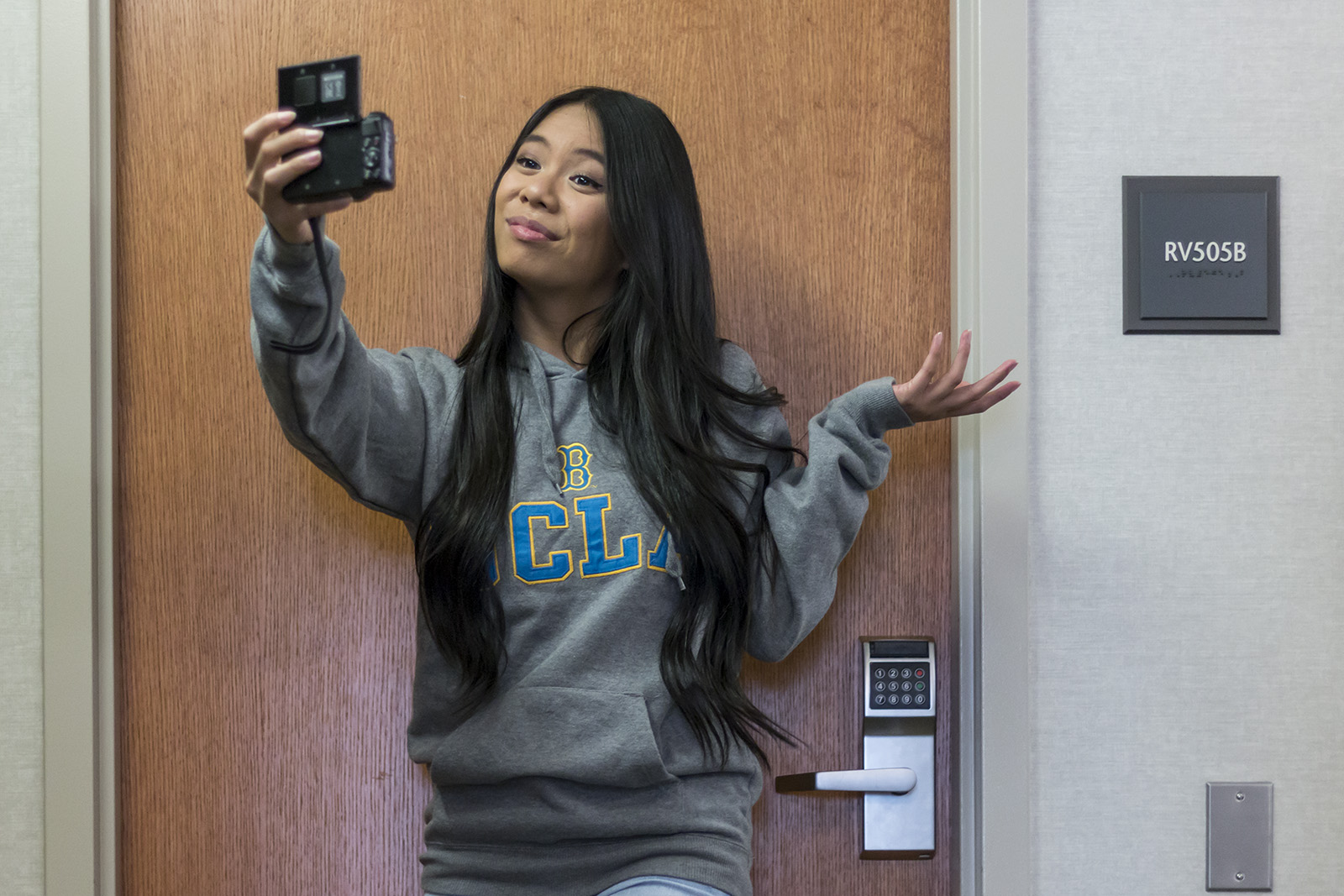 Cindy Thai poses in front of the first dorm she ever stayed in at UCLA. She documented the process of moving into the Rieber Vista dorm in a vlog which has since garnered more than 600,000 views on YouTube. (Stella Huang/Daily Bruin)
Cindy Thai documented the entirety of her Rieber Vista dorm room during her move-in day vlog, which has since amassed over 600,000 views on YouTube.
"In the video I am shrieking with happiness half the time," Thai said. "It packs in all the excitement of starting college, so I think that's why people are drawn to it."
The fourth-year political science student began posting videos on YouTube as a freshman in high school but launched her most recent YouTube channels, infinitelyvloggin and infinitelycindy, when she began attending college in 2013. Her channel features lifestyle-, beauty- and college-themed videos, which Thai said she enjoyed creating on a personal level.
"Knowing that my video has actually helped someone is mainly what motivates me so much to just continue creating," Thai said. "I also genuinely enjoy doing it and find it to be so much fun."
[Related: Student duo shares original comedy sketches on YouTube channel]
Thai started college twice. After attending UC San Diego out of high school and then transferring to UCLA, she became familiar with searching for college-themed videos online. As a first-generation college student, Thai said she relied mostly on the internet to seek out college advice and tips.
"I was looking at college videos and thought that if I like watching them, then I'm sure I would like making them too," Thai said. "There is probably someone out there who has the same questions as I did, and I could help answer them in video format."
After transferring to UCLA, she began to create UCLA-specific videos that featured dorm tours and college advice. She was the first YouTuber she knew to post a video about UCLA meal plans after learning that many of her friends had chosen ill-fitting plans for their lifestyles or schedules, Thai said.
"The reason I make these videos is because I know that when I got into college, that was all I cared about," Thai said. "I wanted to see every single dorm so I knew which one to pick, as well as all about the meal plans so I could choose which was best for me."
Thai said she filmed a dorm tour video – despite the numerous dorm tours already on YouTube – to feature her personal dorm decorations. She also wanted to showcase her specific room type – a plaza double room on the fifth floor of Rieber Vista.
In her UCLA dorm room tour video, Thai shows viewers decorative elements such as a turquoise UCLA banner above her bed as well as practical aspects including the storage spaces under her desk and the dorm bed's frame.
Thai vlogged and uploaded the videos every day during her first year at UCLA. Her boyfriend, second-year computer science and economics student Kelvin Zhang, first met Thai while she was vlogging. Zhang said it was a weekly occurrence for students to stop Thai in dining halls to say they watched her videos.
"Not only do you have to work hard behind the scenes to produce quality content, but you also have to bring that same passion in filming the videos too," Zhang said. "Cindy is constantly bursting with passion and energy."
Receiving feedback and comments from viewers has made vlogging and creating college videos worth the time and effort, Thai said. She has received thank-you messages from viewers and from people whom she inspired to start vlogging their own experiences.
"It means so much to me that someone else started documenting their college experience because I did it," Thai said.
First-year astrophysics student Braden Lem said Thai inspired him to begin creating vlogs of his own. After discovering Thai in his senior year of high school, Lem started his own YouTube channel the summer before college. Lem's first UCLA vlog during freshman orientation coincidentally stars Thai, whom he said he ran into mid-vlog.

"I'm walking with my orientation group and I look to my left at Pauley Pavillion and there she was, playing Pokemon Go," Lem said.
Lem said he appreciates how attentive and responsive Thai is to her audience's feedback.
"She will pay attention to details like taking note when subscribers ask about a friend and will feature them in her next vlog," Lem said.
Looking back on past college advice videos, Thai said she remains in agreement with the tips and guidance she gave to her viewers.
"Documenting my college life has been one of the best decisions I have made contentwise and also personally as an enjoyable experience," Thai said. "It is so incredible to be able to look back on a vlog from a year ago and get excited and feel all the memories flood back."