Grad student illustrates passion for art restoration at conservation studio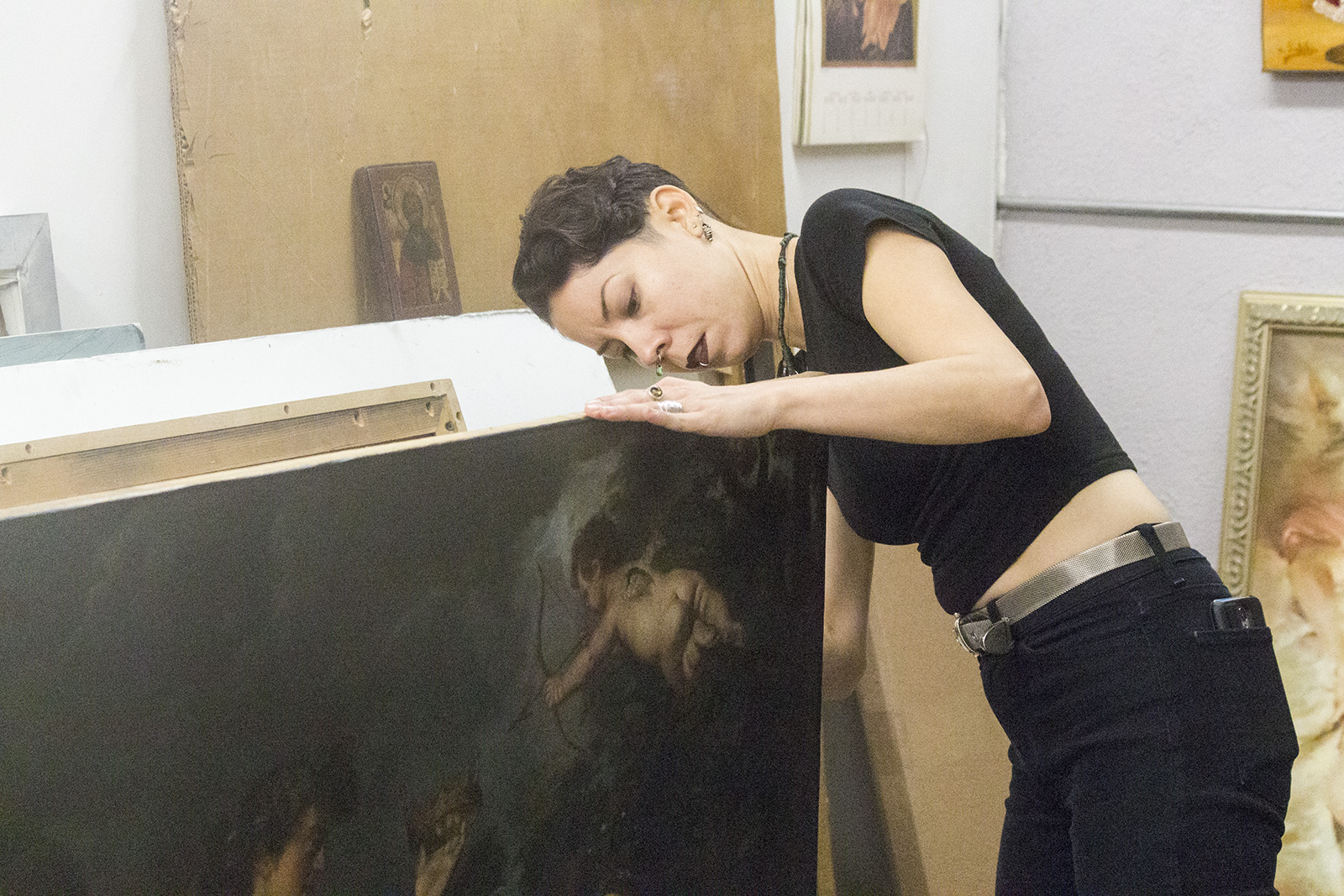 Graduate student Ofelia Marquez Stephens has been working as an art restorer for seven years and plans to work in the field even after graduation. (Hannah Johnson/Daily Bruin)
Ofelia Marquez Stephens recently worked on some coffins.
She filled in cracks, resewed fabric and reapplied a missing piece for her job as an art restorer.
Stephens has been working as an art restorer for about seven years. The graduate student in art is finishing her two-year master's degree with a specialization in sculpture and plans to continue working in art restoration upon graduation. She said she loves the meticulous process and techniques that the work requires.
Stephens initially thought she would pursue illustration or carving – typical areas of study along the fine arts route. However, she eventually stumbled into the world of art restoration when her friend Alina Gazizova introduced her to Aleksei Tivetsky Art Restoration and Conservation.
Gazizova began working at Aleksei Tivetsky Art Restoration and Conservation while the pair was at Laguna College of Art and Design and told Stephens to apply for a job, as the studio was looking for more employees.
[Related: "The Black Experience" mural restoration begins in Ackerman]
Since then, she has become an expert in the processes of art restoration, including retouching paints, color-matching pigments and relining canvases.
"My favorite part is preparing everything – just the preparation before things get retouched," she said. "If there's a hole that needs to be relined, we get a new canvas and stain it, and try to make it look like the previous one to mimic that old look."
Gazizova said she helped Stephens learn the basics when she first started. Now, Stephens is able to do more difficult techniques, like gold leafing, she said.
Stephens recently applied gold leaf to a religious icon depicting the Virgin Mary on a wooden panel. The process requires two to three coats of special glue, polishing for shine and smoothness, and a warm water and alcohol concoction to activate the glue before the gold leaf is applied.
On a typical day, Stephens has to battle artwork affected by weather conditions and wear and tear, such as discoloration and scratches. But she said the most challenging artworks are abstract pieces that use lots of bright colors, like the works of Karl Benjamin.
"More solid-colored (paintings) are really hard to do because of the color matching," she said. "A lot of the times they use only one color or a color straight out of the tube, so it's hard to take restoration paints and color match."
However, despite the hard work, she said she finds inspiration in the art she sees restored. She loves watching larger, more well-known paintings getting retouched, such as in a video she once saw of a Henri Matisse painting being restored, she said. The restorer tried replacing the yellowed paper of the painting which was attached to cloth. She added she also finds inspiration in the people she knows in the field, like Aleksei Tivetsky, the owner of the studio and her mentor.
"He used to work in churches in Italy, like the murals on the walls (and) the frescoes, and that seemed like a fun thing to do," she said.
Tivetsky said the restoration of art is important because it helps keep the artwork intact after many years of exposure and wear.
The art restorer of 45 years said that paintings have a certain life span depending on the materials, canvas and condition they are kept in. Depending on their durability, the art may need to be restored after time, which can involve cleaning, reinforcing or fixing chips in the artwork.
But art restoration is not a popular or well-known job, Tivetsky said. When people go to a museum, they see the names of the artists, not the conservators.
"Not too many people would appreciate it – to work in the shadows, to work hard, to spend many years training (and then not) be known," he said.
However, Stephens said the inspiration she finds in her surroundings and the interest she has in the job leads her to feel passionate about the work, regardless of the lack of fame that comes with the job.
"It's like problem-solving all the time," Stephens said. "(We're) looking at it, and figuring out what looks best for each particular piece."