Senior signoffs: Kari Korver grateful for five years of UCLA basketball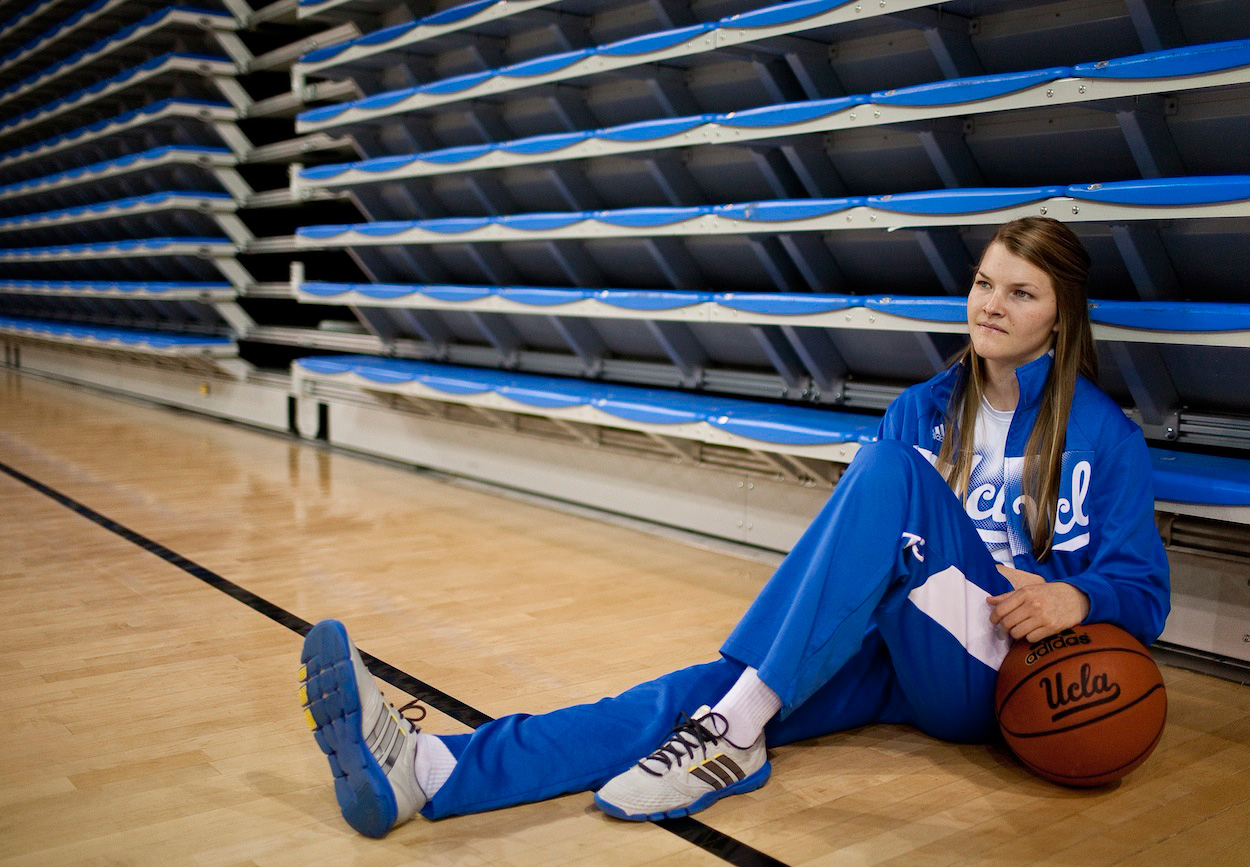 Senior guard Kari Korver will graduate tied with former guard Lisa Willis for the school record in career 3-point field goals made, with 256. She has also led the team in 3-pointers made in each of her four seasons. Off the court, Korver was named to the All-Academic Team four times. (Daily Bruin file photo)
UCLA was my dream school growing up. Who doesn't love the blue and gold and living in Southern California? However, like many, I didn't think I would make the cut.
By my junior year of high school I was getting recruited by a good number of Pac-12 schools, but UCLA still had not batted an eye my way and I honestly didn't feel as though I deserved their consideration. Then right before I was going to commit to Oregon State, the UCLA coach at the time, Nikki Caldwell, left and took a job at LSU.
There was hope! And hope's name was coach Cori Close. Long story short, coach Cori came to a few club games and, God willing, I drained lots of 3-pointers and got the offer I had been hoping for. Bingo! I was going to get to play in Pauley Pavilion where John Wooden coached, and go to class and sit next to students who might find the cure to cancer. What a blessing.
Now, five years later, I sit here at my laptop reflecting on five years of UCLA basketball, and I am one week out from holding a UCLA diploma. Yes, five years, because there is this little tendon in your knee called an ACL, and if torn it equates to roughly nine months of rehab and what they call a "redshirt" year.
[Related: Despite injury, Korver inspires UCLA women's basketball team]
Looking back, I am grateful for that torn ACL because I have loved my five years here. Not because of the blue and gold and Southern California weather, but because of the people.
People and the depth of the relationships you have with them are what make any experience meaningful. And I am not just talking about the people who are similar to you. What I love about women's basketball is that it is a sport that brings women from many different backgrounds together. I am a white, dorky, Southern California-loving, Jesus-following basketball player. And I have had teammates from Sweden, Portugal, Canada, and all over the United States, who have taught me more than I could have ever imagined.
For five years, I did life with these women. The schedule can be grueling. But that is what makes you form bonds. We have fought, laughed, cried and been through the highest highs and lowest lows together. There is the temptation to isolate yourself when things get hard. But when you want to be a great team, you can't do that.
Even though it doesn't make sense, the more you give, the more you get. The more effort in practice, the more vulnerable you are in relationships, the more you serve one another, the more fulfilling the entire experience is. And that is what you will learn if you are part of UCLA women's basketball and if you are part of the greater UCLA student body. You learn to love people who are different from you and push each other toward excellence everyday.
Knocking down 3s and going to Sweet 16 games are great memories. But I will remember the people I have loved at UCLA and who have loved me, more than anything else. God bless UCLA.