Senior signoffs: Claire Felix reminds fellow volleyball players to enjoy time at UCLA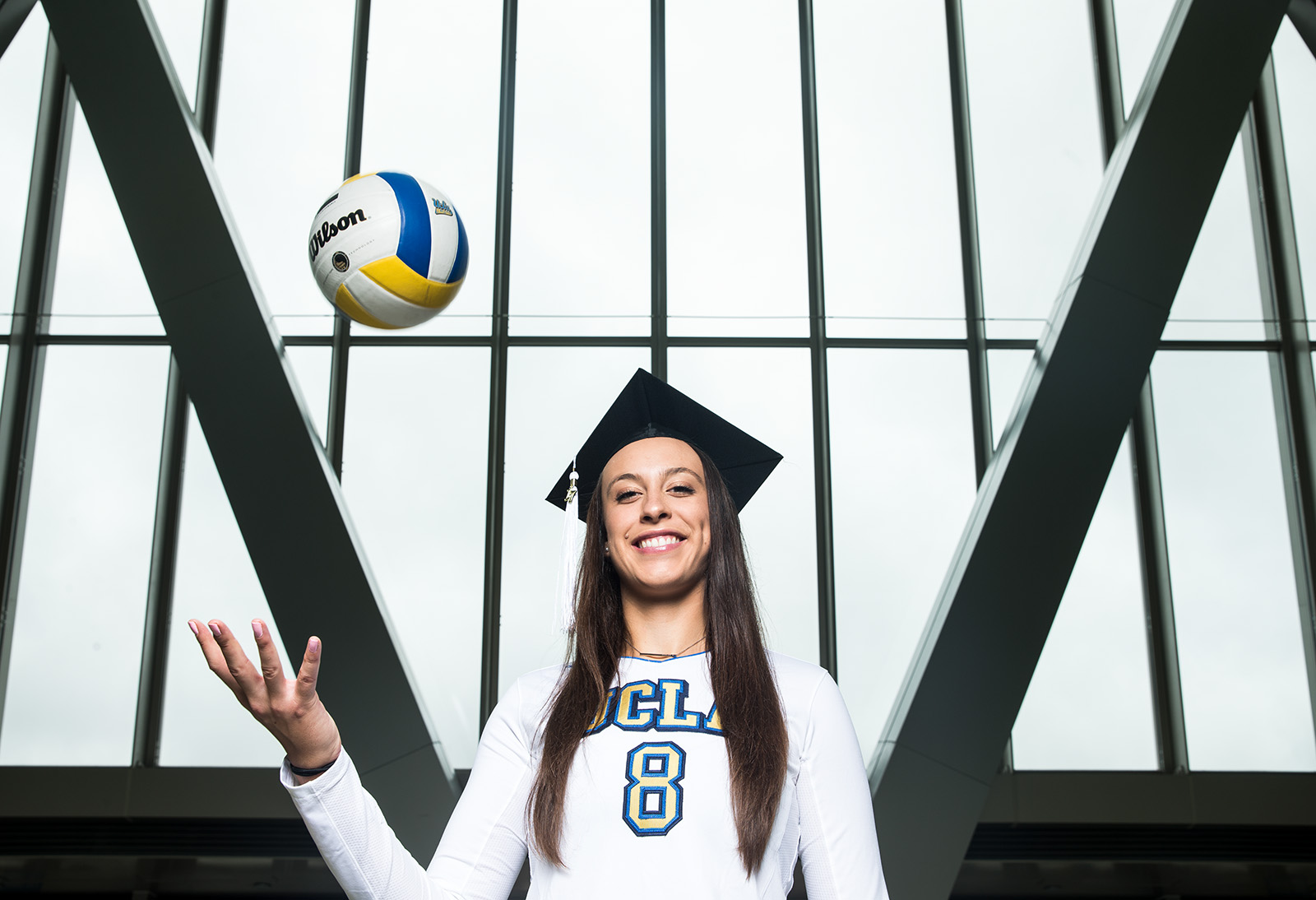 Senior middle blocker Claire Felix finished her time at UCLA with 796 kills and 332 total blocks.
The Colorado native was named AVCA Honorable Mention All-American in 2015. (Aubrey Yeo/Daily Bruin senior staff)
I am a Bruin.
Since I was 10 years old, putting my knee pads on for my first club volleyball practice, I've dreamed of saying those four words.
I was 16 when I verbally committed to UCLA – a major life decision when I barely had a driver's license. I remember visiting campus for the first time, standing atop Janss Steps looking out over campus, and realizing that this was home. I knew I was meant to be a Bruin. I am thankful to coach Michael Sealy for seeing my potential, and to my family for their endless support of my pursuit of my dream.
Looking back on what I thought college would be and what it actually was are two incredibly different things. I wouldn't trade my experience here for anything in the world because it has made me into the strong, independent woman that I am today.
Most of the friends I have today would never believe I was a shy, naive and introverted girl. They know me as a passionate, driven volleyball player who set out to prove that I belonged here.
As a freshman, I didn't fit in. I didn't have a lot of friends on my team, and it was devastating. I felt like an outsider. We had different priorities and I didn't understand that.
[Related: Starting middle blockers improve through competition with each other]
I came to UCLA to play volleyball, train hard and get a top-notch education. That was all I needed. I didn't come for the parties, weekend trips or late nights at In-N-Out Burger. My passion for volleyball is so intense that I viewed those things as distractions – not steppingstones to growing up, building friendships and experiencing life to the fullest.
We all see the world differently and that's what makes it so beautiful. That was a lesson I had to learn and it took a long time for me to accept it. In life, people are going to challenge you, and it is your response that will determine whether you succeed or fail. It's the number of times you get back up after a grueling workout, bad practice, poor grade or disagreement with a teammate that matters, not the number of times you faltered.
I learned a lot from my freshman year and season at UCLA, from team, training and coaching dynamics to having to take midterms and finals on the road and trying to recover projects when the internet goes down at the hotel.
I learned that you are going to fail, and as crazy as that sounds, it's okay. If you never fail, if you never hit a ball out or get beat on the block, if you never load enough weight on the bar or run that extra sprint, how are you ever going to get better?
I have never been pushed harder in my life than I was during my time here at UCLA and I will be forever grateful to the people who were a part of that. Don't get me wrong – there are times I cursed you, but there are far more times than I can count that make me feel incredibly blessed and proud to see how I have grown, not only as a Bruin, athlete, student or teammate, but as a person. There were tears, rants, breakdowns, failures, injuries and surgery, but I wouldn't know what I am capable of without all those challenges entering my life right when they were supposed to.
To the next generation:
Try not to take anything for granted while you are here because when you look back on it four years from now, you might see all of the things you missed and you won't have that much time left to enjoy them.
Sit on a hill and watch the clouds float by, use all of your swipes at De Neve Late Night, drink way too many smoothies from the fueling station and go to class.
My current and future volley girls, I hope you live every moment, practice, double day, game, 6 a.m. champ camp and adventure with the people around you to the fullest. Cherish hearing your name announced in Pauley in front of a packed crowd against USC, because senior night will come and it will be the last time. Take pictures and sign autographs with the endless lines of fans until you can't anymore. Realize that you are among the chosen and are role models for girls all over the country. Push yourself and your teammates harder than you think you can and you will see the incredible things you are all capable of achieving together.
I discovered what I am capable of achieving from my experiences here at UCLA, and I will wake up every day for the rest of my life incredibly blessed, endlessly grateful, and above all, proud to be a Bruin.
This is me signing off as a UCLA student-athlete and signing on as a new UCLA alumna.