Dance community looks to UCLA to improve studio availability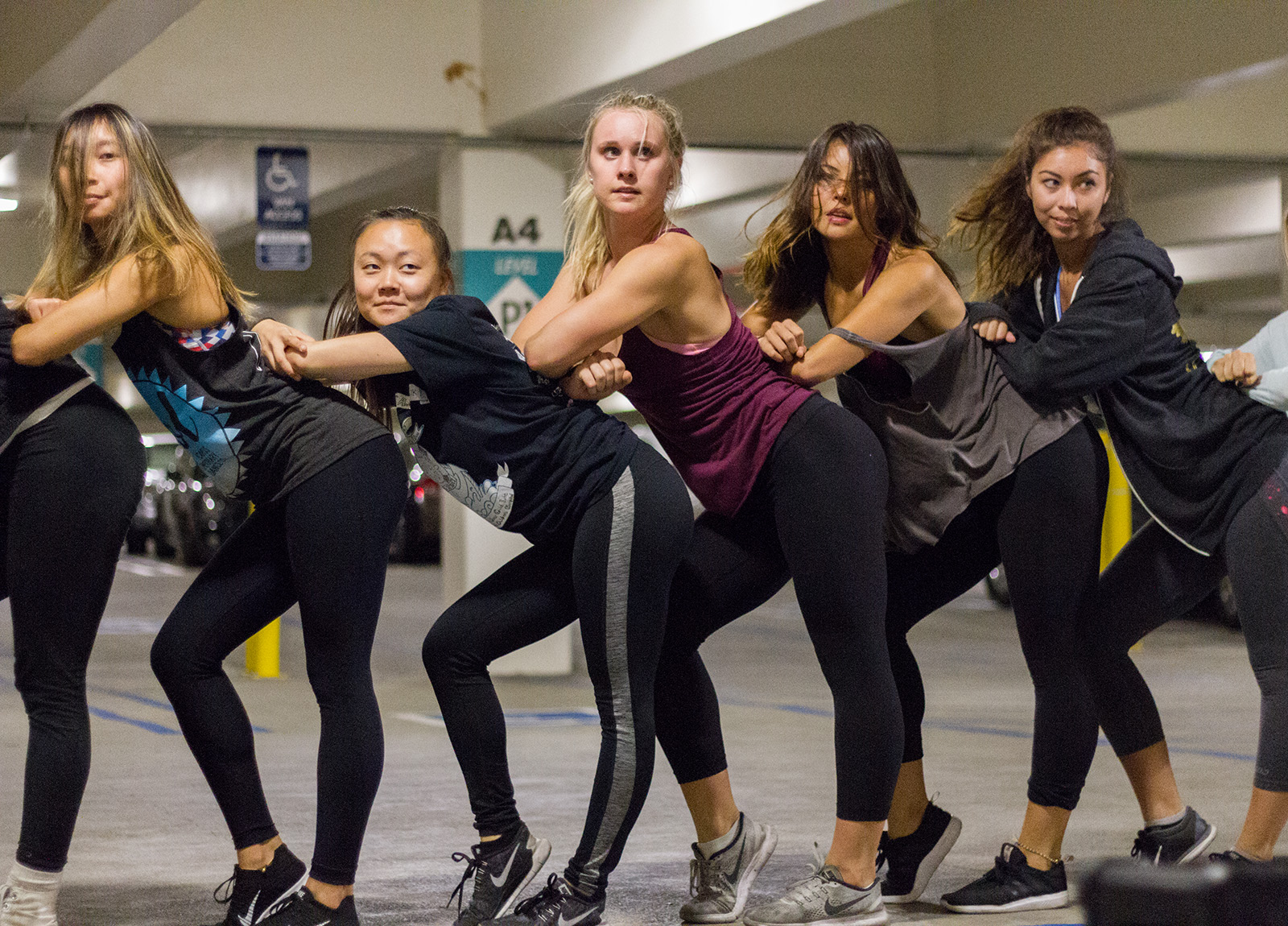 ICARUS Contemporary Dance Company practices hip-hop, contemporary and jazz in Parking Structure 4 on Tuesdays and Thursdays. The student dancers wear tennis shoes instead of dance shoes to protect themselves from the concrete floor. (Habeba Mostafa/Daily Bruin)
This post was updated June 8 at 9:55 a.m.
Practicing in UCLA's concrete parking lots has become status quo for UCLA's dance community because of a lack of available space.
The university is home to more than 20 dance organizations that each practice around 10 hours per week. But with a shortage of space to accommodate the number of dance groups, teams resort to rehearsing in parking lots.
Most dance teams' rehearsals start around 7 p.m. or 8 p.m. on weekdays. Recreation classes and culture clubs meet in the John Wooden Center's studios until about 10:00 p.m., leaving dance teams to practice in parking lots until then.
Since winter quarter, the Social Justice Referendum has allowed Wooden Center to stay open 24 hours, four days a week. The Social Justice Referendum of 2016 stated opening Wooden Center for 24 hours would provide students with safer venues for practices, including more access to meeting rooms and studios.
Some teams benefit from the extended hours, practicing later than 2 a.m. in Wooden Center during hell weeks before competitions and performances. But there is still a lack of space during peak hours, so dance teams practice in parking lots early in the evening.
A referendum spokesperson said the campaign chairperson was unavailable for comment on the effects of the referendum.
UCLA will look into additional space options over the summer, said UCLA spokesperson Rebecca Kendall.
Despite practicing in poor conditions, some UCLA dance teams manage to produce energetic showcases year-round and win top prizes in different Southern California and collegiate competitions, such as VIBE Dance Competition, Bridge Dance Competition and Ultimate Brawl.
Dirty Dancing
UCLA student dancers groove to the beat of car alarms and the flash of headlights.
Atlas Exhibition Team has been dancing in parking lots since its creation in 2015, said Samantha Amos, Atlas's dance community resource coordinator.
Atlas rehearsals in the parking lots consist of stretching, conditioning and preparing for culture nights and competitions – all in the dusty levels of parking structure two, said Amos, a fourth-year applied linguistics student.
"I'm really sensitive to the smell of urine and gross trash," Amos said. "It's really distracting to the whole team."
Samahang Modern, a hip-hop dance group founded in 1986, has made Parking Lot DD its traditional practice space, said artistic director Leo Albea. He added the team uses the lot for at least six hours per week.
"Parking lot life is just not very forgiving," said Albea, a third-year sociology student.
Dancers feel cold in the lot and sneeze out black dust once they return home.
Dust and dirty air, like car exhaust, can have negative effects on breathing, said Jeffrey Davis, the UCLA Health director of respiratory care services and pulmonary function.
Carbon monoxide, a poisonous gas from engine exhaust, can harm delicate tissues and blood vessels, possibly leading to lung disease, he said.
He added breathing in cold air while exercising will make students more tired, because their bodies need to use up more energy to raise the cold air to body temperature.
During rehearsal this quarter, NSU Modern members slept, snacked and studied under flickering overhead lights in parking lot four during breaks in dancing to "Friday" by PARRI$ Goebel.
Kelsey Manes started dancing in parking lots when she joined NSU Modern during the fall quarter of her first year. Now she's a third-year dance and communication studies student – and she still pulls high leg extensions as cars drive by behind her.
During hell weeks – the days before competitions when teams rehearse later than 2 a.m. – students try to make themselves comfortable in the cold concrete lot by bringing foldable chairs, blankets and air mattresses for late rehearsals, said Manes, an NSU Modern assistant director. One dancer hooked a hammock up to the cement poles in the lot to sleep.
"Since we spend so much time here, it's become our temporary home," Manes said.
The dancers have taken graduation photos and formed close-knit dance families in the lots. Albea said the lack of sleep and non-optimal spaces are almost something they take pride in, since they're able to overcome the obstacles.
"When we think of dance, we think of parking lots," Albea said. "The lots allow us to empathize with the narrative of these people who have come from places or institutions that didn't provide them accessibility or a space to grow … that's a concept that I hold very dear to me."
ICARUS Contemporary Dance Company members cope by making sure to wear tennis shoes rather than go barefoot while rehearsing in a parking lot, said Crystal Nguyentan, ICARUS' executive director.
The shoes protect the dancers' feet from the cold and hard floor, but the footwear affects the quality of their dancing.
"Tennis shoes aren't as flexible as we'd like, which means we aren't really able to point our feet, which then translates when we're dancing barefoot in the studios," said Nguyentan, a fourth-year psychobiology student. "We have to spend time reminding dancers to point their feet as opposed to spending time cleaning up the choreography."
In addition to working with concrete floors that are not well suited for dancing, dancers must make do without mirrors, said Jaclyn Chu, one of ACA Hip Hop's coordinators.
"Because we don't have mirrors in the lots, dancers have to be more independent and aware to make sure they're moving correctly," said Chu, a third-year psychobiology student.
The lack of studio space even affects the choreography dance teams create.
An Atlas choreographer omitted a headstand dance move because the ground scratched and scraped too many dancers, said Amanda Nguyen, Atlas's co-artistic director.
Nguyen, a fourth-year psychology and English student, said not being able to perform and explore new movements, like breakdance moves, during rehearsals leaves her feeling unsatisfied and unproductive.
"The parking lots don't really give us the ability to learn and do movements full out," Nguyen said. "If I'm in a studio or a space that's safer, I can do a lot more movements and experiment with dance moves."
The Concrete Cause
Wooden Center has three dance studios with wood floors and mirrors, suitable for aerobics and dance. However, recreational classes, like Zumba and Core Yoga Flow, and cultural clubs request these spaces from about 8:30 p.m. to 10:00 p.m.
Therefore, the dance teams rehearse for two hours at night in the parking lots until they can use Wooden Center's dance studios. About 20 dance groups used space in Wooden Center and Pauley Pavilion this quarter, said UCLA spokesperson Alison Hewitt.
Once recreational classes, club sports and martial arts programs end in the evening, registered student groups, such as the dance teams, can reserve the studios for free, Hewitt said.
Hewitt added a limited amount of space in the Pauley Pavilion concourse is available when other events are not taking place. However, concourses aren't popular because they lack mirrors, Kendall said.
Over the summer, Campus Life, along with staff in UCLA Recreation and UCLA Student Organizations, Leadership and Engagement, will look at additional options to meet dance teams' needs, Kendall said. Some potential solutions include using the Los Angeles Tennis Center clubhouse, Pardee Gym in Wooden Center or Sunset Canyon Recreation Center.
Kendall said UCLA is exploring and may reprioritize how the prime evening studio space is distributed between recreation programs and other activities in Wooden Center.
Representatives of UCLA Recreation and Wooden Center did not directly respond to multiple requests for comment on dance team practices, but provided information to UCLA spokespeople. One representative declined to comment on why the teams cannot access studio spaces earlier in the evening.
Stepping Toward a Solution
Before the Social Justice Referendum passed, Wooden Center closed at 12:45 a.m. Monday through Thursday, and dance groups returned to parking lots to practice longer into the night, Manes said. This year, they can stay in Wooden Center until the morning.
Competitive teams such as NSU Modern, ACA Hip Hop and Samahang Modern have benefited from the extended hours Monday through Thursday, especially when their rehearsals need to run later in the night to prepare for shows and several competitions.
"The 24-hour Wooden space has been a huge blessing and I think the entire dance community is excited about that," Manes said.
Chu said Wooden Center rehearsals foster more energy and excitement for dance among ACA Hip Hop members.
"In the studios, we really get to draw from each other's energy," she said. "We can visibly see how hard each other is working through the mirrors and the rehearsals are just more positive – that's not exactly something we can get in the lots."
Samahang Modern now spends more time rehearsing in Wooden Center than in the parking lots and has benefited from access to resources like Wi-Fi and water fountains, Albea said.
However, aside from hell weeks, the 24-hour policy does not have any substantial impact on teams like ICARUS and Atlas.
Nguyentan said Icarus typically holds rehearsals from 6 p.m. to 9 p.m., which are especially busy times in Wooden Center for recreational classes and culture group practices.
"The dance community, being such a big community on our campus, is constantly growing and the spaces to dance remains stagnant," Ngyuentan said. "It just kind of sucks that we have to dance in the parking lots and not get a fair use of studio space earlier in the evening."
Manes and Nguyentan said they wish Wooden Center and the Hedrick Movement studio were available earlier in the evening, so they wouldn't have to hold the first few hours of practice in parking lots.
Teams have looked into booking dance studios at Kaufman Hall, Nguyentan said, but they were reserved for world arts and culture/dance students who are working on projects for the department.
"Since the dance community is growing, we must be more proactive in creating more inclusive schedules and finding new places for new teams to practice," Manes said.
Albea said he would like to see more spaces created or repurposed for dance.
"It's no longer a question about dance teams in parking lots, but reaches beyond to a question all about the arts, expression and representation," Albea said.
Amos wants to open a dance studio in Westwood to accommodate to the growing dance community.
"Opening up a studio in Westwood is one of my long-term dreams," she said. "It would also probably be one of the more direct solutions to the lack of space here on campus for dance teams."
Chu said she takes pride in dancing in poor conditions because it shows dedication to her art, but added she thinks UCLA needs to express its pride for its dance community by listening to their concerns.
"Recognition would help, because I know there is still a lot of speculation around how important the dance teams are to the campus," Chu said. "If they can listen to us and our needs a little more, they can see that we, too, can be something that UCLA's proud of."
Del Rosario is the 2018-2019 prime content editor. She was previously an A&E staff reporter.
Del Rosario is the 2018-2019 prime content editor. She was previously an A&E staff reporter.