The Quad: CAPS's inadequate student care stems from systemic underfunding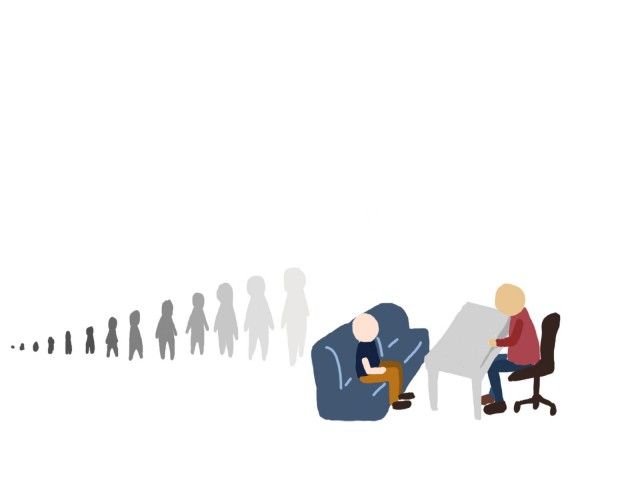 (Olivia Chen/Daily Bruin)
UCLA's Counseling and Psychological Services, also known as CAPS, is the university's primary mental health center for UCLA undergraduate and graduate students.
Part one of this two-part series explored students' opinions about quality and accessibility of CAPS services. Students voiced three overarching concerns about CAPS: difficulty in scheduling counseling appointments, the yearly limit on number of counseling sessions students can receive and CAPS counselors' questionable ability to treat college students in particular.
In part two of this series, I will explore some causes of these issues, what CAPS itself says about students' concerns and how such problems are being tackled.
The root of many systemic issues lies in the fact that CAPS is severely understaffed – a shortage largely attributed to insufficient state funding.
"Demand for student mental health services at CAPS has risen 20 percent over the past five years, posing particular challenges for UCLA," said university spokesperson Rebecca Kendall.
There are currently 70 psychiatrists, psychologists, social workers and support staff working to support the mental well-being of undergraduate and graduate students. According to Kendall, the 2015-2016 school year saw nearly 6,500 students utilize CAPS.
Based on this client-to-student ratio, it is no wonder that students face such difficulty in scheduling appointments, often experiencing a wait time of three to four weeks before being seen by a counselor. It is also unsurprising that students are rationed a meager three to six counseling sessions each year, given CAPS's glaring understaffing problem.
The issue of understaffing in college mental health facilities is not unique to UCLA. According to the National Survey of College Counseling Centers, the average ratio of counselors to clients in college campuses nationwide is one to 2,081 students, with smaller schools having better ratios. The same survey found that 94 percent of college counseling directors report recent trends towards greater number of students with mental health illnesses.
Some studies suggest that this trend of increasing prevalence of mental illnesses among college students is reflective of a greater willingness for young people today to seek help, rather than an actual increase in number of illnesses. This does not take away from the fact that more and more college students are seeking mental health treatment, and universities are not well-equipped with the necessary funding and staff to cater to students' needs.
So what is CAPS doing to address the problem of limited funding?
For one, CAPS is making an effort to hear students' opinions and constructive feedback in the process of bettering their services. This past winter quarter saw the formation of its first Student Advisory Board, co-founded by Ria Jain, a fourth-year molecular and cellular developmental biology student, and Dr. Nicole Green, the interim executive director of CAPS.
SAB was created as a means for UCLA students to voice their perspectives on CAPS and discuss methods to improve the university's mental health care.
The board meets once to twice a month for a few hours each session, where students express their concerns about CAPS to a panel of staff, clinicians and CAPS leadership.
Jain, the current chair of SAB, said the goal of the board is to bring together both students' and CAPS staff's perspectives.
One of the greatest concerns expressed by both students and administration at these meetings is the issue of limited funding.
"There is a big financing problem with CAPS," Jain said. "If CAPS doesn't have enough money, how can it afford to pay counselors full time? And especially in LA, where these jobs are high in demand … If counselors are not getting a good salary, it's easy to understand why they wouldn't want to stay at CAPS."
However, Jain is quick to emphasize that CAPS is always trying to better its services, working hard to fit students in for appointments.
"There is some sort of maximum number of sessions per year, but that's not to say that, once you reach the limit, you're done," she said. "If you need the help, you will get the help. There's leeway."
As for concern with CAPS counselors' efficacy in treatment, I believe it is difficult to generalize about quality of CAPS care. Much depends on how well individuals get along with their respective counselors.
In part one of this series, a student complained about his CAPS counselor's lack of basic knowledge of common student stressors. Another student, however, was pleased with how "well-trained" and "considerate" his particular counselor was.
The issue of questionable efficacy of some CAPS counselors' ability to treat students has also been voiced by students, Jain said.
Many students' worries stem from their socioeconomic backgrounds, ethnicities and identities, so students may benefit from counselors who share similar backgrounds and can thus relate better to their stressors.
This is not to say CAPS does not have effective counselors with whom students can relate.
I utilized CAPS for the first time this past quarter, and I was genuinely impressed with how well my screening counselor understood my college-induced anxieties. I left my 15-minute appointment with greater peace of mind, having spoken to a counselor who sympathized with my concerns and pointed me to various on-campus mental health resources.
While CAPS is the primary resource for students to turn to for mental health care, students should also be aware of the many other resources and organizations at UCLA:
– CARE (Campus Assault Resources & Education)
– GRIT Peer Coaching
– Resilience Peer Network
– Active Minds
– Mental Health Initiative
– NAMI
Prior to this series, I held a lot of preconceived skepticism towards CAPS. Having seen many of my friends experience the negative consequences of delayed treatment due to CAPS's shortage of staff and funding, I was appalled – indignant, even – at how far short of expectations UCLA's premier mental health facility seemed to fall.
Now, I understand that much of the issues at CAPS are not due to lack of initiative from UCLA to care for students' mental health. This problem of inadequate university mental health care is, in reality, a nationwide epidemic that can only be tackled at the systemic level.
As Jain said, CAPS is not going to be fixed in a week. A large part of the issue is legislative, as providing sufficient mental health services necessarily entails having adequate state funding.
It is true that CAPS is far from perfect. Despite its shortcomings, CAPS is trying hard to address its root problem – understaffing due to limited funding – to ensure UCLA students have adequate mental health care.
Belicia Tang is a Daily Bruin Quad contributor. She writes about a wide range of topics, including mental health, meditation, dance, and the psychology of motivation and success.
Belicia Tang is a Daily Bruin Quad contributor. She writes about a wide range of topics, including mental health, meditation, dance, and the psychology of motivation and success.