Taste for Adventure: Store-bought American snacks reaffirm greasy stereotypes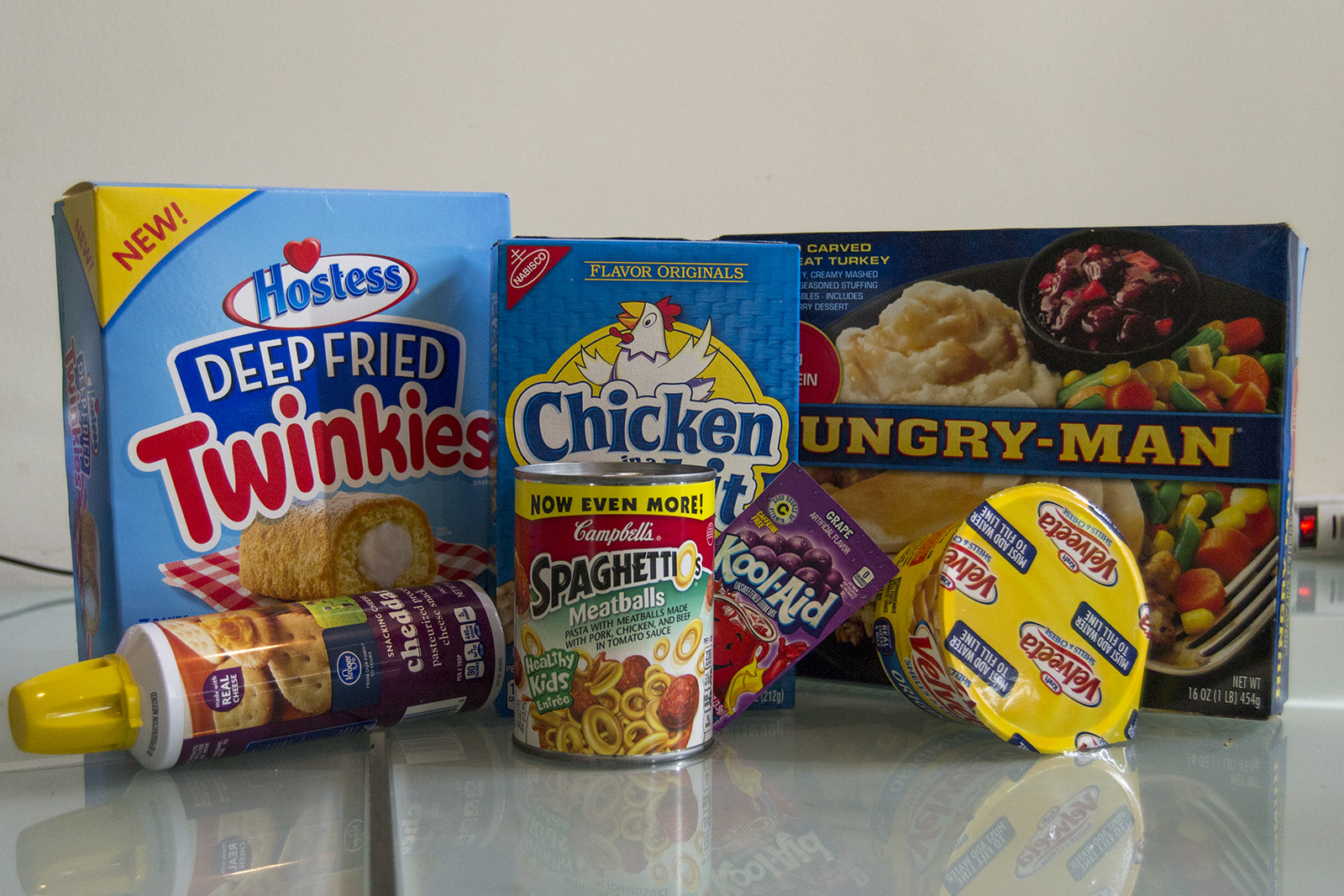 Columnist Matthew Fernandez tried a variety of stereotypical American junk food. Though he was disappointed by the Velveeta mac and cheese and the SpaghettiOs, he found the Chicken in a Biskit to be a savory treat. (Angelina Ruiz/Daily Bruin)
Los Angeles brings together cultures and cuisine from all around the world. The city's markets and restaurants offer menus that may be a little different from the typical dining hall menu. Each week, columnist Matthew Fernandez will plunge into LA's culinary scene and try food he's never eaten before.
Many international grocery stores across the world have an American aisle, much like the Asian or Hispanic food sections at our local Ralphs. So I thought it would be a fun idea to eat what the world might think makes up the typical American diet.
I went to Ralphs and picked up a cart full of the most stereotypical 'Murican foods I could think of.
I walked out of the store with a Hungry-Man Roasted Carved White Meat Turkey frozen dinner, a can of SpaghettiOs, Velveeta Shells & Cheese, Hostess Deep Fried Twinkies, Nabisco Chicken in a Biskit crackers, canned Kroger snacking cheese, and some grape-flavored Kool-Aid.
The first thing I tried was the frozen turkey dinner, which came with creamy mashed potatoes, gravy, seasoned and mixed vegetables and an apple cranberry dessert. I immediately noticed how different the actual product looked from the picture on the box, which presents an appetizing Thanksgiving feast. What I got was a sloppy mess of small dishes that had leaked out of their respective compartments.
The vegetables were mixed in with the cranberry sauce, which had spilled over into the mashed potatoes, which had in turn combined with the stuffing to create a gloppy mess. Not exactly an appetizing sight.
The meal tasted as mediocre as it looked. The turkey was bland and lacked any semblance of freshness, but luckily the gravy added some much-needed flavor. The mashed potatoes tasted artificial, as if they had been made out of powder, and they blended with the stuffing, making it soggy and completely unappealing.
Of all the Hungry-Man dishes I tried, the apple cranberry dessert was the only food item I slightly enjoyed. It had the same texture and flavor as other cranberry sauces, although I couldn't taste any of the advertised apples. It had the most flavor of any of the dishes and reminded me of Thanksgiving dinner.
Next I tried the pastas: Velveeta instant mac and cheese and SpaghettiOs with meatballs. I like to eat my noodles al dente, but unfortunately both the mac and cheese and the spaghetti noodles were soggy and fell apart in my mouth.
The Velveeta cheese was a soupy goop with soft noodles floating around in it. It also tasted artificial, which might be because Velveeta isn't real cheese but rather a "cheese product."
I'm used to sweet spaghetti since Filipino-style spaghetti uses a sweetened sauce; however, the SpaghettiOs tasted as if someone had dumped spoonfuls of sugar into the can. It was too sweet, and the heavily processed soggy meatballs did little to balance out the flavor.
Following the noodle dishes, I tried the Chicken in a Biskit, which sounds like a terrible concept for a snack food but was actually the only food I liked. Despite the name and the picture of the chicken on the box, the crackers didn't actually taste like chicken but more like a salty chicken broth. The savory taste was comforting, and I ate several handfuls.
The packaging suggested to also try the crackers with squeeze cheese on top, so I bought some Kroger canned cheddar "snacking cheese." Although the can claimed that the product was made with real cheddar, it tasted like slightly salted American cheese; less sharp than real cheddar, and with a slight taste of plastic. I preferred to eat the crackers plain.
As for dessert, I never thought I would find something as quintessentially American as frozen, packaged deep-fried Twinkies.
To prepare the Twinkies, I could either microwave them, bake them or – get this – deep-fry them again. I opted to bake them and cut my arteries a little bit of slack. The deep-fried Twinkies had the same intense sugary and custardy flavor as the nonfried variety, except instead of being spongy and cakey, the Twinkies had a crisp outer layer, which I found unnecessary. Each bite was overly sugary and made me so sick that it was a chore to even finish one Twinkie.
To drink, I chose a grape-flavored Kool-Aid because I happen to like grape juice and grape soda. One packet made enough for two quarts of juice, although the directions said to add a full cup of sugar, which was a little frightening. Much like grape soda, the flavor tasted nothing like real grapes at all and was more like a shot of pure syrup.
Aside from the Chicken in a Biskit, I would not recommend any of the foods I ate this week, whose existence pretty much confirms every greasy, fattening and negative stereotype about American food.
But then again, the world's too big to just eat what you're comfortable with.