UCLA softball attends College World Series for third consecutive year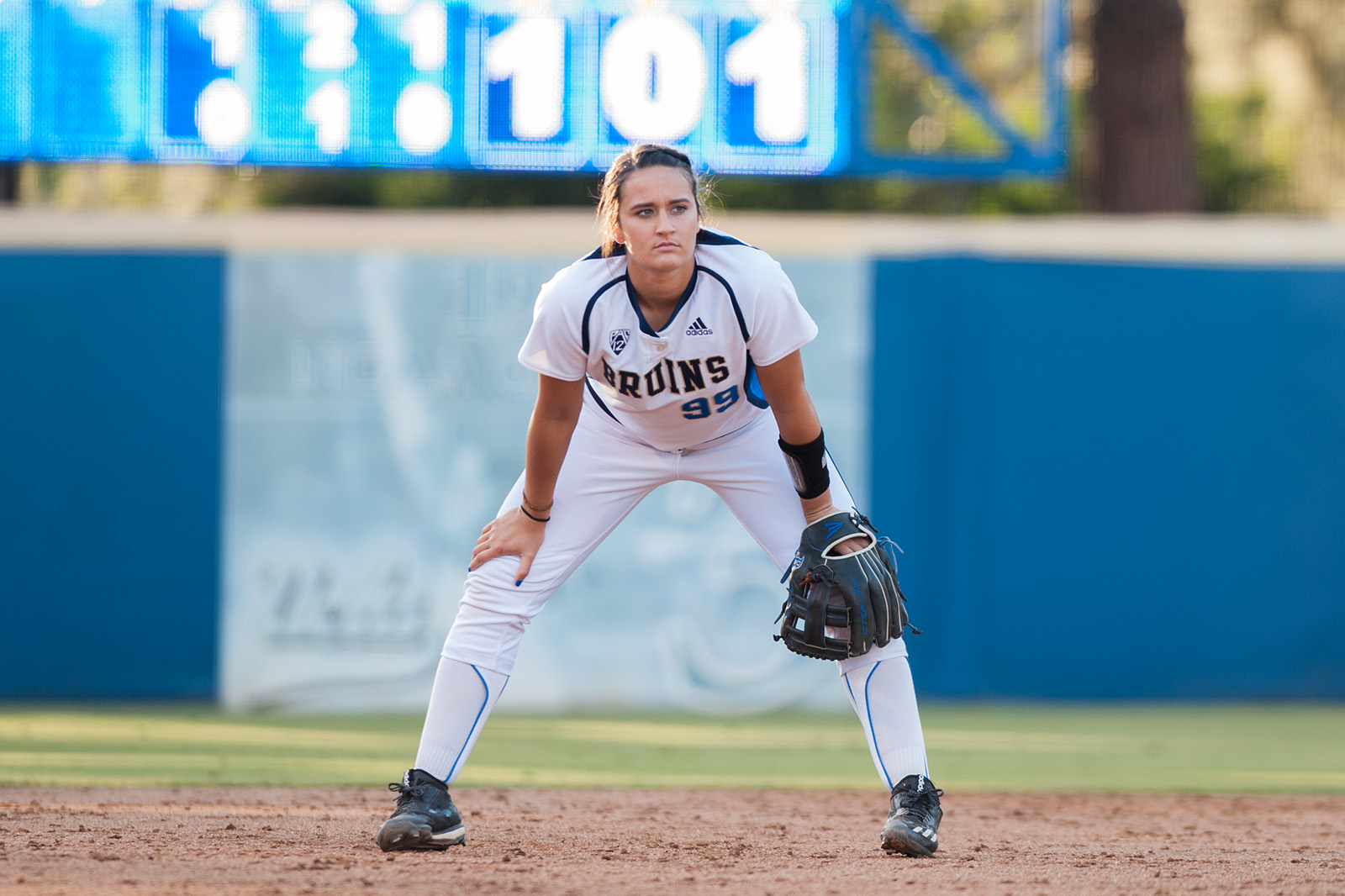 Senior shortstop Delaney Spaulding will make her third straight trip to the Women's College World Series on the weekend. Last year, the Bruins lost their first two games and went home. In 2015, they lost two of their first three to end the season. (Axel Lopez/Daily Bruin)
Softball
---
No. 13 LSU
Thursday, 11:30 a.m.
Oklahoma City, Oklahoma
ESPN
Once again, No. 5-seeded UCLA softball is among the last eight teams standing.
UCLA has reached the first weekend of the Women's College World Series for the past two years, but each time, it hasn't advanced to the finals. This year, UCLA (47-13, 16-8 Pac-12) will open up the tournament against No. 13 seed LSU (47-20, 12-12 Southeastern Conference).
"There is a little fire under us because we've been here three times now, and we've tasted it two times and we're tired of it," said senior shortstop Delaney Spaulding. "We want to end our season with a win."
Structurally, the Women's College World Series is split into two double elimination brackets consisting of four teams; the winner of each will get a ticket to the finals.
In UCLA's bracket are LSU, No. 1 seed Florida and No. 9 seed Texas A&M. The Bruins will be the odd one out among three SEC schools, but their preseason games against the Tigers and Gators will grant them a sense of familiarity.
In March, the Bruins beat the Tigers in an extra-inning thriller, winning 6-5.
"(The coaches) prepared us in the preseason to play the best teams possible," Spaulding said. "It gives us great exposure for this moment and for this week. The reason that we scheduled it like that is because we expected to get back to the World Series."
If UCLA is going to make it through its bracket, it will likely have to face the favorite to win it all: Florida. And earlier this season, the Bruins fell to the Gators, 9-4.
"We clearly were not at our best when we played them in March so I really look forward to playing them," said coach Kelly Inouye-Perez.
In the circle, the Bruins feature redshirt freshman ace Rachel Garcia, who was named National Fastpitch Coaches Association Division I National Freshman of the Year on Tuesday.
"She has been a game changer for us and our program," Inouye-Perez said. "She's been a huge factor in getting us back here."
Garcia has showcased her talent all season long but displayed durability in the Super Regionals, throwing 282 pitches in 15 innings. Despite the heavy workload, Garcia said she is ready to go Thursday.
Going up against her, however, will be a dynamic LSU offense. Senior Bailey Landry set the program record in hits last weekend with an RBI triple, and senior Sahvanna Jaquish is in the NCAA top 10 for career RBIs and is three away from setting the SEC record for career RBIs.
Pham joined the Bruin as a junior in 2016 and contributed until 2017. He spent time on the softball beat.
Pham joined the Bruin as a junior in 2016 and contributed until 2017. He spent time on the softball beat.