HOOLIGAN's 'Stage Door' taps into students' own life experiences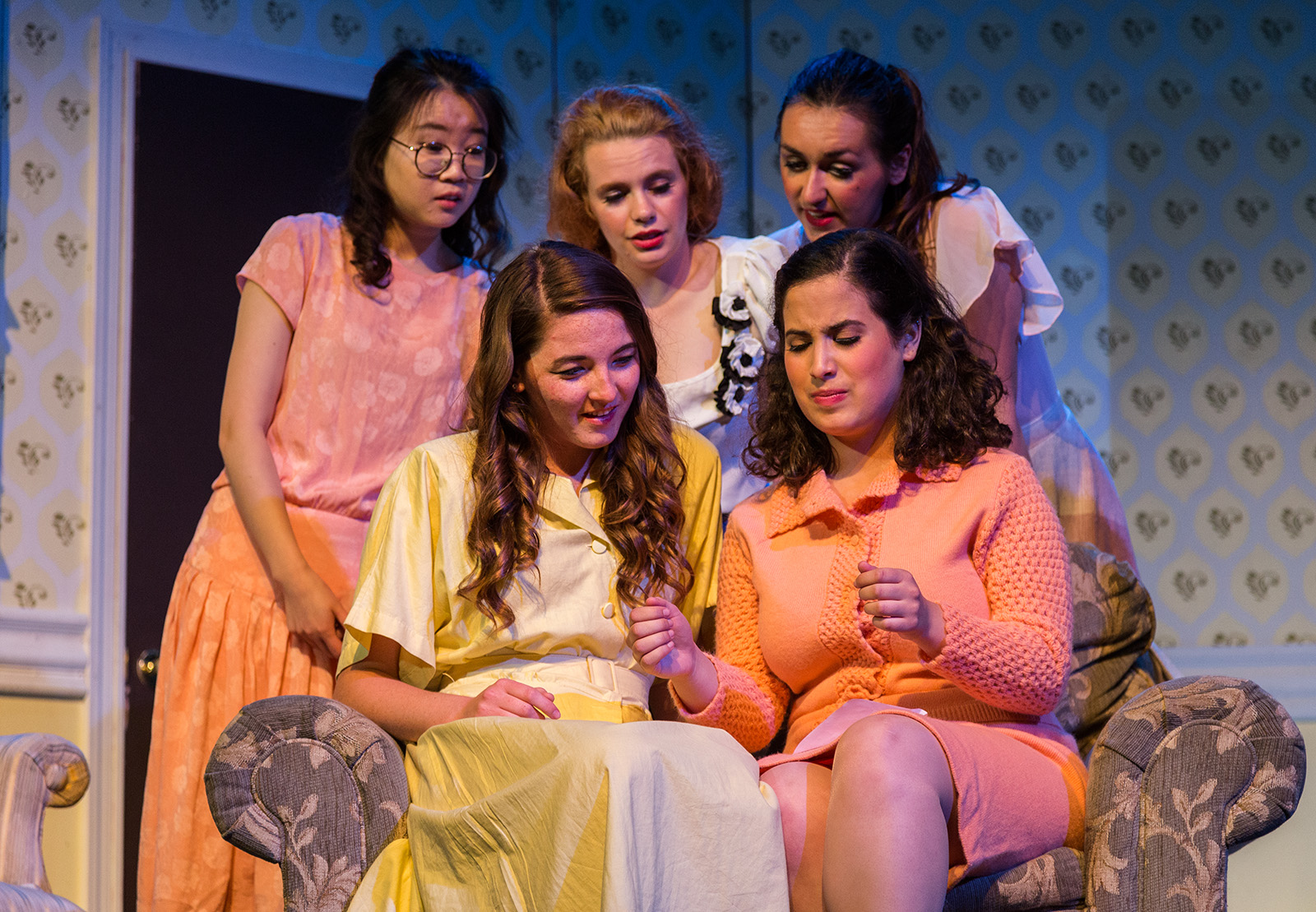 HOOLIGAN Theatre Company's production of "Stage Door" will feature women who live in a boarding house and aspire to make a name for themselves on Broadway. (Alyssa Dorn/Daily Bruin staff)
"Stage Door"
Directed by Veronica Louise Mendoza
HOOLIGAN Theatre Company
Jan Popper Theater
Friday through Saturday, times vary
FREE
Sara Gilbert cried before anything happened onstage the first time she stepped into a Broadway theater to see "Miss Saigon" in New York.
The second-year theater student and musical theater-lover will embody a character this weekend who shares her dreams of performing on Broadway. Both she and her character believe theater is not just a career; it's a feeling.
HOOLIGAN Theatre Company's production of "Stage Door" centers on Gilbert's character Terry Randall as she and other women at a boarding house in 1930s New York try to succeed on Broadway. The women receive job offers from Hollywood and have to decide whether to continue following their Broadway dreams or to cave into Hollywood's temptations.
The cast members connected with the characters' experiences of pursuing their dream careers onstage or on-screen. They used those connections to build their characters' personalities, said James Hackett-Little, assistant director and third-year sociology student.
"We did a lot of character work to allow the actors to really connect with their characters and find the essence of what it is to be that person and the essence of finding themselves in their characters," he said.
Hackett-Little related to the play's message because he came to UCLA intending to study business economics, sacrificing his passion for the theater for a safer career path.
When his major didn't make him happy, he realized he didn't want to choose a career for its salary. He changed his major in his third year and decided to go into producing.
"As soon as I realized my calling was to the theater and I joined HOOLIGAN, I found my happiness," he said.
The director, Veronica Louise Mendoza, connected with the strong women in the play, such as Terry, who are as career-oriented as she is.
In the show, Terry has to make a choice between following her boyfriend to Hollywood or continuing her Broadway endeavors, and she chooses her career over the man.
"They know what they want and are willing to sacrifice anything to get it, and I really admire that," said Mendoza, a second-year communication studies and psychology student. "I know how hard that is, just thinking about my future and what I want."
Mendoza has had to defend her own chosen career and major against strangers who have condescendingly questioned her career path, she said.
"I sometimes get the backlash, like '(communication) studies isn't a real major,' 'How will you have stability?' or 'You're wasting your time with that theater company, because where will that get you in life?'" Mendoza said.
Mendoza chooses to be confident in the face of such reactions – the show shares her ideology about continuing to work hard in spite of those who say the effort is not worth it.
Gilbert also relates to Terry, who perseveres in theater despite the fear she might not succeed. Her aspiration to an onstage career matches Terry's.
"There are a lot of lines that I find myself, as I'm saying them, thinking, 'Wow, this could be coming out of my own mouth if I talked like I lived in the 30s,'" Gilbert said.
Gilbert is so similar to Terry that she slipped into her own habits during rehearsal, such as laughing in uncomfortable situations. She reflected those traits onto Terry to inform the character's own mannerisms. While Terry laughs like Gilbert and holds the same values, Terry has better posture than Gilbert and has a more general American accent rather than Gilbert's own Southern Californian accent.
"It's necessary to have parts of yourself in every character you play," she said.
She and Terry both experienced being caught off guard at an audition that could change the course of their futures, Gilbert said. Terry is surprised with an audition she must attend completely unprepared; Gilbert's audition to get into UCLA's theater program gave her an idea of how Terry might react in that situation.
Gilbert practiced her Shakespearean monologue for the audition for a month but she forgot her lines after getting notes from the director following her first try. She took his note to be more desperate and applied it to an improvised version of the monologue.
Rebecca Wade, the stage manager and one of the women at the boarding house, said she has the same fears about her future as the actresses in the show, even though she is a fourth-year biology student. She, too, has to decide whether to choose a career that makes her happier or one that will have the best payoff.
"Terry shows that you have to do what you love regardless, and you have to stand your ground," Wade said. "It's applicable to anybody who has a dream."