The Quad: UCLA needs to step up its commencement-speaker game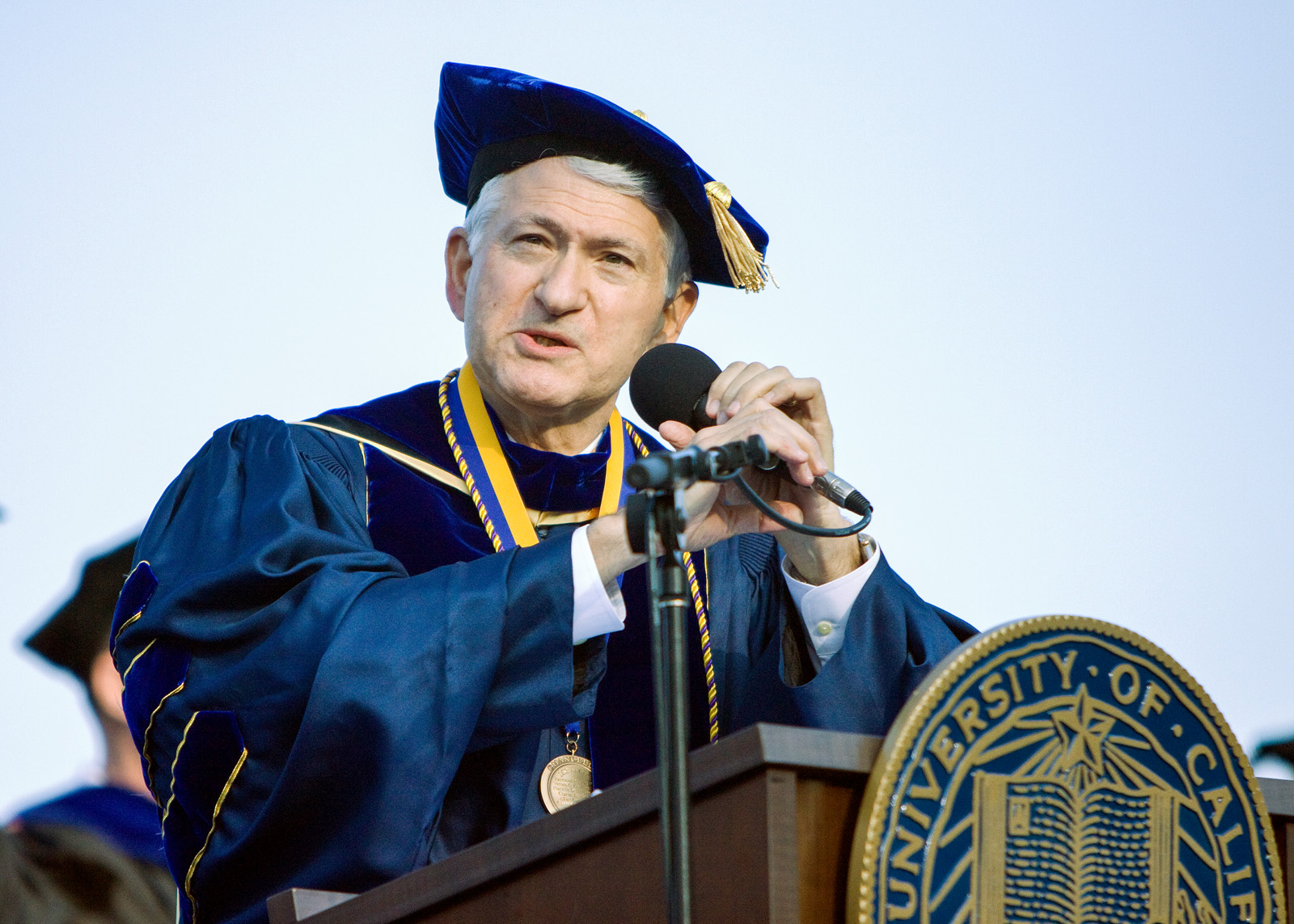 Chancellor Gene Block speaks every year at commencement. (Daily Bruin file photo)
If you're like me, your Facebook news feed is probably overflowing with pictures of seniors clad in their bright blue sashes, popping champagne in front of Royce Hall.
For the next few weeks, thousands of seniors will be wrapping up their time at UCLA and getting ready for their final celebration: commencement.
Every year, commencement offers the world a look inside our beloved campus and commemorates everything students work so hard to achieve. But in recent years, college commencements have become famous for another thing: commencement speakers.
Randy Schekman, Nathan Myrhrvold and Laurence D. Fink. Do those names sound familiar?
Nope? What about Barack Obama, Oprah Winfrey and Amy Poehler?
To clarify, the former are UCLA commencement speakers from the past three years, while the latter are commencement speakers from colleges like UC Irvine and Smith College.
And while I'm sure Fink, the CEO of BlackRock, is an impressive and insightful man, he doesn't hold a candle in terms of name recognition to the former leader of the free world.
So, how does UC Irvine manage to get former President Obama to speak at their commencement, while we get a string of accomplished, but comparatively unknown speakers?
Some universities, about 30 percent, pay their speakers anywhere from $30,000 to over $150,000; the University of Houston paid Matthew McConaughey $166,000 to speak at its commencement in 2015.
But most universities, including UCLA, don't pay their commencement speakers.
When Obama came to speak at UC Irvine's commencement in 2014, students, faculty and alumni spent the year before sending over 10,000 postcards inviting the former president to celebrate its fifty-year anniversary. And when he agreed to speak, he didn't accept any fees.
UCLA, however, has its own process.
According to Jean-Paul Renaud, the executive speechwriter from UCLA Communications and Public Outreach, a group of UCLA faculty and students comes up with a list of notable alumni and gives the college a recommendation a year before the actual commencement.
This year's commencement speaker, Anita Ortega, the LAPD's first black female commanding officer, was chosen last year.
And while it seems gratifying to see accomplished alumni come back and speak to graduating seniors, students would likely prefer a break with this tradition in favor of more prominent speakers.
As a world-renowned school bursting with talent, UCLA owes it to their students to invite speakers pertinent to their lives – popular politicians like Elizabeth Warren or inspiring entertainers like Viola Davis.
Even if UCLA wants to continue to invite alumni, they could still invite more prominent figures. Try UCLA alumna Ava Duvernay, the first black female director to be nominated for an Academy Award, or UCLA Law alumna Kirsten Gillibrand, the U.S. senator for New York.
While they might be busy people, UCLA books their commencement speakers a year in advance, and if sitting presidents and first ladies have done it, I think they would too – especially considering they're alumni.
Also, commencement speeches garner tons of media attention, and free publicity never hurts.
Recently, USC alumnus Will Ferrell gave a "hilarious" speech at their commencement. All I have to say to that is: Step it up, UCLA.