A Taste for Adventure: Alligator meat's simple flavor not worth its price tag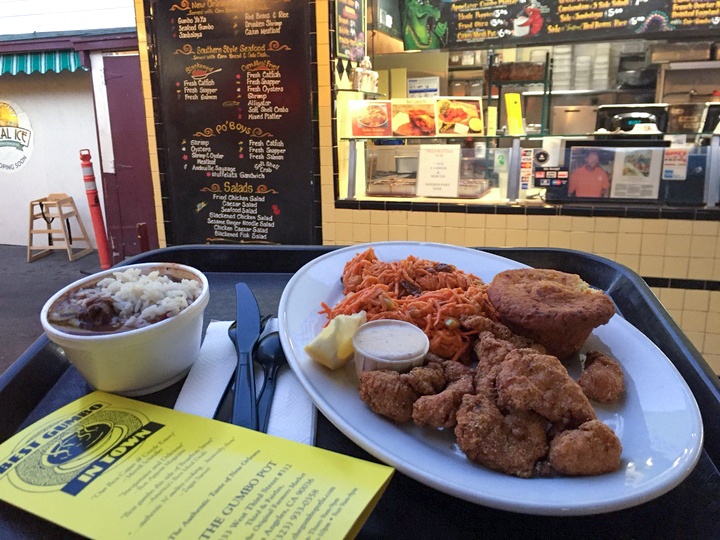 Daily Bruin columnist Matt Fernandez tried gator gumbo and fried alligator tail with a side of remoulade at The Gumbo Pot. (Matt Fernandez/Daily Bruin staff)
Los Angeles brings together cultures and cuisine from all around the world. The city's markets and restaurants offer menus that may be a little different from the typical dining hall menu. Each week, columnist Matthew Fernandez will plunge into LA's culinary scene and try food he's never eaten before.
I did a report on alligators and crocodiles when I was in third grade and considered myself an expert after learning that alligators have a U-shaped snout and crocodiles have a V-shape.
But I didn't know one of my favorite predators could actually be my meal.
After doing some research, I found out that gator meat is actually more common than I thought, at least in certain communities. People in Louisiana and Florida often farm or hunt alligators – a common part of Cajun cuisine. Last year, the De Neve dining hall even served fried gator tails to celebrate Mardi Gras.
Last week, I went to the Farmer's Market at The Grove to try a bite of gator for myself. I picked my way through a maze of stalls, which were selling everything from artisanal cheeses to Lego sets, before I found my destination – a New Orleans restaurant stall called The Gumbo Pot.
The Gumbo Pot serves alligator two ways: a fried alligator tail fillet and a gator gumbo. I decided to try both while I was there, but it wasn't cheap. A small bowl of gumbo cost $10.25 and the tail fillet was $13.75. Alligator meat is expensive, selling for almost $20 per pound, but I felt the restaurant's small amount of gumbo and gator tail was excessively pricey.
But considering that gator meat is the closest I will ever get to eating a dinosaur, I was pretty excited.
I started with the alligator tail fillet, which was served with pink remoulade sauce for dipping, a loaf of corn bread and a side dish of my choice – sweet potato salad with apples and raisins. I expected the fillet to come as one big piece, but instead the meat was fried in chunks resembling chicken tenders. When I took a bite, the first thing I noticed was how chewy the meat was. The nugget wasn't tough but required a significant amount of chewing before I could swallow it.
The alligator tail fillet tasted mainly like chicken; however, it also had a subtle hint of fishiness. It was a confusing, although not unpleasant, combination of flavors.
I then tried a piece of the filet with the remoulade, which had a creamy tart flavor, similar to tartar sauce. The sauce masked the fishiness of the gator meat, so I felt like I was just eating expensive chicken nuggets.
I tried the gator gumbo next. The gumbo contained chunks of gator meat, spicy sausage, mini shrimp and rice in a watery brown soup. The soup was flavored with a hearty mix of spices that tasted exactly how I imagined Cajun food would taste – a salty tanginess with a slight hint of peppery heat. As for the meat, two or three big chunks and a few smaller scraps were mixed into the soup.
While the tail was tender yet chewy, the gumbo meat was much tougher and stringier, reminding me of stewed pork. Much like the remoulade, the gumbo broth had a stronger flavor than the meat and dominated my palate.
For such tough looking animals, alligators have a surprisingly simple flavor. While the meat has a variety of different textures, the price for such small servings makes it hard to see alligator cuisine as anything more than an expensive novelty meat.