Bruin Auto Club gets on track to boost car appreciation culture at UCLA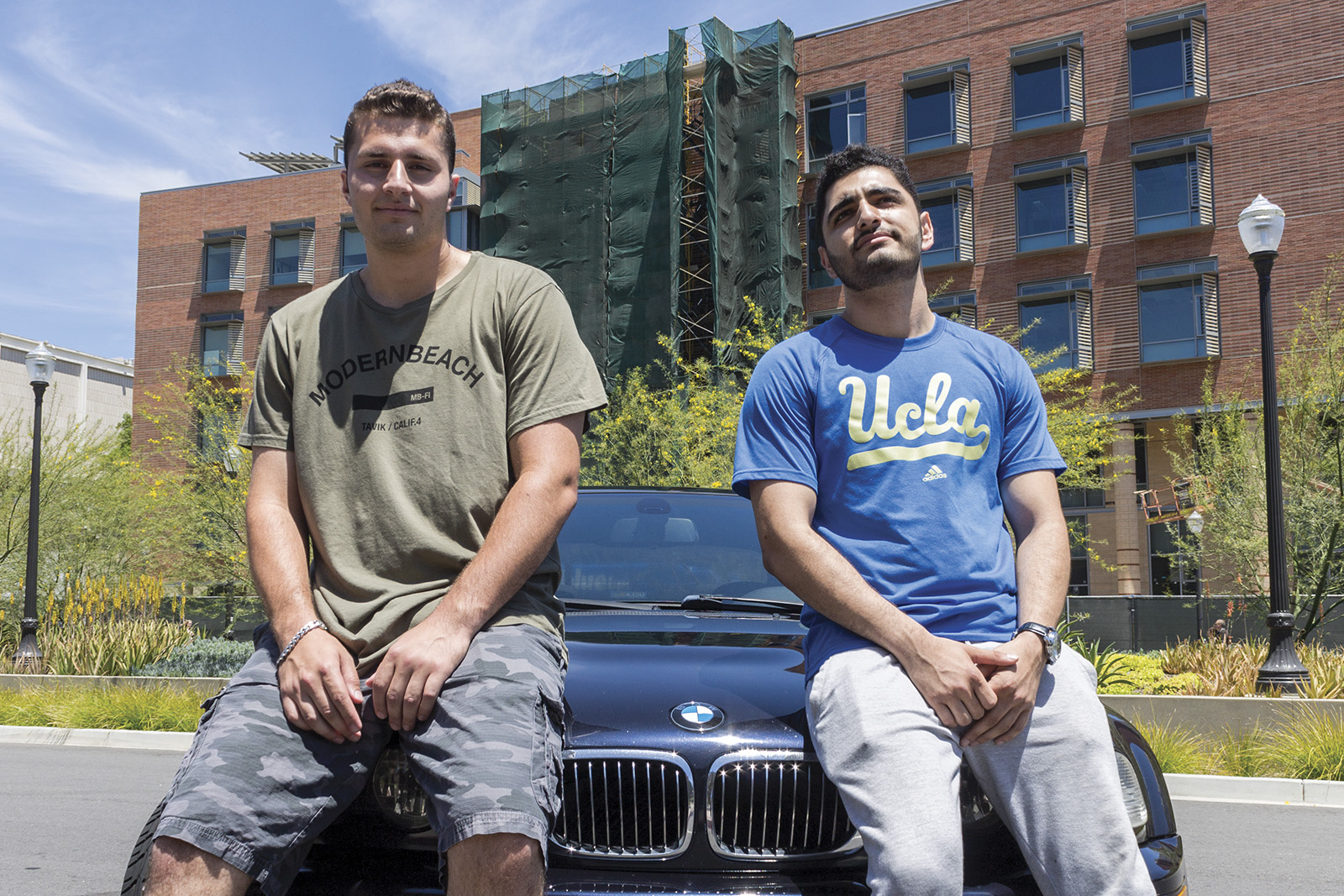 Third-year sociology student Jonathan Semerjian (left) and third-year business economics student Tigran Ayvazyan (right) are the vice president and founder, respectively, of the Bruin Auto Club, a group for UCLA car enthusiasts to celebrate car culture. (Manoreet Grewal/Daily Bruin)
Tigran Ayvazyan's interest in cars began in elementary school – they were the only things he knew how to draw.
This year, the third-year business economics student created the Bruin Auto Club – a community for car lovers like himself.
Ayvazyan couldn't find a car appreciation club at UCLA. So he created the Bruin Auto Club as a social organization dedicated to celebrating car culture. While other car-related organizations exist on campus, Ayvazyan said those focus more on building cars.
"I feel like in the other clubs, the students aren't really interested in cars as much as they are in engineering," Ayvazyan said. "They're building something, but we're all about car culture – going to car meets and discussing cars."
The club currently has 10 active members. Though it does not currently hold regular meetings, the members hang out, go on drives and plan trips to car meets in Los Angeles, said Jonathan Semerjian, a third-year sociology student and the club's vice president.
Semerjian credits his uncle's Dodge Viper for capturing his imagination.
For Ayvazyan, his love can be traced back to the television shows he watched as a child, in addition to drawing concept cars. He has owned three cars: a BMW 318ti, a Ford F-250 and a BMW M3.
He learned how to make modifications to his cars by watching videos and reading online blogs and forums. He added a working engine and new paint to the BMW 318ti, which did not even run when he bought it.
"I like to think of cars from a value perspective and look at a car that can give a lot of bang for your buck," Ayvazyan said.
The club hosts weekend drives through San Francisquito Canyon in Santa Clarita, California, or canyons in Malibu. They play music and meet up with other car enthusiasts. Ayvazyan said he has occasionally seen Jay Leno driving in the Malibu canyons.
"Our group has gone to Supercar Sunday, which is the biggest and most common car event in LA where people bring in some really nice cars," Semerjian said.
Semerjian hopes as the club grows, its members can gain access to more exclusive car shows like the Piazza GranTurismo that meet less frequently and feature high-performance supercars, such as Ferrari, Lamborghini and high-end BMWs and Mercedes Benz models.
One of the club's current goals is to cultivate and grow the appreciation for car culture at UCLA, said Matthew Hartzel, a third-year economics student.
"The love for cars in and of itself is what is so cool about car culture," Hartzel said. "You don't have to drive a Ferrari to be a car enthusiast. You could have a 1990 Honda Civic and still have so much fun with your car. You don't even have to have a car to be an enthusiast."
Ayvazyan wants the club to be a place for people at UCLA to share in their passion for cars, especially since he has learned more about cars from other people than he has from researching online. Ayvazyan's friends taught him about an alternative to painting a car called wrapping, in which a car is coated in a colored layer of plastic.
With so many clubs on campus dedicated to academics or competitions, Ayvazyan hopes the Bruin Auto Club can provide a less serious community for people who just want to meet people with similar passions.
"My favorite thing about car culture is it brings people together," Ayvazyan said. "Being able to share in that passion with other people makes it all the more exciting."