Duet Eva B. Ross and David Miller wins top award at Spring Sing 2017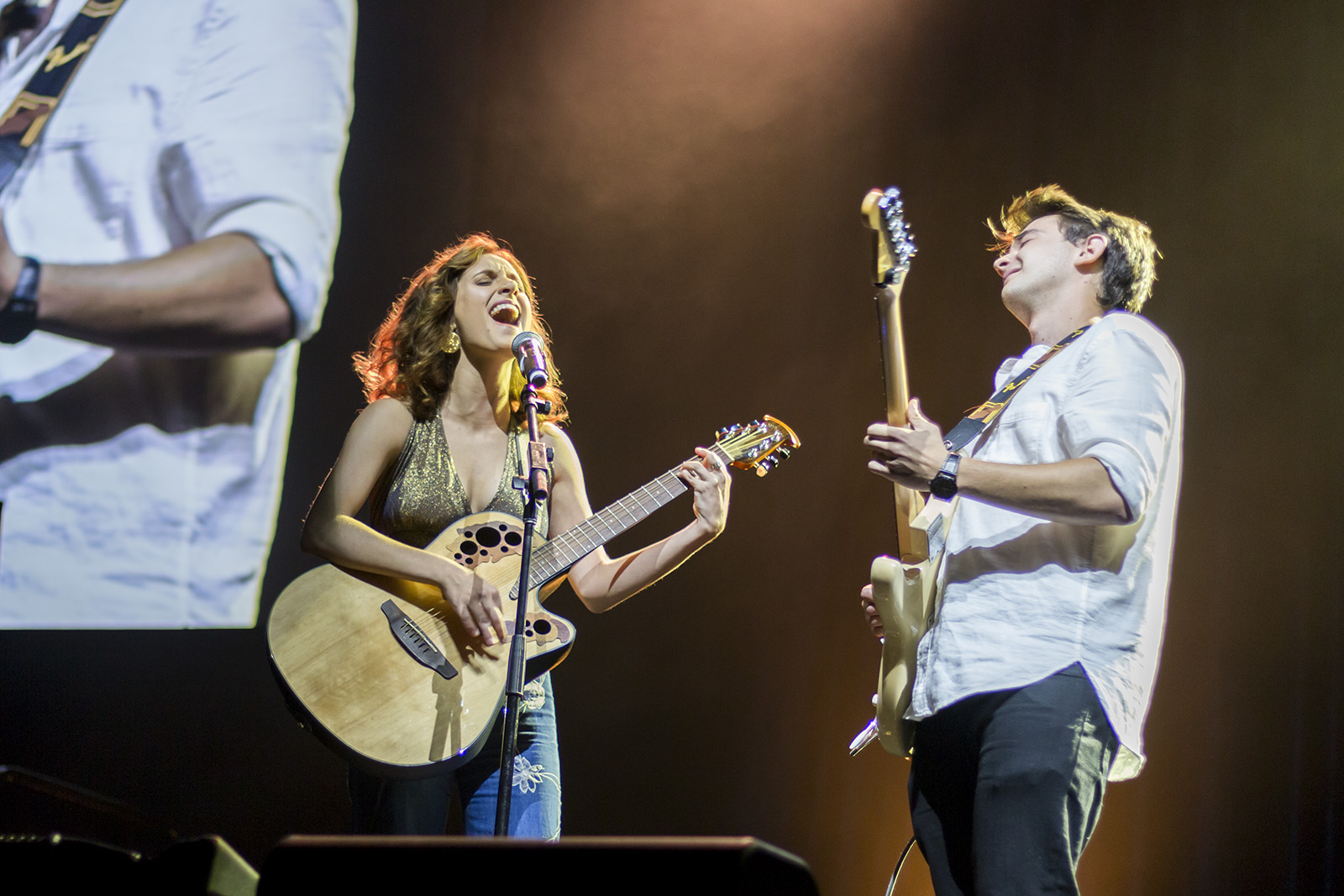 Eva Barrosse (left) and David Miller (right) took home the Northern California Alumni Grand Sweepstakes Award and the award for best duet at Spring Sing 2017. (Chengcheng Zhang/Daily Bruin)
This post was updated May 21 at 1 p.m.
Third time's the charm for Eva B. Ross and David Miller.
On Friday, the duet, comprised of Eva Barrosse and David Miller, won Spring Sing's top prize – the Northern California Alumni Grand Sweepstakes Award – in addition to winning best duet.
The Student Alumni Association's annual talent competition, started in 1945, featured 17 performers and comedy troupe Company at the show in Pauley Pavilion.
This is the third time Barrosse and Miller competed in Spring Sing, but the first time they won it. In 2015, they entered as the band Eva B. Ross Foundation and sang the original song "Easy." They rebranded as a duet called Eva B. Ross and David Miller in 2016. This year, they performed once again as a duet and sang "Chicago," a song Barrosse said she wrote last summer.
"It was really fun to go into it knowing it would be our last year," Barrosse said. "We just wanted to be completely authentic to who we are and just do what we always do in our living room together."
Barrosse previously told the Daily Bruin that she and Miller met during zero week of their first year.
Eva B. Ross and David Miller harmonized to a romantic folk-like guitar ballad. The crowd was quiet before Barrosse delivered the poignant line, "We watched the sun set in the west/ There was no place I'd rather be."
[Read more: Full coverage of Spring Sing 2017] 
While it was Eva B. Ross and David Miller's first win, Laura Savage took home a Spring Sing award for her second consecutive year – this time as part of the trio HELEN. Last year Savage, currently a fourth-year sociology student, won the grand prize as a soloist.
HELEN, BEL and ScatterTones took home the awards for best band, best soloist and best a cappella group this year, respectively.
Celebrity judges included blogger Perez Hilton, Jason Earles from "Hannah Montana," Khleo Thomas from "Holes," Heather Matarazzo from "The Princess Diaries," Kendrick Sampson from "The Vampire Diaries" and Jake Thomas from "Lizzie McGuire."
Imaan Fitzgerald mesmerized the audience with her velvety vocals accompanied by plucks of the ukulele strings in her song "Lapse." Fitzgerald swayed on her stool as she delivered the last lines of her song, "It's the death of us."
BEL sang "Ms. Hollywood" while backlit by a turquoise spotlight. Third-year communication studies student Isabel Whelan, known as BEL, sung in a steady mellow tone, with keyboard melodies echoing the fluctuations of her voice.
Fellow soloist Haylee Hessell stood on stage with only a guitar and her voice to carry the melody of "Let Him Go." Chris Pree and Munir Griffin high-fived on stage while performing the R&B pop fusion song "Deep," which featured some rapped verses.
After intermission, Griff Clawson kicked off his solo performance by cueing a synthetic beat, which he began to parallel with his electric guitar and the chorus, "Love is on the back of my mind/ Back of my mind."
As for the bands, the three musicians of HELEN performed their soft melody "In the Morning" and moved rhythmically to the sounds of their own instruments – two guitars and a keyboard.
The purple spotlight shined on the keyboard player for the opening notes of "6th Story" by Stefan Dismond and the Love Supreme. The band set a groovy tone with its intense passages of rap punctuated by the chorus line, "I want you to want me to want you."
In their performance, The Inner Sanctum exhibition members tapped into themes of dreamlike traces and subconscious states. The world arts and cultures/dance students performed hybrid dance and acrobatic movements to deep bass beats as the stage lights flushed deep reds. Women in robot costumes and futuristic makeup contorted and twisted around an enormous skeletal metal orb in center stage. Throughout the performance, the dancers lifted, twirled and grappled with the orb. The performance won them the Bruin Choice Award.
Bruin Bhangra members jumped dynamically on stage in blue, yellow and red embroidered outfits, blending elements of hip-hop and Punjabi dance throughout the performance.
HOOLIGAN Theatre Company earned the award for best production. The musical theater troupe adopted a peppy yet nostalgic tone with adaptations of songs such as "Rockstar" by Pink and "Rehab" by Amy Winehouse.
The 14 women of Signature A Cappella wound through mashups of songs including "Dangerous Woman" by Ariana Grande and "Flawless" by Beyonce.
Company, all the while, kept the audience lively with its comedy skits about stereotypical college relationships, a skit about the fabled superhero "Powell Owl" and "The Fratchelor," a parody of "The Bachelor" that turned into a sentimental same-sex romance.
Reggae musician Ziggy Marley received the annual George and Ira Gershwin Award for Lifetime Musical Achievement. In his acceptance speech, Marley said his true lifetime achievement was becoming a more open-minded, understanding and compassionate person.
Past recipients of the lifetime achievement award include The Who, Julie Andrews and Stevie Wonder.
Barrosse and Miller join Spring Sing's roster of past winners that includes singer Sara Bareilles in 2002 and 2003.
"It's so wonderful to be back and this is just a really exciting way to end our senior year," Barrosse said. "It's been fun every year."