Spring Sing 2017: Last year's winner returns to stage with three-person band HELEN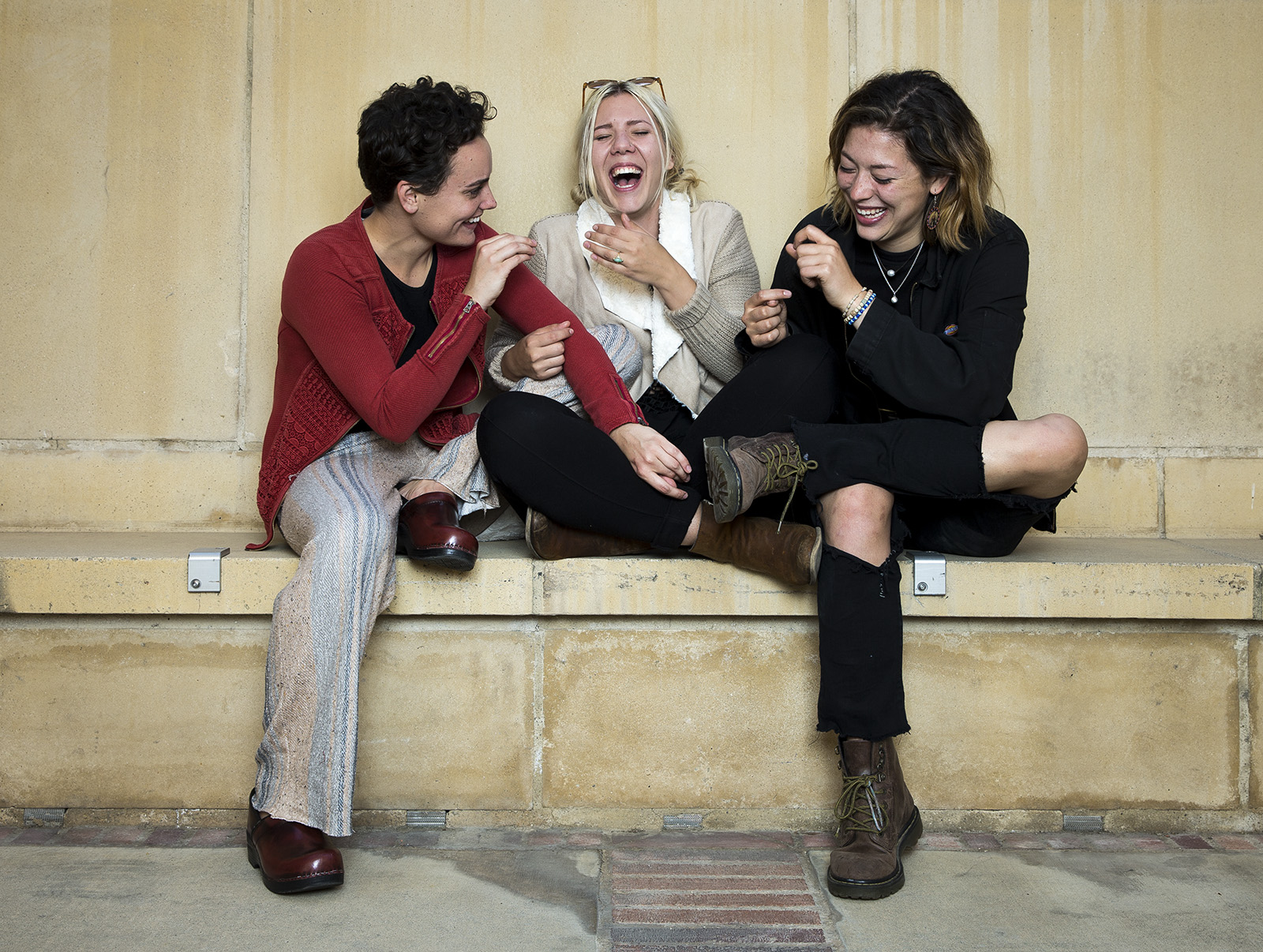 Fourth-year students Temme Scott, Laura Savage and Libby Hsieh (left to right) formed their band HELEN this year and will perform a folk ballad at Spring Sing 2017. Savage won the talent competition last year as a soloist.
(Aubrey Yeo/Daily Bruin senior staff)
Laura Savage, Temme Scott and Libby Hsieh crouched around a computer screen, ready to turn in their Spring Sing 2017 application. But as Scott lifted her finger to hit "submit," the trio stopped and remembered they had forgotten to fill in one detail – their band name.
The trio decided that their band would be called HELEN, bringing together 2016 winner Laura Savage, her former competitor Temme Scott and her roommate Libby Hsieh.
Savage, a fourth-year sociology student, and Scott, a fourth-year psychology student, met at their first Spring Sing audition in 2016 after trying out back-to-back. However, they didn't know each other well until the two weeks before the performance, Scott said.
"Temme was so good during auditions, I thought there was no way they'd take in both me and her," Savage said.
[Read More: Daily Bruin coverage of Spring Sing 2017]
After the 2016 Spring Sing, Savage and Scott continued to keep in touch via Facebook and WeChat and discussed the possibility of playing music together. They even stayed in contact while abroad – Savage in Hong Kong and Scott in Argentina. When they returned to the United States, they began holding jam sessions together in Scott's apartment.
Hsieh, a fourth-year English student and Scott's roommate, met Savage last year when she came over to Hsieh's apartment to play music with a group of musician friends. When Savage and Scott decided to audition together, they asked Hsieh to sing and accompany them with a piano, leading to the formation of their band two weeks before Spring Sing auditions.
After filling out their Spring Sing application, the trio sat down and brainstormed possible band names. Savage blurted out "Helen" and the name ended up sticking despite its randomness, Savage said.
"Does it mean Helen of Troy? Helen Keller?" she said. "Different people will look at the name differently, so we usually just leave it open for them to decide on its meaning."
The band name reflects the group's spontaneous and whimsical personality, Scott said. The trio wanted the name to be in all caps to embody a group and not just one person.
HELEN will perform "In the Morning," a melancholic folk and alternative ballad at Spring Sing this year, which describes feelings associated with activities like a one-night stand.
"It's about feeling confused, about your identity and anxiety, murky feelings, bumping into walls and kind of skating through life," Hsieh said. "It's like the modern-age 'Reflection' from Mulan."
Each girl brought three of their own songs to the band as potential candidates for their Spring Sing song submission. They chose "In the Morning" after hearing Hsieh sing and play it on the guitar – the combination of the song's melody and Hsieh's voice struck them with its beauty, Savage said.
Hsieh had written most of the song by the time she joined HELEN, but Scott added a verse, and all three members sat down together to rearrange the song with harmonies so that it was no longer a solo.
"It's not just my song anymore; it feels like our song," Hsieh said.
Scott said that as a transfer student, she sometimes felt lonely and had a hard time finding other musically passionate friends. But participating in jam sessions and Spring Sing allowed her to feel a stronger sense of belonging.
Similarly, Savage said that during last year's Spring Sing, she felt more like a solitary soloist compared to participants who were in bands and seemed to connect more with each other. But this year, she found like-minded musicians through HELEN.
"It's not about winning – everyone just wants to do music together," Savage said. "The fact that I got to be onstage with people who love music and are now my good friends made me want to do Spring Sing again."