Spring Sing 2017: Imaan Fitzgerald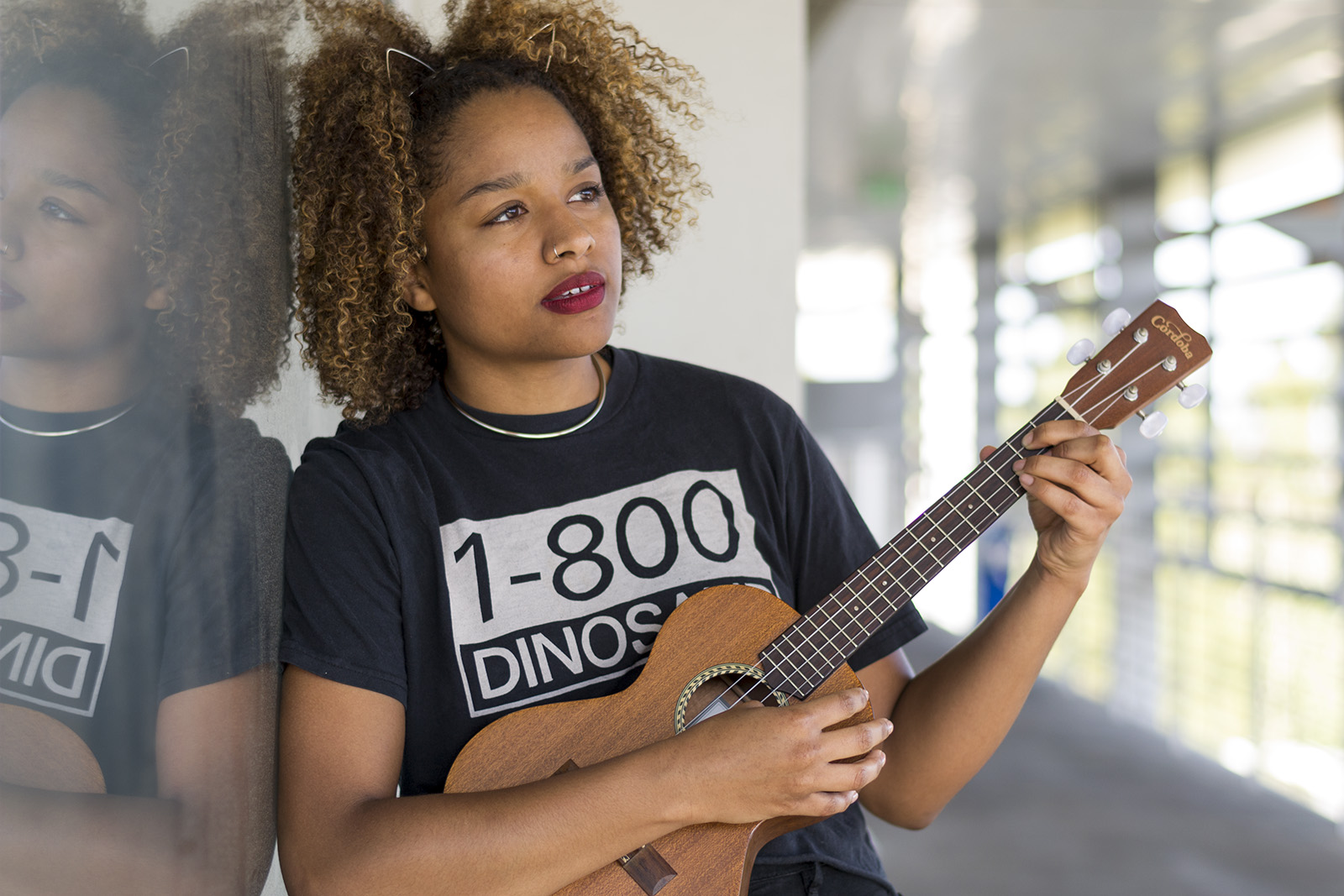 Fifth-year film student Imaan Fitzgerald plays the ukulele, guitar and piano and began writing her own songs in middle school. She will be performing a solo soul set at Spring Sing this year. (Axel Lopez/Daily Bruin)
Nine-year-old Imaan Fitzgerald stood in front of 1,000 people and began to sing "We Are a Family," her voice bouncing off the steep walls of Crystal Cathedral.
The concert in Orange County, organized by her grandfather, is one of her earliest memories of performing. Fitzgerald, a fifth-year film student, will channel the ukulele and vocal skills she has honed since childhood for her solo soul Spring Sing performance of "Lapse."
Fitzgerald grew up in a creative environment. Her father played guitar and her mother was an artist. Fitzgerald began writing her own songs in middle school.
"I knew it was something that brought me happiness," Fitzgerald said. "(Writing) was something I enjoyed doing; it was very personal to me."
[Read More: Daily Bruin coverage of Spring Sing 2017]
Fitzgerald plays the ukulele, guitar and piano in songs that incorporate jazz influences like Ella Fitzgerald and Billie Holiday.
Fitzgerald won second place at her high school talent show and received an invitation to play at The Studios at Paramount as a prize. The owner of a music venue, the Savoy Entertainment Center, approached her and asked her to perform at his establishment after watching her set.
"It was a realization (that) the more I put myself out there the more opportunities open for me to continue to perform and share (my) experiences with other people," she said.
The musician said her songwriting process begins by working out a chord progression on her ukulele before fitting words to the music. Listening to her Discover Weekly playlist on Spotify Premium and watching other musicians perform inspire her to write her own music. Fitzgerald said a James Blake concert in October 2016 inspired her to be more proactive about songwriting.
"When I go out and listen to live music and see other people performing and expressing themselves in that mode, it inspires me to create," she said.
She has been practicing on weekends since January in preparation for her Spring Sing debut, for which she will be performing an original song "Lapse" on her ukulele about the realization a friendship is coming to an end.
Though Fitzgerald will be producing and editing Facebook videos for First Media when she graduates in June, she said it's important that she keeps writing music and creatively expressing herself. She is also working with one of her former music lecturers, Alan Elliott, to publish a formal soul album after she graduates.
Elliott said he has made a point to help Fitzgerald finish some songs for her album, which she hopes to complete by the end of summer. He said both her vocals and songwriting have an authentic sound that is distinctive from other musicians.
"Her voice is completely hers, her humor, her natural ability to hear and create harmonies is completely her own," Elliott said.
Fitzgerald said she wants to continue to write music because it is a cathartic mode of expression.
"It allows me to take my internal dialogue and put it out of my head and into something that is more tangible," she said.