Spring Sing 2017: BEL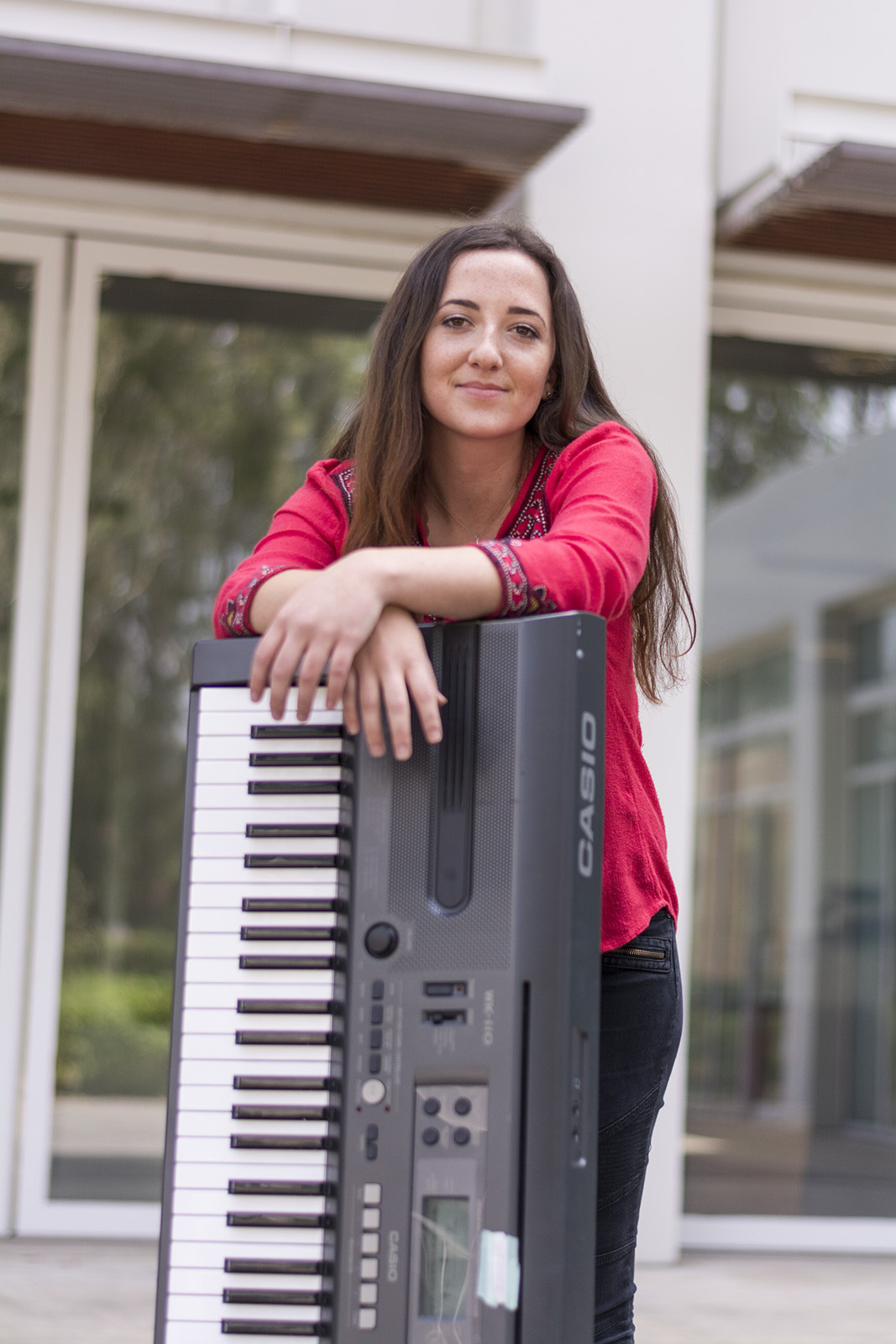 Third-year communication studies student Isabel Whelan will be performing the ballad "Ms. Hollywood" under the stage name BEL at Spring Sing this year. (Eileen Lising/Daily Bruin)
Isabel Whelan is used to taking stage as part of an ensemble.

The third-year communication studies student performed at Spring Sing her freshman year as part of the Delta Gamma and Lambda Chi production and at Coastalong Festival and Dance Marathon this year as a part of Sage St.
But for Spring Sing 2017, she is on her own.
Whelan has been playing music all her life, but she will debut at Spring Sing as the soloist BEL.
"It's exciting to be able to know I can do this on my own," Whelan said.
[Read More: Daily Bruin coverage of Spring Sing 2017]
Whelan's first musical endeavor was learning how to play piano. She then moved on to the violin when she was 8 years old. Whelan learned to play guitar when she was 15, which was the same age that she said she began to take songwriting seriously.
While Whelan has been exploring music in different outlets throughout her life, she has not forgotten about one of her biggest inspirations: her family. Whelan is the youngest of five kids and cites her siblings as a built-in audience growing up.
Her family is supportive in all of her endeavors; for Spring Sing, Whelan had to coordinate and buy 12 tickets for all of her family members who are coming.
"Everyone was contacting me, aunts and uncles," Whelan said. "They're all really excited."
Her family is also where she got her stage name BEL from – it is the nickname her family gave her as a child.
"It's a special name for me, and incorporating that into my music has been something that always keeps me thinking about what matters most," Whelan said.
At Spring Sing, BEL will perform her song "Ms. Hollywood," a ballad she wrote last summer and released on SoundCloud in fall 2016. She had the melody in her head for a while before she decided to develop it into a full song.
The slow ballad starts off with a violin that Whelan will play herself, and then moves into a piano melody layered with Whelan's singing. Whelan will just be with her piano at Spring Sing.
The lyrics recount the stories of artists who come to Hollywood with dreams of stardom, and how their dreams are shaken when they face the real world. "Things aren't what they seem / No, there's nothing there," Whelan sings in the song.
"That's one of my favorite songs that I've written. … It feels really powerful," Whelan said. "When I wrote it, it was at a really emotional time and vocally … you can really feel the emotion in it."
Whelan also cites a songwriting class she took last year at UCLA as a source of inspiration. In the class, Whelan had to write one song per week, which pushed her to become more serious about being a songwriter. The class helped Whelan learn to collaborate musically with others, she said.
Albert Mejia, an ethnomusicology alumnus who met Whelan in the songwriting class and who has performed in the band Sage St. with Whelan, enjoys working with the singer on crafting melodies and tunes.
"It's a lot of fun – she's patient and willing to work out an idea," Mejia said.
Whelan is no stranger to collaborating with other student musicians, but Spring Sing provides an opportunity for her to sing alone. She is looking forward to having the support of her family in the audience.
"It's definitely a really cool step for them to see me go from small living room concerts as a 5-year-old to performing at Pauley (Pavilion) in front of 9,000 people," she said.