Erin Nguyen: UCLA should tap into local tech presence, offer esports program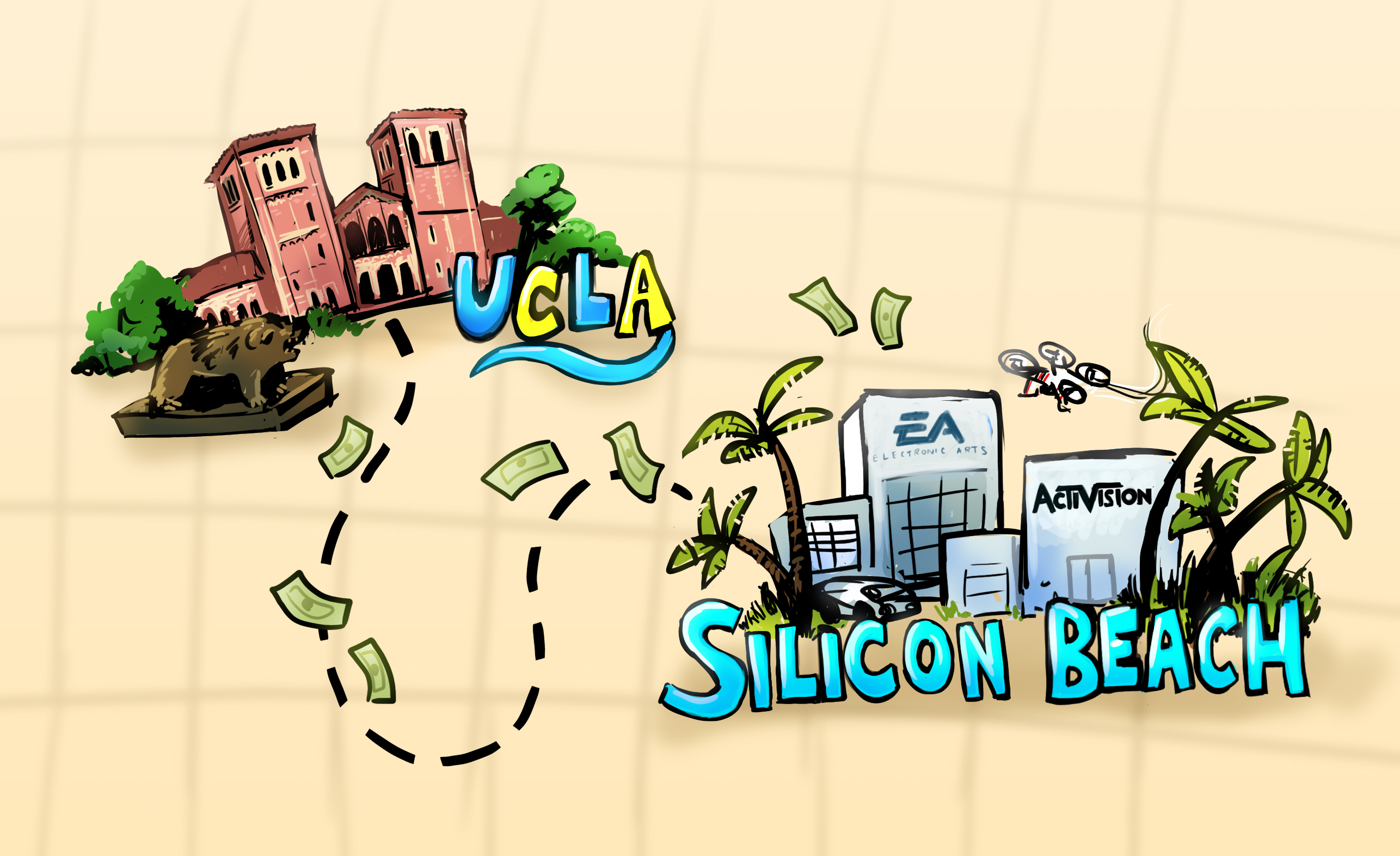 (Kelly Brennan/Daily Bruin senior staff)
If electronic sports viewers were their own nation, they'd be on track to become the third largest in the world by 2019 – move over, Indonesia.

Esports is a growing subculture in the video game industry in which people can watch professional players deck it out in popular team-strategy games such as League of Legends, fighting games like Super Smash Bros. and card games like Hearthstone.
In fact, the esports scene has amassed such a large following that more people watched theLeague of Legends World Championship finals than the2016 NBAchampionship.
But esports is more than just fun and games. Several small private universities seized the opportunity to become involved in the esports scene and began offering esports scholarships to their students. In fact, the University of California, Irvine, became the first public research university to offer an esports scholarship in 2016.
UCI made the right choice. Its esports program garnered enough sponsor attention to pay for a $250,000 and 3,500-square-foot esports gaming arena.
That's great, but UCLA can't be outdone. Its proximity to Silicon Beach and reputation as a leading research university give it the perfect foundation to follow in UCI's footsteps. By implementing an esports scholarship, UCLA can tap into local tech capital and strengthen its computer science programs while establishing a leading research presence in a booming field.
UCLA is in close proximity to video game leaders such as Activision, Electronic Arts Inc. and Riot Games. These titans are responsible for hit games such as League of Legends, Call of Duty and EA Sports.
With financial support from sponsors, an esports program would only help UCLA strengthen its mission as a research university. Gaming and virtual reality intersect with a plethora of other fields, such as neuroscience and cognitive psychology, fields in which UCLA already has a strong research presence.
In fact, UCI is already funding 12 research projects in conjunction with its esports program. In one experiment, UCI researchers studied the hippocampus of players who playedMinecraft – a game where players can gather resources, engage in combat and craft elaborate constructions out of blocks – for two weeks and discovered they had improved spatial memory over those who didn't. In another experiment, researchers observed people playing World of Warcraft in German to study how people acquired a second language in an immersive environment.
But it's not just research: UCLA can develop its existing niches for those interested in video games. UCLA's film school has programs focused on virtual reality and software, and the Design | Media Arts program has multiple tracks for animation.
"From a game design and development perspective, there's a lot of potential for growth and plenty of boundaries to be pushed," said Tyler Lindberg, a third-year computer science student who is president of the Virtual Reality and Computer Graphics committee at the UCLA Association of Computing Machinery.
Lindberg said current programs focus on animation but not on the real-time realm, including real-time interaction, virtual reality, animation and graphics.
That means UCLA can strengthen and expand its existing computer science and game development programs. An esports program could bridge the gap between UCLA's curriculum and students who are serious about the video game industry, and foster an even greater community.
A UCLA esports program can borrow from UCI's "four pillars" model: competition, research, community and entertainment. The pilot program can be small, with five to 10 participants, and create a team for an established esport like League of Legends. This step is relatively easy because there are already UCLA communities for competitive gaming. In 2015, UCLA was one of the only five campuses out of 400 to compete in Division I for every game in the Collegiate Starleague, the NCAA of college esports. Furthermore, these students aren't bound to the same forced amateurism as NCAA players, meaning they can retain their winnings and continue to play for UCLA even if they play professionally.
Afterward, UCLA should reach out to Silicon Beach and gaming companies for capital. Sponsors will inevitably get on board, if UCI's sponsorship success is any indicator.
This capital can help build a space for competitive and casual gamers alike, like UCI's esports arena, which did not use any public funds. There is currently an unused space near Ackerman Union where this arena can be housed. UCI's esports center is open to the public and charges users $4 per hour.
Lastly, UCLA can add one more pillar to its program: collaboration.
"It would be cool to have teams try to create games and have people compete in those games. We'd generate great feedback between players and developers, and really understand the underpinnings of good game design," Lindberg said.
Nevertheless,somemightargue that esports only benefits a niche community at UCLA. That'swoefullyfar from the truth. Aspects of game design leak into fields of high interest, such as virtual reality and augmented reality, used by popular companies such as Snapchat and Tinder.
A gaming community already exists on campus; however, UCLA lacks the infrastructure to support it. UCLA's Game Lab, for example, is an experimental research space for people to develop games and participate in game-related research. However, according to a Daily Bruin article, the lab is more focused on creative exploration rather than connecting students to the industry, and there's no formal degree program for game design.
The presence of a gaming arena also unites students.
[Editorial: UCI steps up its e-sports game, UCLA should follow suit]
"We get to engage with students and build a relationship with them (through the arena),"said Mark Deppe, the acting director of UCI eSports. "(The arena) is a social outlet for many gamers and validates their experience."
Esports offers an invaluable opportunity to utilize untapped resources, create more research, strengthen UCLA's computer science program and build a community among students. Implementing an esports scholarship is UCLA's first step in the right direction to "WoW" people and "LoL" all the way to the bank.