Vinyl vendors: Reviewing stores around LA during resurgence of record sales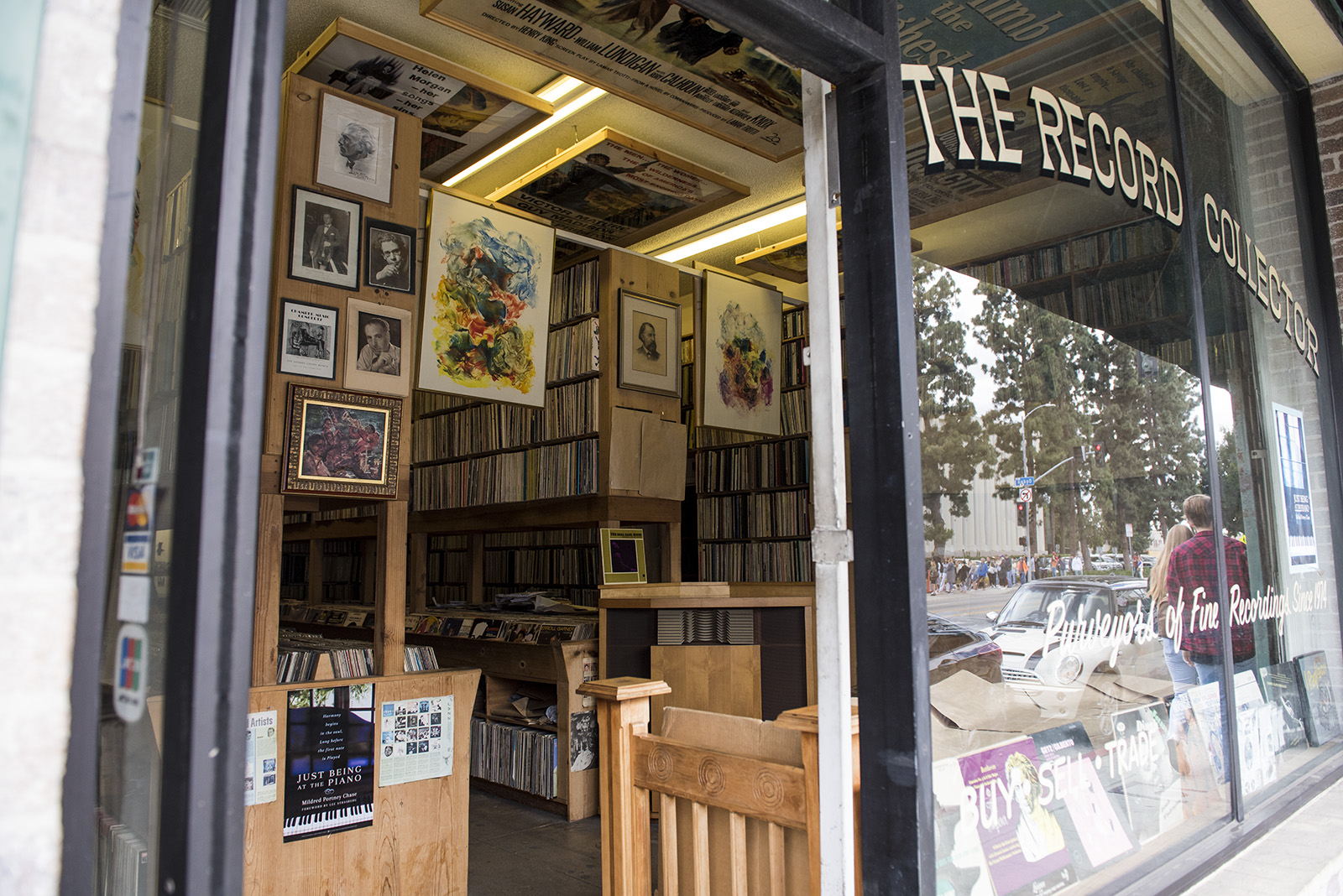 The Record Collector (Miriam Bribiesca/Photo Editor)
Vinyl has spun back into relevance.
Sales of vinyls in the United States generally declined after 1979, but in the past 11 years they've grown in popularity again, according to Nielsen Music.
I've been collecting vinyl from independent record stores in Los Angeles for about nine months. The record format creates a physical relationship between listeners and the music. Vinyl owners flip the record and listen to complete albums rather than a collection of singles, creating an intimate experience.
Some bitter vinyl veterans act like records are an exclusive club reserved for classic rock fans and people over 30. Now newfound vinyl enthusiasts can find a number of records for sale at mainstream stores such as Urban Outfitters; however, independent record stores make for the most authentic shopping experience.
The Daily Bruin gives a rundown on some of the top record stores in Los Angeles.
---
High-Fidelity
1027 N Orange Dr., Los Angeles, CA 90038
4 Paws
The West Hollywood record store High-Fidelity creates a laid-back atmosphere for shoppers in its garage location filled with wooden crates.
Instead of a bold style, the store has a minimalist aesthetic. Some other record stores feel cramped, but High-Fidelity felt spacious because of the open garage door, which let sunlight in.
Although small, the store has a varied selection of everything from surfer rock to contemporary hip-hop, including artists such as Paul Revere & The Raiders and NxWorries. I particularly enjoyed scouring their $1 bargain bins for quirky records. The store also has a kooky selection of used records as well as a solid new record collection full of both recent releases and reprints of older ones, which includes records such as "Madvillainy."
The prices for used records vary, ranging roughly from $1 to $25. New records generally fall in the range of $15 to $25.
Friendly staff members helped me find a copy of Sonic Youth's "Sister," a 1987 alternative rock album that proved elusive at other stores. The record store also had some smooth minimalist wooden boxes for storing records on sale, along with gear such as turntables and amplifiers in the miscellaneous section.
Shopping at High-Fidelity is a bit like shopping at an independent book store. It's quiet, calming and before you know, you've spent 40 minutes looking through titles.
Great for: Bargain-bin finds, intimate record-shopping experience
---
Headline Records
7706 Melrose Ave., Los Angeles, CA 90046
3.5 Paws
Headline Records will transport you back to the 1980s.
The punk-focused record shop, located on Melrose Avenue, carries an impressive catalog of rock records in vinyl, CD and cassette form.
Headline Records boasts the most extensive collection of cassettes out of the stores I visited, which is especially appealing for those who enjoy making retro mix tapes.
Patches, T-shirts, belts and other band merchandise line every corner of the store. The store's varied patch selection is impressive and reasonably priced – a black patch with a Guns N' Roses logo costs just $5.
However, the store feels a bit cramped because there are only two aisles. The walls are covered in mostly black band T-shirts, along with red shelves full of records. Together, the contrasting red record racks and black T-shirts create an edgy aesthetic that reflects the punk genre.
I'm not a punk fan, so the staff suggested some well-known punk artists, such as Misfits and Sex Pistols. The records are organized in an easy-to-find fashion – first by genre, then by artist.
Headline Records is the spot for adding a little more punk in your life.
Great for: Punk needs, band T-shirts
---
The Record Parlour
6408 Selma Ave., Los Angeles, CA 90028
4 Paws
Not one but two DJs were scratching old-school hip-hop records live in The Record Parlour when I visited.
The first DJ performed next to the main entrance while the second performed in the back room. The DJs' energetic performances revamped the concept of background music.
Advertisements of vintage artists and films adorn the walls of The Record Parlour above old school juke boxes, completing the greaser aesthetic. The store carries a plethora of genres, but had an especially large selection of soul, hip-hop and jazz records. Most of the records are used.
The cheapest and most eccentric records are in the back room where elusive musical gems are waiting to be discovered. I found an original copy of the "Gettin' Money (The Get Money Remix)" single by Junior M.A.F.I.A. from 1996 for only $5.
The massive rows of crates were difficult to sift through without help. One staff member in the backroom suggested a few records based on my music taste and even had the DJ play them for me before I bought them.
The Record Parlour regularly hosts special daylong sales worth checking out. Once a year they usually give away records for free.
Great for: Old-school hip-hop, live DJs, bargain finds, sales
[Related: Daily Bruin's Concert Venue Guide]
---
The Record Collector
7809 Melrose Ave., Los Angeles, CA 90046
1 Paw
The Record Collector stands out because of its dusty appearance.
The store, located on the corner of Fairfax and Melrose avenues, consists entirely of enormous wooden shelves of records situated close together and little else. As a result, the store was stuffy and devoid of natural light, which didn't make for a great browsing experience.
While browsing, I noticed the staff telling a customer to put down a record and stop looking at it unless he was going to buy it. When I inquired whether they had any hip-hop records, I was met with a look of disgust. I also asked if the store had any Parliament or Funkadelic records, and the owner gave me a long-winded lecture because he assumed I didn't know George Clinton, the leader of the two bands and a pioneer of the funk genre.
The lecture then turned into a half-hour rant criticizing CDs and digital music. By that point, I was sufficiently turned off by The Record Collector.
That being said, the shop has one of the largest collections of classical and jazz music I have ever seen.
Great for: Classical music
---
Revolution Records L.A.
7305 Melrose Ave., Los Angeles, CA 90046
2 Paws
Revolution Records is a cozy record store specializing in classic rock, punk, blues and reggae. The green-walled store has a well-curated selection of records.
Revolution Records' classic rock records stand out due to the store's collection of old names that everyone's dad loves, like Guns N' Roses and Led Zeppelin.
Because the records are so carefully collected, most fall in a higher price range. Many are in the realm of $30 to $40, but the rarer records come close to $100 and above. Keep in mind that most of the records are first prints, which means they're collectors' items and are not necessarily overpriced.
A number of the store's records are also unopened first prints, and there's high chance of finding some collectibles in the mix.
The store also sells a lot of memorabilia, such as old T-shirts, often for a three-digit price tag. Although these T-shirts are vintage and from decades such as the 1980s, the price seemed high to me – especially since a number of shirts weren't autographed.
Although the store had a decent collection, I found myself priced out of most records and can't imagine many students will be able to afford anything at this store either.
If you don't mind thinning your wallet for some collectors' items, then Revolution Records is for you. On the other hand, if you're hoping to find some wacky $1 bargains, you may want to look elsewhere.
Great for: Classic rock vinyl and memorabilia
[Related: Bruin Vinyl club hopes to create haven for vintage music buffs]
---
Record Surplus
12436 California Route 2, Los Angeles, CA 90025
5 Paws
Only a 10-minute drive from campus, Record Surplus lives up to its name with its varied and cheap collection. The store stocks everything from the "Stranger Things, Vol. 1 (A Netflix Original Series Soundtrack)" to "Other Voices" by The Doors.
I was shocked to find a copy of "Cashmere" by Swet Shop Boys, an indie rap record about being a Desi in America. Seldom can one find a vinyl from a new independent label, especially one from such a niche genre.
Many new records are around $15 to $20, although the store also has a great used collection that typically ranges from $2 to $20.
The store's plain walls are adorned with a few posters of old artists, such as Jim Morrison, and are complemented by gray shelves. While seemingly average, the store's appearance places emphasis on the records rather than aesthetic.
I found Record Surplus refreshing because it doesn't pigeonhole itself into a musical niche. Shoppers can find high-end records, bargain records and merchandise of all genres here.
Record Surplus is a classic record store that cares more about its selection than its Instagramability.
Great for: Selection, price
---
Amoeba Music
6400 Sunset Blvd., Los Angeles, CA 90028
4.5 Paws
Despite the name, Amoeba Music is anything but microscopic.
Amoeba Music is the Costco of independent record stores. The warehouse-sized inventory features countless T-shirts, records, CDs, DVDs, posters and even a few books. Amoeba Music also has several information desks scattered throughout – a helpful addition given the store's size.
The massive store has two floors, although the top floor is dedicated to movies. Purchasable vintage movie posters, T-shirts, concert promos and vinyls fill the walls.
Amoeba Music has one of the best vinyl selections including a limited edition of Kanye West's "My Beautiful Dark Twisted Fantasy" with frameable artwork and a poster for $32. Used records are generally priced from $1 to $30, although rare records go for more, such as an original of John Coltrane's "Live in Japan" for $120.
Some of the contemporary records were a tad overpriced. For example, Kendrick Lamar's "To Pimp a Butterfly" is priced at $30 at Amoeba, despite being cheaper on Amazon.
Amoeba Music has the newest releases on vinyl, though; on April 29, the store already stocked "Humanz" by Gorillaz even though the album came out April 28.
The main drawback of Amoeba Music is that because of its size, the shop feels more like a commercial megastore without a soul. But overall, Amoeba Music is perfect for introverts looking to wade through a wash of records on their own.
Great for: Posters, T-shirts, varied selection, limited-edition vinyls
Best Atmosphere: High-Fidelity
Best Selection: Amoeba Music
Most Helpful Staff: The Record Parlour
Best Prices: Record Surplus
Best for Vinyl Novices: Amoeba Music
Best for Vinyl Experts: Record Surplus