Students create indie EDM label, collaborate with music makers nationwide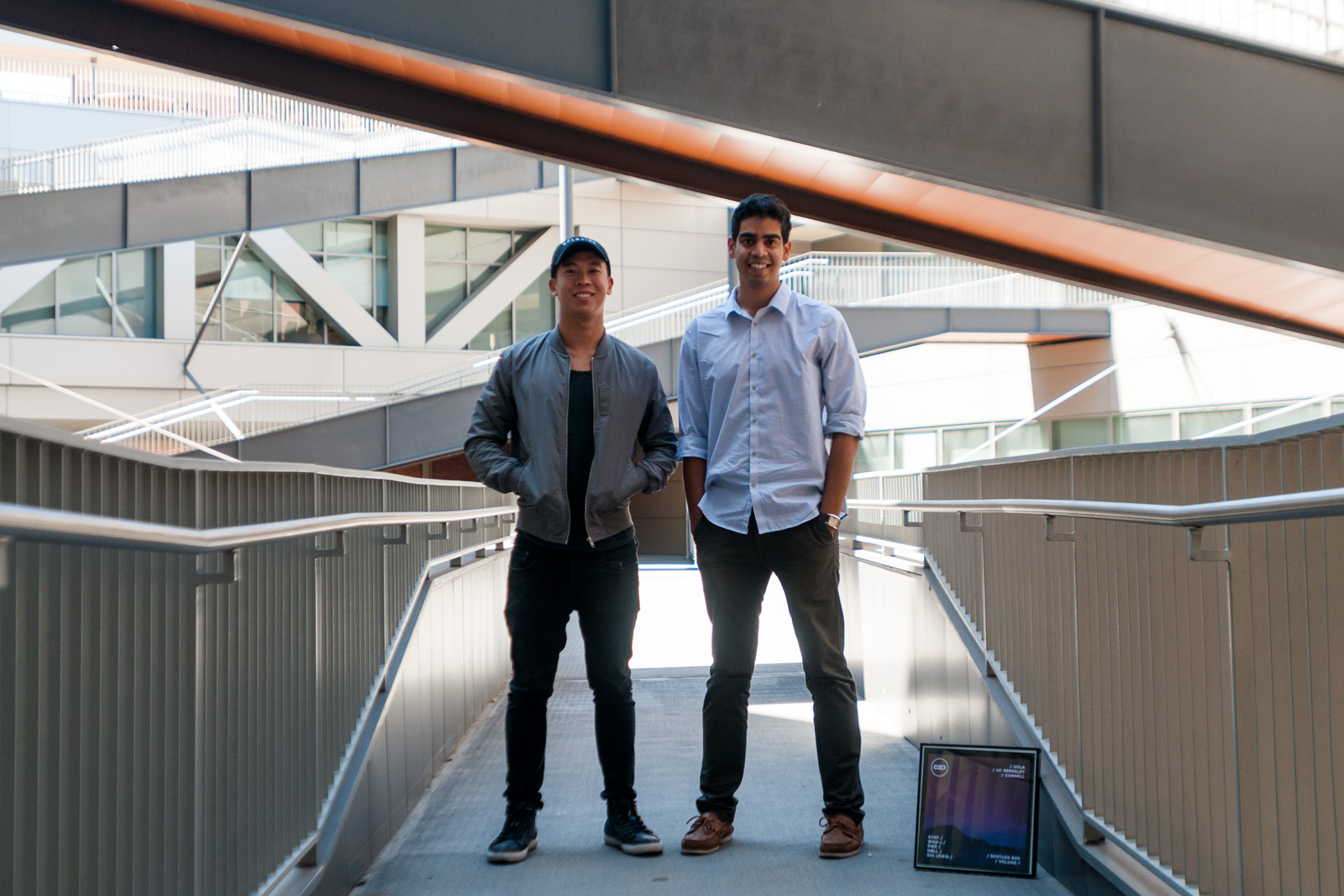 Third-year business economics student Suman Padhi and alumnus Andrew Conde created COED RECS, an intercollegiate student record label that includes EDM artists from around the country. Pictured above are Padhi (right) and Alvin Chen (left), another member of the group. (Amy Dixon/Daily Bruin)
Correction: The original version of this article incorrectly stated Suman Padhi is a second-year student. In fact, Padhi is a third-year student.
This post was updated May 5 at 4:15 p.m.
Two UCLA students created an intercollegiate independent electronic dance music label that now works with students at the University of Michigan, Duke University, UC Berkeley and Cornell University.
Third-year business economics student Suman Padhi and 2015 alumnus Andrew Conde thought of the idea while returning from February's CRSSD EDM festival in San Diego. Padhi chatted with Conde about their idea to create an intercollegiate music label that would include EDM artists from different colleges.
Padhi and Conde used social media websites to spearhead the formation of the record label, called COED RECS. Its first project was an EDM compilation entitled "BOOTLEG BOX VOLUME 1," which was released April 20 and has accumulated about 30,000 listens on SoundCloud.
"We immediately started reaching out to our electronic music friends at other colleges," Padhi said. "The strength of COED and the reach that we have is very much rooted in the number of campuses we can spread across."
The UCLA students met as members of UCLA's Electronic Music Dance Club in 2015. Padhi and Conde became aware of the difficulties faced by college producers and DJs attempting to make a name for themselves beyond the confines of their college's electronic scene. COED would be a music label for the students by the students, Padhi said.
They hope the nationwide record label will use college students' mastery of social media to gain national followings for their artists, Padhi said.
"I realized that many artists starting out were constrained geographically unless they were signed with a major record label," Padhi said.
The main idea behind the label consists of having artists from various colleges around the country collaborate on compilations under the COED RECS label, which are then shared via SoundCloud. Padhi hopes that word-of-mouth and sharing links will help the artists gain a larger following.
To initiate the record label, Suman reached out to two high school friends he felt would be vital components to his and Conde's vision – Cornell University student Eunu Song and University of Michigan student Vineet Velagandula.
Velagandula offered electronic producing experience and Song was looking for a way to use her marketing expertise in the entertainment industry, Padhi said.
Song serves as the team's marketing director and brand manager and helped COED create a company logo, establish a brand and launch a website. Song created the name COED by merging the first two letters of the words college and EDM.
The logo has COED spelled out in white block letters with the C and O linked together emulating an infinity symbol to represent the endless possibilities of the label, Song said.
Beyond helping artists share their work, social media has also helped the creative team stay in touch to organize logistics for the label.
"We use Facebook Messenger to bounce ideas off of each other," Conde said. "It's a very internet-rooted operation."
The label currently comprises seven producers and DJs from colleges around the country, all of whom contributed to "BOOTLEG BOX VOLUME 1."
One of them is second-year UCLA pre-financial actuarial mathematics student Gillis Wang, who performs under the moniker Dio Lewis and has played at venues such as the AVALON in Hollywood.
He said working on the label is the best way for him to have his own purpose and definition.
"I feel like I'm still sort of starting out – I don't have a lot of followers," Wang said. "But through COED's social network we are building each other up and relying on each other's connections."
Also on the roster are UCLA second-year business economics student Alvin Chen, who performs under the name Nøll, as well as a duo from UC Berkeley and Duke University called ÖMÖ. Most of the performers on the roster have songs featured on the latest "BOOTLEG BOX VOLUME 1."
The compilation includes five tracks, including established pop and electronic songs remixed with COED roster's future bass sounds, Padhi said.
COED plans to expand with artist outreach, releasing individual EPs and eventually hosting events on campuses, Song said.
"All you got to do is make your music good enough for people to stream it," Padhi said. "If it's good enough, it'll get the plays."