UCLA police Chief Tony Lee aims to increase engagement with students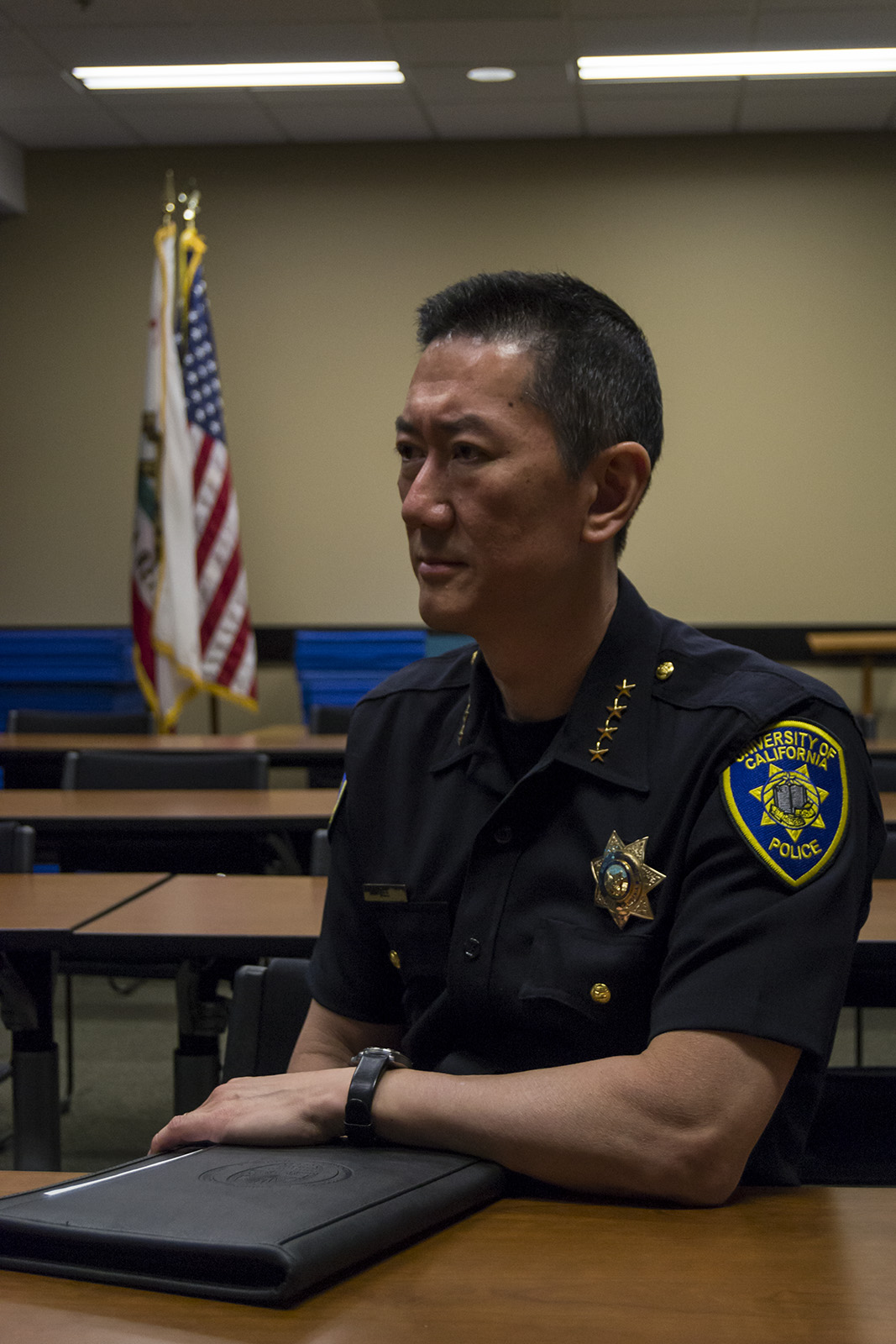 UCLA Chief of Police Tony Lee said he hopes to meet regularly with student groups and the UCLA community to solicit their feedback. (Angelina Ruiz/Daily Bruin)
As a police officer, Tony Lee said he has been able to make people's days better. For instance, he once helped find a celebrity's purse that contained irreplaceable photos and jewelry.
"I checked 14 alleys and found her purse in one of the trash receptacles," Lee said. "She was in complete tears when I returned her purse … I was almost in tears with her."
Lee, who worked at the Beverly Hills Police Department for 26 years, began his tenure as UCLA chief of police in March. He said he hopes to make UCLA's police department more transparent and engaged with students.
"Our officers were very visible with the community in Beverly Hills," Lee said. "I'm trying to bring that here."
Lee said he became well-acquainted with UCPD when he worked at BHPD, because the police departments trained with each other and shared resources. He said the connection between the departments motivated him to apply to the position after Chief James Herren retired in June.
"It just felt like a natural fit for me when the time came," Lee said.
He said he plans to regularly meet with student groups and the UCLA community to solicit their feedback and inform them about how to prevent crimes. He launched a Coffee with a Cop program at UCLA, where officers meet directly with community members, and plans to hold a series of presentations about crimes and issues on campus.
Lee also said he is leading the newly created Police Chief Advisory Council, comprising 13 members from student organizations, such as the Undergraduate Student Association Council and the Graduate Students Association. He said he thinks listening to student, staff and faculty needs will make UCPD a more effective police department.
"From students' eyes, they can be seeing things that we can be doing better that we can't see," Lee said.
Lee said he will also inform the campus community about what to do during an active shooter situation, as a response to the murder-suicide in June, by training staff and faculty in active shooter protocol every few years.
So UCPD can be better prepared in such situations, Lee also hopes to create a working group that will consist of commanding officers from law enforcement agencies near UCLA. The group will discuss how to better coordinate during emergencies.
"We're going to be talking about emergency preparedness," Lee said. "We're one big consolidated team, and we're going to have much better coordination in terms of collaboration and deployment of resources."
Lee also said he hopes to improve the Community Service Officer program, which employs students to patrol buildings on campus and on the Hill and escort students in the evening. He said he wants to increase recruitment, improve training and motivate CSOs to become UCPD officers after they graduate.
In addition, Lee said he will not change UCPD's role at UCLA when it comes to enforcing federal immigration law, something University of California President Janet Napolitano reaffirmed in December.
"There has never been a past practice here of asking someone about their immigration status and there will never be one – I want to make that very clear," Lee said.
Some of Lee's former colleagues said Lee has a strong work ethic and is a great collaborator.
Renato Moreno, a lieutenant at BHPD who has known Lee for 20 years, said he thinks Lee's extensive experience in law enforcement will make him successful at UCLA. He added Lee worked in BHPD's investigative, administrative and field services divisions, an uncommon feat.
"I see him continuing to expect a high level of service with care and compassion while making an influence on crime," Moreno said. "That's been his style."
Ron Iizuka, assistant chief at the Culver City Police Department, said he met Lee about 10 years ago at a meeting to discuss regional crime trends with other law enforcement agencies in West Los Angeles. Iizuka said Lee encouraged people to work together at these meetings.
"He is the fulcrum of leading a group," Iizuka said. "He works hard to collaborate with other people."
Lee said he hopes to make UCPD better throughout his term than when he arrived.
"I've been really impressed with the personnel here and how knowledgeable they are," he said. "My goal will be to make them better with leadership programs and to tap in their wisdom."
Roberto Luna Jr. is currently a senior staffer covering Westwood, crime and transportation. He was previously an assistant News editor from 2015-2016 and a News contributor from 2014-2015.
Roberto Luna Jr. is currently a senior staffer covering Westwood, crime and transportation. He was previously an assistant News editor from 2015-2016 and a News contributor from 2014-2015.