Student band The Bash Dogs performs at UCLA's Coastalong Festival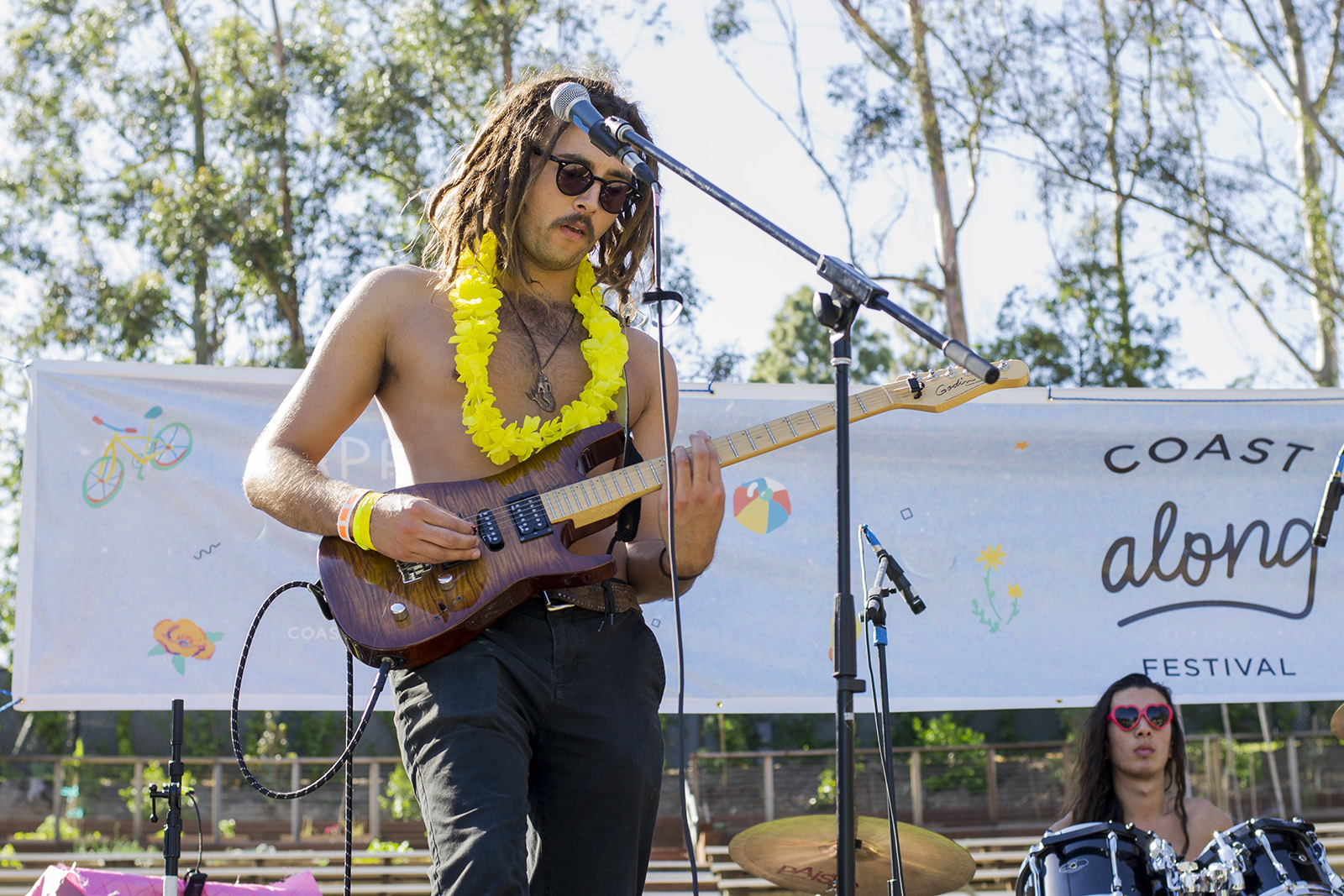 Fourth-year Loyola Marymount University student Nate Barrett played guitar and sang as lead vocalist with the band Bash Dogs on Saturday at UCLA's Coastalong Festival. (Axel Lopez/Daily Bruin)
The Bash Dogs strutted on stage with yellow leis, sunglasses and a single inflatable seagull pool toy.
At UCLA's Coastalong Festival on Saturday, The Bash Dogs performed a set of three songs – "Howl and Cry," "Can You Feel Her?" and "Captain Harly," all of which will be recorded for the band's new extended play this summer.
While there are now four members of The Bash Dogs, the band began with Nate Barrett, a Loyola Marymount University student, and his brother Jeremy Barrett, a second-year UCLA economics student, both of whom grew up around their father playing rock music on his bass guitar.
They performed another rock piece,"Gloria" by Van Morrison, in their first band gig together – a fifth-grade talent show – and knew they wanted to form a band after.
"Having hundreds of kids cheer for you, that's when I personally knew this is what I want to do for the rest of my life," Nate Barrett said. "I wanted to be like AC/DC; I wanted to be like all those rock gods."
[Related: Ecochella channels music, energy from within]
Together, with his brother on guitar, they had the foundations for a full band, Nate Barrett said. But they did not meet their bass player, Nathan Schmok, until high school.
After watching Schmok in their school's marching band, they invited him to jam with them, and they became a three-piece band with the name The Bash Dogs. The name comes from the brothers' youthful misconception that NASA shuttle launches were preceded by the phrase "3, 2, 1, Bash Dogs" rather than "blast off."
While the band's name and rock style were influenced by its members' youth, the ensemble's goals and sound changed from their first performance in the fifth grade as they grew both in age and with the addition of new members.
"As we grew up, it became more about, 'Let's create something the world can take from,'" Nate Barrett said.
The band added its fourth band member – keyboardist Cole Riddle – in January to help add a jazzy quality to the sound.
The band had originally limited itself to songs the members could play with three instruments, but they knew they needed another element to bring their band to the next level, Jeremy Barrett said.
In previous years, the band's genre was hard rock with bits of pop, such as in its first song "Miss Myself." But he said the members don't play those songs anymore because their sound has changed from what he considers a rock sound like The Black Keys to a smoother, blues version of music associated with bands like The Doors.
In previous years Nate Barrett wrote the music and the lyrics, but the band's writing process became more delegated with the addition of Riddle, a second-year ethnomusicology jazz student. For some songs, Barrett sent voicemails telling the band members about a new song or chord progression, and then in rehearsal they worked together to come up with ideas for bass lines and melodies.
"It's not about everyone being egotistical and saying, 'This is my part, this is how I'm going to play it,'" Riddle said. "It's like, 'I'm playing this part, but I really want some sort of contribution from you guys stylistically to mold what I'm playing into what all of us are playing.'"
They strive to make their new songs universally enjoyable to listen to at any time, no matter the mood or activity, from waking up to eating to partying, Nate Barrett said.
[Related: Student-designed bicycle generators to power Ecochella lineup]
First-year undeclared student Sienna Rohrer pedaled to the beat of the music on one of the bikes powering The Bash Dogs' set at Coastalong Festival in Sunset Canyon Recreation Center.
"I like their sound," Rohrer said. "It's more mellow – I would listen to this kind of music when I'm driving along the beach road, at home gardening or at school."
At the festival – their fifth show in three days – Nate Barrett's microphone stopped working mid-song. But he kept singing, and after the song ended, the band members looked at each other and laughed before staffers fixed the technical problems.
"We wrote our old songs for the crowd, and now we're writing to satisfy ourselves," Jeremy Barrett said.