Movie review: 'The Circle'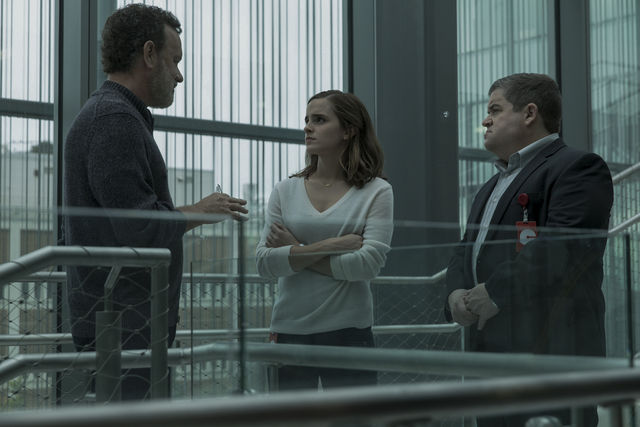 "The Circle" Directed by James Ponsoldt STX Entertainment
"The Circle" imagines a world in which internet stardom is just a daily vlog away, and giant tech companies battle governments over privacy issues. Sound familiar?
The latest offering from up-and-coming indie director James Ponsoldt, aims to be both a reflection on documenting one's life online in the modern world of surveillance, as well as a warning against millennials' unchecked faith in tech giants. But the film falls short of being a well-rounded piece.
If anyone can get millennials to put down their iPhones and listen, it's the film's main attraction and star Emma Watson. Fresh off her all-singing all-dancing performance in the Disney behemoth "Beauty and the Beast," Watson plays Mae Holland, a frustrated young woman trapped in a dull office job in the modern-day Bay Area.
Mae's problems stretch beyond her career concerns, as her father, played by the late, great Bill Paxton in one of his final film roles, has multiple sclerosis. Her relationship with her ex-boyfriend Mercer (Ellar Coltrane), a local lad who makes antler chandeliers, doesn't seem to be going anywhere.
The solution to all of Mae's problems? Joining The Circle, a powerful internet company co-founded by Eamon Bailey (Tom Hanks), a bearded, ambitious genius who is a turtleneck and a pair of glasses away from Steve Jobs. Bailey's motto is "Knowing is good. Knowing everything is better," yet somehow hardly anyone at the company can see the creepy, maniacal implications of these two sentences, and so Bailey and his co-founder Tom Stenton (Patton Oswalt) act on their crazy ideas unchallenged.
"The Circle" starts out as a promising and intriguing sci-fi thriller, exploring the pros and cons of having minute, camouflaged cameras on every street corner. Hanks does a Jobsian job of selling Big Brother surveillance to the audience, channeling a mixture of his trademark American Dream optimism and "Go get 'em, Woody" attitude. But, as with most Hanks performances, there's more to him than meets the eye – his enthusiasm masks his stalkerish desire to see what everyone is doing, and his true motives begin to dawn slowly on Mae.
Watson shines brightest as Mae when she volunteers to wear a tiny camera on her chest and document her every move for the world to see as part of The Circle's latest venture. The character adopts a fake smile and exudes nauseating enthusiasm, echoing many of today's YouTube vloggers, providing a clever commentary on how online fame can come with a price.
Although Mae is reluctant at first to expose her life to the online world, she soon becomes addicted to the millions of faceless followers and begins to sacrifice real relationships with her family and friends for superficial interactions with often offensive users.
Her occasionally faulty American accent aside (it's definitely an improvement on "The Bling Ring"), Watson manages to capture Mae's confusion as to which side of the surveillance debate to take, and leaves the viewer wishing for more scenes of Hanks manipulating her into coming on board with his schemes.
However, tonally the film can't quite decide what it wants to be. At one point, Ty Lafitte (John Boyega), who seems to be the only person even slightly worried by The Circle's practices, leads Mae into the sewers underneath The Circle's colossal offices, referred to in the film as "the campus" to warn her of the company's omnipotency.
The scene suggests the two will team up to take down the company and escape together in a heart-racing thriller, yet Ty is subsequently sidelined and the uneasy sexual tension between him and Mae is left unresolved.
The film's tonal issues begin early on during a scene that critiques millennials' obsession with social media and their trademark fear of missing out on socializing. Two "Circlers," acting under the pretense of getting her settled in at the company, approach Mae and inform her that The Circle's company barbecues and impromptu Beck concerts are not mandatory, but if she doesn't show up, she'll drop on the company participation rankings.
The moment is laugh-out-loud funny, but makes the seriousness of subsequent scenes dealing with Mae's father's disease and Mercer's detachment feel empty and tasteless. "The Circle" lurches from tense thriller to weepy family drama to savvy, knowing comedy from scene to scene, leaving the audience wondering why it couldn't just settle for one of the above.
At times "The Circle" feels a bit square, but the film narrowly avoids rotten-apple status due to the elements of clever commentary on modern-day surveillance and the power of information in the hands of tech companies. Solid performances from Watson and Hanks and a final performance from the legendary Paxton make the film easily worth getting off Instagram and taking a trip to the theater.
Thorne was the prime director. He was previously the assistant A&E editor for the Theater | Film | Television beat.
Thorne was the prime director. He was previously the assistant A&E editor for the Theater | Film | Television beat.