Men's tennis to defend Pac-12 tournament title with Stanford match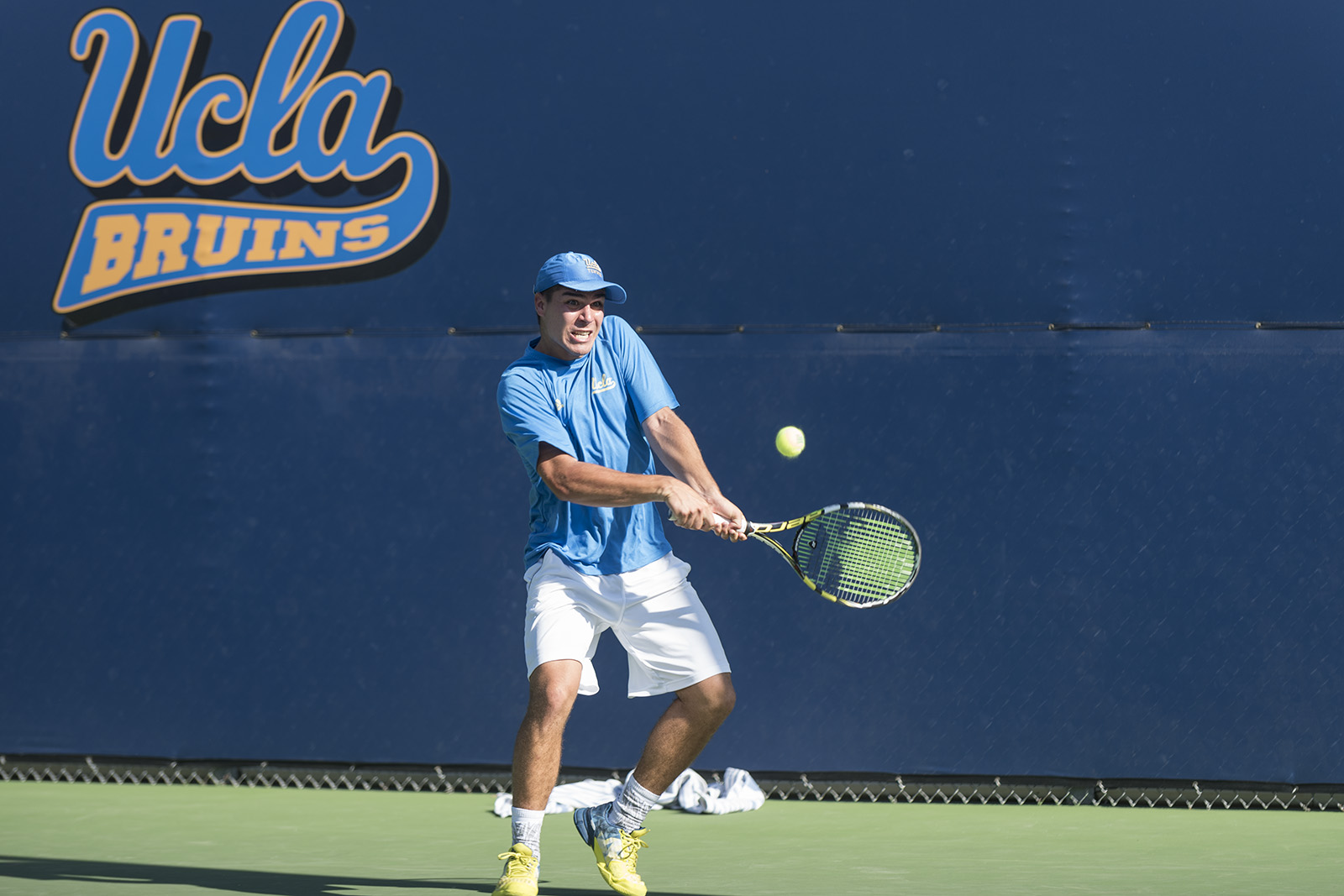 Senior Joe Di Giulio will play in his last Pac-12 tournament as the Bruins begin their title defense. UCLA clinched the regular season title last week and will open the tournament Friday against Stanford. (Farida Saleh/Daily Bruin)
The reigning champions are here to defend their throne.
No. 1-seeded UCLA men's tennis (18-4, 6-0 Pac-12) will travel back to Ojai, California, to defend its Pac-12 tournament crown after beating California last year.
After clinching the Pac-12 regular-season title by defeating the USC Trojans on April 21, the Bruins will play their first match Friday at the Ojai Valley Athletic Club versus the Stanford Cardinal (16-7, 4-3).
Coach Billy Martin knows even though UCLA is the No. 1 seed, the team will have to play its best in order to win.
"I'm very excited about going up there and trying to repeat our conference tournament win from last year, although it would be very difficult," Martin said. "Last year, our expectations were really high and we were expected to fight for that conference championship, but by no means do we think we are the best team this year."
This year, the Bruins are 2-0 against the Cardinal – UCLA beat Stanford 4-2 at home in late February and 4-2 in Palo Alto, California, in April. In the schools' most recent matchup, freshman Evan Zhu clinched the game-winner by beating David Wilczynski 6-4, 7-6 (5).
Fellow freshman Ben Goldberg said he views this tournament as a good steppingstone for growth as he and Zhu finish out their rookie seasons. Goldberg is especially ready for this tournament after playing at Ojai during his high school career and watching UCLA over the past several years.
"I played at the Ojai tournament in high school, so I know exactly what the atmosphere is like and I can't wait," Goldberg said. "We've played Stanford so many times these past few years and it has been super close every time, so we've got to be prepared to play them. We know who they are, so we will be ready."
On the other side of the spectrum, senior Joe Di Giulio is a veteran presence on the team. After being out for most of the spring season with an injury, he came back for the last four matches of the season for the Bruins and amassed a 4-0 record in doubles.
"I'd say to a certain extent, I try to be a role model in certain ways," said Di Giulio, who played both singles and doubles for the first time in several months last week versus USC. "It's my last year, so I've been in this situation where I just get put right into the match. I would say it's more difficult getting put straight in the match than not knowing if I would play or not."
The Bruins will also rely on senior Gage Brymer and junior Martin Redlicki to carry them through the tournament. The duo has amassed a combined record of 5-1 at No. 1 and No. 2 singles, respectively, in UCLA's last four matches.
If the Bruins advance, they will face either No. 2 Cal or No. 3 USC in the final Saturday.
Chang joined the Bruin as a freshman in 2017 and contributed until 2018. He spent time on the men's tennis beat.
Chang joined the Bruin as a freshman in 2017 and contributed until 2018. He spent time on the men's tennis beat.