The Daily Bruin's 2017 Stagecoach Guide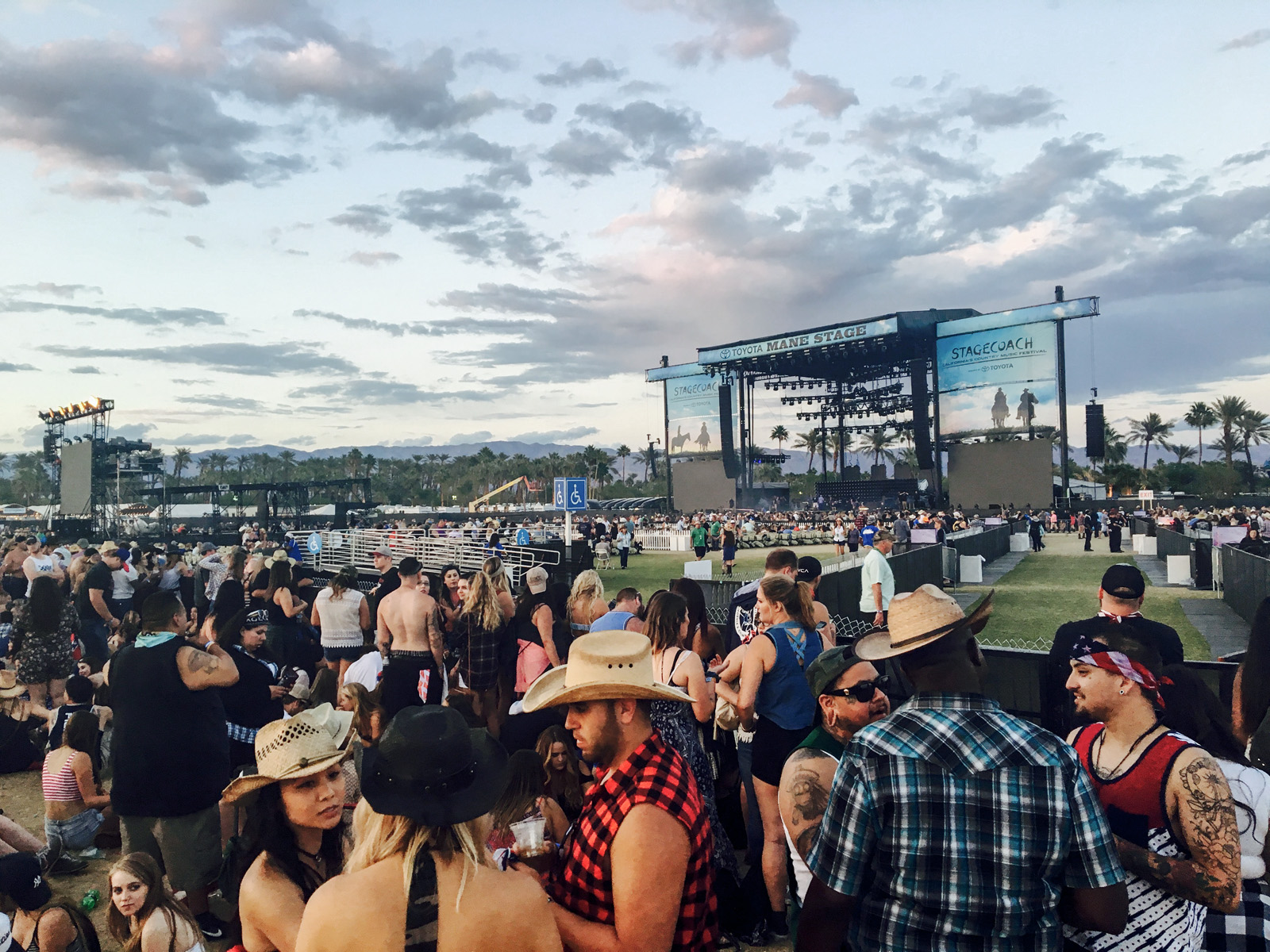 This year's Stagecoach Festival setlist at the Empire Polo Club in Indio, California will feature a variety of country music acts, new and old, including Dierks Bentley, Maddie & Tae, Shania Twain, Maren Morris, Cam and Kenny Chesney. (Daily Bruin file photo)
April 26, 2017 11:01 p.m.
The Empire Polo Club in Indio, California, transforms each year into a country lover's dream. Stagecoach Festival, Southern California's country music festival, will take place this weekend. The three-day event can be overwhelming, but the Daily Bruin's Samantha Suman provides a guide of artists to see and things to do before putting on your cowboy boots and driving to the desert.
Day 1:
Dierks Bentley
Despite growing up in Phoenix away from the epicenter of country music, Dierks Bentley is nevertheless a country music veteran and has been producing albums since 2003. He'll headline Stagecoach on Friday.
Stagecoach goers should expect to hear Bentley classics like "What Was I Thinkin'?" from his 2003 album "Dierks Bentley," and "Somewhere on a Beach" from his newest album "Black."
Los Angeles native Elle King will also likely make an appearance to perform "Different for Girls" with Bentley on the main stage, since she has her own set earlier in the day.
Speculation aside, what I know for certain is that Bentley knows how to have fun. He owns a chain of country bars in Arizona and Tennessee called Dierks Bentley's Whiskey Row that plays a combination of country and pop music. I would not be surprised if he ends the first night with a tip of his baseball cap and a glass of beer raised to the audience.
Maddie & Tae
Behind the country duo Maddie & Tae are friends, Madison Marlow and Taylor Dye.
The singer-songwriters first stepped onto the country scene in 2014 with their hit single "Girl in a Country Song," challenging the typical passive portrayal of women in country music with lyrics like "'Cause I got a name/ And to you it ain't 'pretty little thing', 'honey' or 'baby.'" They were the second female duo to reach No. 1 on the Billboard Country Airplay.
Marlow and Dye are best known for their angelic harmonies. Although they are individually talented, together they produce a sound unlike any other duo on the country radio – a combination of country twang and innocent sopranos.
Despite being relatively new to the country genre, Maddie & Tae have proved their talent and deserve to be heard. Stagecoach-goers should leap at the chance to see them perform at the festival for the second time since 2015.
Merchandise
The first day of Stagecoach is the best time to visit the merchandise booth. As the days progress, fewer items are available – trying to buy a size small Stagecoach T-shirt is a lot easier to accomplish on Day One than on Day Three.
When there is a break in the lineup, visit the merchandise booth and snag an article of clothing for memory's sake.
In addition to the Stagecoach-sponsored merchandise booth, independently operated clothing shops typically surround the perimeter of the festival. Visitors can find everything from vintage cowboy boots to brand-new cowboy hats. I like roaming in and out of these shops between artists because they feature authentic country garb that is hard to find elsewhere in Los Angeles.
Day 2:
Shania Twain
With over 85 million records sold, Shania Twain is the best-selling female artist in country music history. The audience should be prepared to travel back in time during her Saturday night set, transported to the country music scene of the 1990s.
Classics like "Man! I Feel Like a Woman!" from 1997's "Come On Over" and "Any Man Of Mine" from "The Woman In Me" are likely to be a part of Twain's set list for the night because of their popularity among fans.
Although the "Queen of Country Pop" has not produced any new music since 2002, she is currently working on an album set to release this year. Twain will likely perform a few of her newest songs from her unnamed album at Stagecoach. With younger artists like Brett Eldredge and Dan + Shay playing earlier in the day, Twain's classic sound will provide a familiar way to close the night.
Maren Morris
Maren Morris is a relatively new face in the realm of country music. The 27-year-old's two years in the country music industry can be summed up in a single word: productive.
Morris gained national attention after releasing her 2016 single "My Church," which won Best Country Solo Performance at the 2017 Grammy Awards.
The singer-songwriter is a force to be reckoned with – not only does she have a powerful voice, but she is a talented songwriter. Besides winning an Academy of Country Music Award and a Country Music Association award, Morris has written for successful artists, such as Tim McGraw and Kelly Clarkson.
Sharing Day Two with established voices like Willie Nelson and Shania Twain, Morris has earned her stripes and fits right in. She will revive spirits after a long festival day with a combination of upbeat and slow songs, rallying support for the newest generation of country stars.
The HonkyTonk Dance Hall
The HonkyTonk Dance Hall is the perfect place to escape the heat while still having some country fun. Located near the entrance of the festival, the dance hall plays country DJ music Friday through Sunday in an indoor, air-conditioned tent. Visitors can learn a variety of dances, from line to circle dancing.
The footwork ranges from beginner to advanced levels, so everyone has the opportunity to learn new skills. This year, the HonkyTonk will have six instructors, three live musical performers and four DJs.
Take advantage of the HonkyTonk's free dance lessons, and most importantly, don't be shy. Embrace the new moves and dance proudly in the middle of the dance floor. Boots, get stompin'.
Day 3:
Cam

Cam, born Camaron Marvel Ochs, will return home to Southern California for Stagecoach. Originally from Huntington Beach, Cam is a new face to country music. She only has one album available on iTunes and Spotify, but 2015's "Untamed" is critically acclaimed.
Before she released "Untamed," Cam wrote songs for Miley Cyrus and is credited for writing "Maybe You're Right" on Cyrus's 2013 "Bangerz."
Cam's sweet voice is mesmerizing – it invites you to keep listening to her album of love and heartbreak. Staying true to a country sound in her songs, Cam utilizes acoustic guitars and banjos to complement her voice, one that has a slight southern twang. Expect to be moved by a variety of emotions during Cam's set, from the wild and free mood of "Untamed" to the somberness of "Village."
Kenny Chesney
The man standing onstage in his signature grey tank top and a straw cowboy hat would be the one and only Kenny Chesney.
Chesney has produced 19 albums since 1994 and garnered 11 ACM Awards along the way. He released his latest album "Cosmic Hallelujah" in 2016, and it includes the single "Setting the World on Fire," featuring P!nk.
Chesney is known for emanating a laid-back, fun attitude. Keeping it casual in a pair of blue jeans, the country artist has a healthy repertoire of slower, nostalgic songs as well as upbeat pieces.
Chesney is the perfect headliner to close Stagecoach 2017 with a discography ranging from the mid-1990s to present-day country music. He will have as much fun onstage as the audience will have watching him, prompting Stagecoach-goers to dance and sing on their way out of the festival.
Ferris Wheel
Gather a group of friends and head over to ride the Ferris wheel to get undoubtedly the best view of Stagecoach.
Although there is a yet-to-be-announced fee required to ride the Ferris wheel, the stunning view of the fairground makes it worth the payment.
Don't let the long line be a deterrent – it is unavoidable on any day of the festival. Take the time in line to wind down, drink some water and plan the remainder of the day.
To avoid the crowds as much as possible, don't get in line at sunset. While the time of day may create a picturesque scene, sundown is the most desired time to ride the Ferris wheel and therefore attracts the biggest crowd. The best time to hit the attraction is early in the day or around lunch time. The view will still be amazing, because after all, Stagecoach is always a beautiful sight.