Students weigh in on significance of Coachella lineup, fashion choices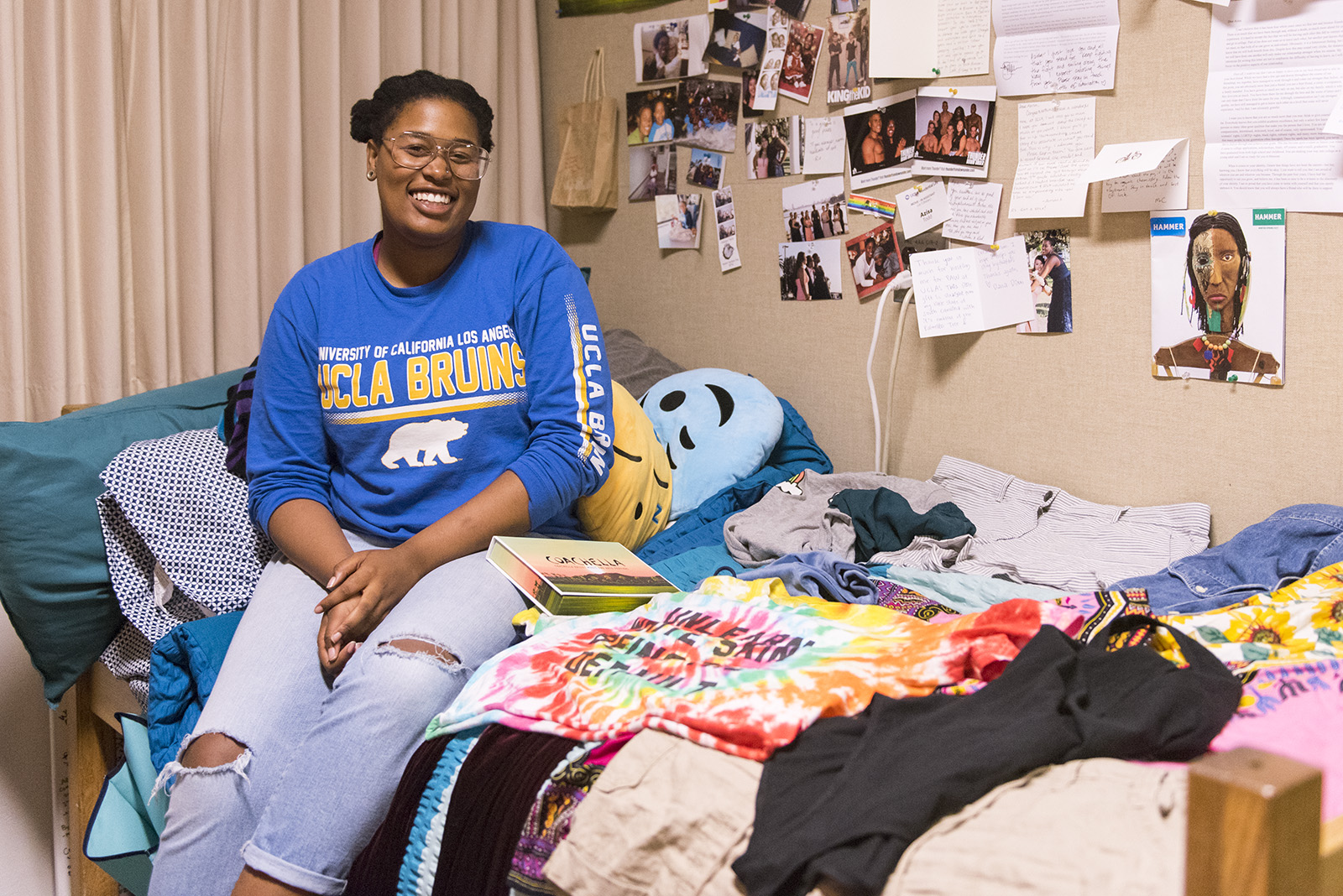 First-year physiology student Azisa Todd is bringing a tie-dye shirt and dashiki to wear to Lady Gaga and Kendrick Lamar's sets, respectively. While attending Coachella, Todd said they will call out people for appropriating other cultures at the festival. (Miriam Bribiesca/Photo editor)
Natasha Keces won't be watching Raury perform live at Coachella on Friday evening. She'll be taking a science midterm.
Keces bought her three-day pass to the Coachella Valley Music and Arts Festival before she knew her spring class schedule. While the unfortunate timing of her Life Sciences 2: "Cells, Tissues and Organs" midterm threatened to hamper her Coachella trip, Keces decided not to sell her ticket.
Her mom is planning to drive her to Indio, California on Friday night to meet up with the rest of her friends – just in time for Radiohead's headlining performance in the desert.
Many UCLA students consider the trip to the Empire Polo Club worth the heat, the dust, the price and the time to partake in Southern California's trendiest music festival.
For Keces, a first-year psychobiology student, this will be her first time attending Coachella. She grew up near Laguna Beach, California, and became interested in rap music during her senior year of high school.
[Related: Daily Bruin coverage of Coachella 2016]
Keces went to Outside Lands and Camp Flog Gnaw Carnival, but the lineup for Coachella is what hooked her this year. She's most looking forward to Kendrick Lamar, though she prefers his previous album "To Pimp a Butterfly" over the recent "DAMN."
This year also marks student Azisa Todd's first time at Coachella – in fact, their first time at any big music festival. The first-year physiology student is traveling to the valley with friends to see fellow Oakland native Kehlani perform.
"She's from my city, so I gotta represent her and support her," Todd said.
Though Todd has attended several concerts during the school year, Coachella is the peak experience. As a music lover, Todd is excited to bond with fans of various music genres and styles.
However, the 2017 lineup didn't entice all Bruins. One student posted about selling her Coachella ticket on the Free & For Sale Facebook page after Lady Gaga replaced Beyoncé as Saturday's headliner.
UCLA alumna Jasmin Ayala said she thought Lady Gaga would be the only suitable replacement for Beyoncé. Ayala is looking forward to Lady Gaga's old hits like "Paparazzi," "Just Dance" and "Bad Romance" – songs that define what she calls the classic Lady Gaga.
Although Coachella is a music festival, Ayala said the music and laid-back culture go hand in hand. She considers walking around the grassy grounds with bare feet as part of the culture.
Last year, Ayala's friend dragged her to Coachella, and this year she is bringing her boyfriend, a newcomer to the festival.
"It's going to be pretty fun having him witness everything for the first time, just like I did last year," Ayala said.
The positive vibe also made Jacqueline Perez want to return to Coachella.
"The lineup made me want to go last year – it was my first music festival," said the first-year undeclared student. "The atmosphere made me want to go again this year."
Perez went with her brother and mom in 2016, and this year her brother bought her a ticket to attend Weekend 1 with him and his friends. Everyone is concerned with having a good time rather than worrying about work or school and it has a carefree atmosphere, she said.
Some Bruins contribute to the atmosphere by dressing in festival attire. Keces is bringing a black floppy hat, a paisley top, a denim romper and a white flowing embroidered dress.
Ayala started planning her outfits two months in advance and just finished her wardrobe by buying bottoms that match her red crochet top for $1 at H&M. One of her other boho outfits is a pink, off-the-shoulder body suit.
But students said the intense desert heat prohibits or influences many of their fashion choices.
Last year, Ayala wore bikinis instead of the outfits she had planned out because of the heat. She recommends airy shorts to keep cool when temperatures push 100 degrees. Perez also dressed more for comfort and practicality due to the weather, she said.
Todd, however, is using clothing to make a statement.
Todd noticed that cultural appropriation is a large problem at Coachella, since some people wear bindis and headdresses that belong to cultures the wearer does not identify with nor fully understand.
Dashikis are sometimes worn as part of the Coachella fashion, but Todd said the colorful garments have strong ties to African and Black culture. It's one way for individuals to stay connected to their cultural roots, yet Todd sees retailers like H&M selling similar designs on their clothing.
"I feel like I'm going to see that there and I'm not going to be happy about that," Todd said. "I'm not down and honestly I have no problem calling people out for it."
Therefore in addition to bringing a sunflower dress and red velvet bell bottoms, Todd is packing a pink dashiki to wear during Lamar's set.
[Related: Love | Hate: Is Coachella a ticket to paradise or an overpriced nightmare?]

For Lady Gaga's set, Todd is bringing a tie-dye T-shirt that reads, "Unlearn white skin being the default." Todd said although Lady Gaga promotes acceptance of queer people, most of the pop singer's messages focus on cisgendered, white, gay males.
Thus Todd's shirt will comment on an inability to relate as much to Lady Gaga as other artists like Kehlani. Even Todd's red backpack, adorned with buttons like "UCLA LGBT Studies," "Black History Month" and "Bernie," conveys a passion for social justice.
"There's a little bit of myself in every piece," they said.
Todd hopes to help festival attendees learn about why cultural appropriation can be offensive to Native American or Black communities, for example.
"Some people don't have the privilege to take it off after one day," Todd said.
Todd believes Coachella can be a teachable moment by asking attendees if they know the cultural significance behind the jewelry and clothing they're wearing. You have to appreciate the entire culture, not just the cool parts you can wear, Todd said.
Perez said she's evolved as a person and realized she wanted to focus on the indie alternative beats and rhythms of Coachella more than the fashion.
"I'm definitely more into the music – that's what it's supposed to be about," Perez said.
For Ayala, the festival is really about the experience of going with people you are close with and joining other music lovers in the desert.
Keces said paying for memorable experiences like Coachella is worth the price tag. The festival has such a variety of performances, ranging from rhythm and blues to hip-hop to rap to electronic, and she appreciates the diverse group of attendees and musicians she will see.
"You have something in common with everybody there that brought you together," Perez said.
Weinberg is the prime content editor. She was previously the A&E editor and the assistant A&E editor for the lifestyle beat.
Weinberg is the prime content editor. She was previously the A&E editor and the assistant A&E editor for the lifestyle beat.