On the Rise: Angelica Garcia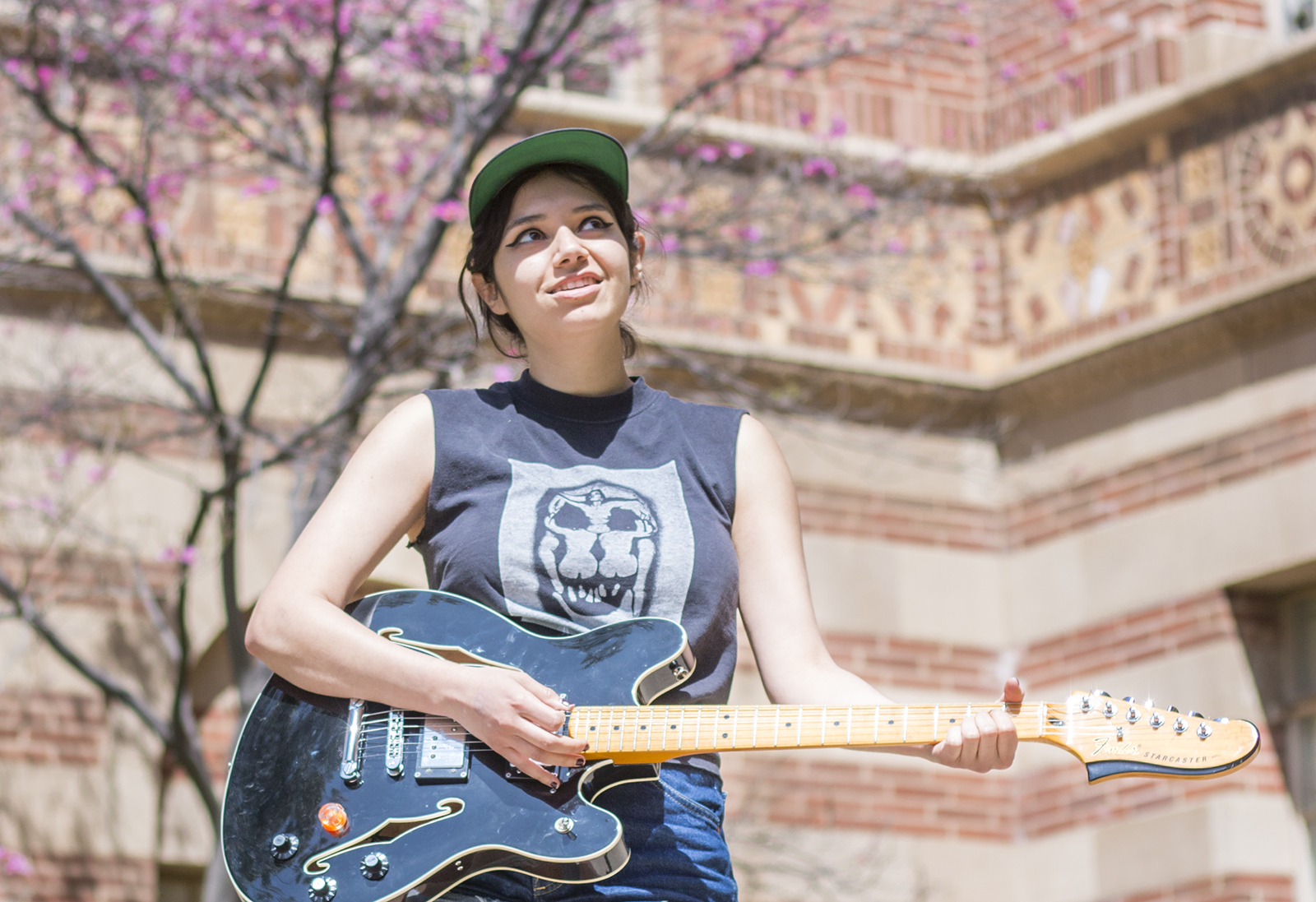 Los Angeles singer-songwriter Angelica Garcia's music is influenced by the jazz and classical genres to which she was exposed to while attending Los Angeles County High School for the Arts. (Stella Huang/Daily Bruin)
April 18, 2017 11:24 p.m.
In "On the Rise," the Daily Bruin profiles up-and-coming musicians in Los Angeles. Though our subjects do not necessarily have direct connections with UCLA, they are artists who have brought their sounds to Los Angeles and have taken advantage of opportunities within the city's thriving music scene.
Sixteen-year-old Angelica Garcia thought she wasn't cool enough to be in a band.
Garcia, now 23, lives in Richmond, Virginia, and writes her own music. The Southern California native released her first solo album, "Medicine for Birds," in September 2016 and is currently working on a second album. Although she is far from home, her music is deeply influenced by her family.
To Garcia, home evokes a memory of eating beans at her grandmother's crowded house of aunts, uncles and cousins in El Monte, California.
Her mother, aunt and uncle were vocalists, and Garcia said they encouraged her to sing with them at family gatherings. By age 5, she had learned how to harmonize along to their traditional Mexican ranchera melodies.
"They would play guitar and sing together," Garcia said. "It was kind of the thing where everyone in your family does it, so you're like, 'Okay, guess I gotta do it too.'"
Garcia said her musical influences are not homogeneous, but are instead a combination of rock, country and ranchera. While her mother cultivated in her an appreciation for Latin rhythm, her father shared his love of lyricists Willie Nelson and Neil Young with her.
Tim Vigon, Garcia's manager, said her lyrics were so impressive that upon first meeting her, he had to ask if she wrote them herself. Her music intelligently captures what it is like to be a young person, even though the topic is not an easy money-maker, he said.
He said the lines "And didn't even pay / But then he called me dude the next day" from her song "Orange Flower" painted a picture of bad dating.
"I just thought, 'My god, that must be exactly what it's like to be a young American person dating,'" Vigon said.
Vigon first met Garcia at an American Society of Composers, Authors and Publishers' showcase in 2015. He was attracted to her voice and her natural stage presence, he said.
"There was no question at all that Angelica's songs were special," Vigon said. "That's something that you can't manufacture."
Most young artists strive to sound like popular artists and try to emulate The Chainsmokers or The 1975, he said. What makes Garcia special is her ability to seek her own sound, he added.
"She wants to be classic, to stand on the shoulders of people like Neil Young and Prince," Vigon said. "She's really aiming high, whereas most people are aiming to be famous."
Garcia's knowledge of music expands beyond the confines of her home. She said her high school, the Los Angeles County High School for the Arts, exposed her to music genres she had not listened to in El Monte, like jazz and classical music.
"I heard the emotion of classical music, the intelligence of jazz and the wit in songwriting," Garcia said. "My music came from all of those worlds."
Garcia moved to Accomac, Virginia, at age 17 with her parents after she graduated from high school. Her dad, a former music industry executive, decided to become a priest and began working at a church in Virginia.
She said her first album is heavily influenced by living in Accomac, a Southern city infused with artifacts from the 1800s. "Medicine for Birds" possesses an Americana sound because she wrote the album while living in a place where country and blues began, Garcia said.
Garcia never thought of using violins or the upright bass in her music until moving to the South. Unlike Los Angeles, which is focused on modernization, Virginia's historical landmarks encouraged her to look back in time, she said.
Two years ago, Garcia moved out of her parents' home to go to Richmond. Although Accomac is beautiful, she said the rural city lacked a large artistic population for creative collaborations.
"Everybody where I lived was out hunting with their dads in the morning, and here I was with my electric guitar," Garcia said.
One night, after her shift as a waitress, Garcia went to an open mic night and met her future bandmates. The four of them are working on Garcia's second album, which she said will focus on her Latina culture, both lyrically and melodically.
"When you live across the country, you don't get to see your family that much," Garcia said. "So I found myself thinking a lot about missing my family, missing my culture."
Although she often thinks of home, Garcia said she loves living in Virginia and plans on staying in Richmond to work on her music.
"Music has allowed me to travel and see some great places that kind of seem far away when you're in your grandma's kitchen in east of LA," Garcia said.
Garcia records her songs with Russell Lacy, the owner of recording studio the Virginia Moonwalker. He said Garcia's music projects her profound thoughts, her knowledge of classical and Latin genres and her understanding of rhythm.
"I know what genuine creativity looks like and I know what real talent looks like," Lacy said. "I've just never seen all these things rolled into one."
Garcia said she hopes to produce more albums that honestly depict her life. She sees her job as a storyteller, and her goal is to find the most effective way to deliver her message.
"I think of songs as stories – albums as books and songs as chapters," Garcia said. "I like to take anyone listening to my music on a similar journey."